What's the Difference between a Medical Assistant and an LPN (Licensed Practical Nurse)?
Are you considering pursuing a career within the healthcare field? Are you unsure which specific path is for you? Well, no worries! We can help shed some light on two key careers in healthcare. Today, we are talking about the differences between Medical Assistants and LPNs (Licensed Practical Nurses). Perhaps one of them is right for you. Read more below and see for yourself!
Where do Medical Assistants Work?
Medical Assistants tend to work for and directly with physicians.  They can be found in doctors' offices and health clinics.  Some may also work in hospitals or the offices of other types of health practitioners.
Where do LPNs Work?
LPNs work with physicians and registered nurses in a wide variety of settings such as nursing homes, group homes, and home healthcare facilities.   LPNs may also work in prisons or jails, rehab facilities, clinics, doctors' offices, assisted living facilities.  Some may also work in hospitals.
There is some overlap in where Medical Assistants and LPNs may work. However, Medical Assistants work primarily in clinics, private practices and outpatient care centers. While LPNs typically have more variety and most of the time work in nursing homes, group homes, and home healthcare and more.
What are Duties of a Medical Assistant?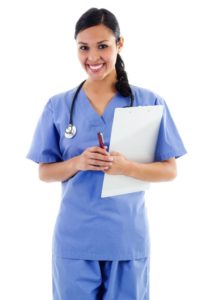 Medical assistants are responsible for many different tasks.  In some cases, they may handle both clinical and administrative functions. The duties and tasks of a medical assistant may vary from office to office.  This can depend on the size, location, and specialties of the particular facility. Some of their tasks generally include:
Preparing patients for exams and taking medical histories.
Explaining treatment and medical procedures to patients.
Assisting the physician during exams.
Collecting and preparing lab specimens.
Performing basic lab tests.
Answering phones and scheduling appointments.
Updating and filing patient medical records and insurance forms.
Arranging for hospital admissions and lab services.
Handling correspondence, billing, and bookkeeping.
What are Duties of an LPN?
LPNs are primarily responsible for performing nursing care to patients. Although their duties may differ based on location and work setting, their tasks generally include:
Administering medication.
Assisting physicians during rounds of residents' rooms.
Monitoring resident care and supervising other nursing staff.
Explaining procedures and treatment protocols to residents.
Planning and managing patient care according to each patient's needs.
Interviewing patients and recording their medical history.
Helping patients bathe, get dressed, go to the bathroom, and eat.
Monitoring patients' overall health during every visit.
Changing bandages, wound dressings, and catheters.
Remaining on-call for patients who have healthcare emergencies.
There are some similarities in terms of the tasks a Medical Assistant and an LPN perform.  For example, both take vital signs and work with medical technology.  However, an LPN is much more heavily involved in planning and monitoring patient care, whereas a Medical Assistant does not typically have these same duties.
How to become a Medical Assistant
There are no formal educational requirements to become a medical assistant.  However, Medical Assistants usually attend a post-secondary institution to receive training. Many of these programs lead to a certificate or a diploma.  They typically take a year to complete. It is not always required that Medical Assistants be certified.  However, requirements may vary by state and some employers may want their medical assistants to be certified before hiring them.
How to become an LPN
LPNs must complete a state-approved training program.  During training, they will have the opportunity to learn the basics nursing concepts.  They can also learn about other topics like anatomy and physiology. These programs also require students to complete supervised clinical practice as part of their training. Most Practical Nurse programs are provided by vocational schools or community colleges.  These generally require one year of full time study to complete.  Practical Nurse programs are designed to prepare students to challenge a state certification exam. Upon completing a certificate program, graduates then need to pursue licensure. Every state requires that LPNs be licensed, so passing the licensing examination is an important requirement.
As far as becoming either a medical assistant or an LPN, for both careers some type of job training is necessary, but there are no formal education or licensure requirements to begin a career as a Medical Assistant.
Medical Assistant training program at Dorsey Schools
The Dorsey Schools Medical Assistant diploma program gives students the opportunity to learn specialized skills that are necessary for employment in a medical office, clinic, or another healthcare facility. Some of the things that students will learn in the program are infection control, pharmacology basics, administering medications, specimen collection and handling for laboratory tests, first Aid, medical terminology, and anatomy and physiology. Graduates of the Dorsey Schools Medical Assistant program may go on to further advancement in the medical field, by way of becoming a certified Medical Assistant.
Practical Nurse training program at Dorsey Schools
Dorsey Schools offers a Practical Nurse certificate program. Training in this program includes classroom education and practical hands-on training designed to help students prepare for rewarding careers in the nursing field. Course topics include Computer Applications, Medical Terminology, Anatomy and Physiology, Practical Nursing Fundamentals, Applied Math for Nursing/Dosages and Calculations, Pharmacology and Medication Delivery, Mental Health, Medical and Surgical Nursing, Maternal and Newborn Nursing, Pediatric Nursing, Geriatric Nursing, and more.
To learn more about Dorsey Schools, visit us online at www.dorsey.edu, give us a call at 888-422-1188 or request info online.
Sources:
Bureau of Labor Statistics, U.S. Department of Labor, Occupational Outlook Handbook, 2016-17 Edition, Medical Assistants,
on the Internet at https://www.bls.gov/ooh/healthcare/medical-assistants.htm (visited August 03, 2017).
Bureau of Labor Statistics, U.S. Department of Labor, Occupational Outlook Handbook, 2016-17 Edition, Licensed Practical and Licensed Vocational Nurses, on the Internet at https://www.bls.gov/ooh/healthcare/licensed-practical-and-licensed-vocational-nurses.htm (visited August 03, 2017).
Reviewed and edited 12/6/17