Are you interested in becoming a medical assistant? If so, that's great news. The healthcare industry is a thriving field.  It's also a field with promising career opportunities. Obtaining certification as a medical assistant may open even more doors.
How to Become a Certified Medical Assistant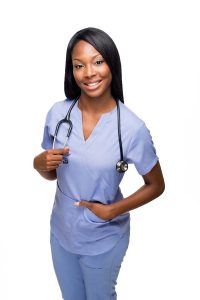 In order to assist you on your path towards certification, we have created a step by step list of how to become a certified medical assistant.  The info below explains how to become a nationally certified medical assistant through the NCCT.
Steps to becoming a Certified Medical Assistant
Here are the steps on how to become an NCMA:
Complete a Medical Assistant Training Program Medical assistant training programs typically take one year to complete. They are offered at vocational schools, technical schools, and community colleges. They aim to prepare students to enter the workforce and often lead to a certificate or a diploma.
Check Eligibility To be eligible, candidates must either be recent graduates (within 12 months of graduating). Or they must be in the process of completing a medical assisting program (no more than 30 days from graduation).
Apply Visit the com website to download the application. You should also download the Handbook for Candidates. The site also has other helpful resources you can view.  These include FAQs, timelines, info on the application fee, and other information.
Schedule Your ExamTop of FormBottom of Form
This is easy!  Your exam can be scheduled at the time of online registration.  You will receive an email confirmation.
Study While waiting for your exam date, take the time to study for the test. You can use the online study guide and other sources. This is the most important step in ensuring you are successful in becoming a nationally certified medical assistant through the NCCT.
Take the Exam The next step to becoming certified is to take and pass the exam. Once you pass, you will receive a wallet card and certificate showing your credential. You will also have the legal right to use the title NCMA on your resume and job applications.
Maintain Your Certification To remain current, you will be required to recertify annually. You do this by completing continuing education and paying a recertification fee.
If a career as a Nationally Certified Medical Assistant sounds like the path for you, Dorsey Schools is a great place to start!
Dorsey Schools' Medical Assistant diploma program gives students the opportunity to learn specialized skills.  These skills are necessary for employment in a medical office, clinic, or other healthcare facility.  Skills for a medical assistant include taking and recording a health history, vital signs, and physical measurements. Some other topics covered in the program include infection control and pharmacology basics.  First aid, medical terminology, anatomy and physiology are also covered.
To learn more about Dorsey Schools, visit us online at www.dorsey.edu.  You can also give us a call at 888-422-1188.  You may also request info online.
Medical Assistant Program – Gainful Employment Disclosures
For more information about our graduation rates, the median debt of students who have completed the program, and other important information, please click here.