Are you a licensed cosmetologist interested in giving back to the field that has given so much to you?  Do you have great memories of your time in beauty school and want to help train future cosmetologists?  If so, pursuing Cosmetology Instructor training may be for you.  At Dorsey School of Beauty, we offer a Cosmetology Instructor program for those interested in this specific area of the beauty field.
Cosmetology Instructor School Can Help You Develop Your Skills
Attending a cosmetology instructor school can help you develop your skills in the classroom.  You will want to find a cosmetology instructor school that not only gives you the knowledge needed to pursue your new career, but one that also gives you opportunities to practice and apply what you have learned.
Cosmetology Instructors work closely with students, whether it be in the classroom, on the clinic floor, or as they are preparing for their state board exam, so you will want those opportunities to not only learn but practice in a hands-on environment.  At Dorsey School of Beauty, our training program combines theory as well practical application, allowing aspiring educators to make the most of their cosmetology instructor school experience.
Cosmetology Instructor Course – Things You Can Learn
Those who enroll in a cosmetology instructor course (or program) may be exposed to a variety of topics.  As you look at different options for your training, be sure you select a cosmetology instructor course (or program) that will provide you with a well-rounded education.  Some of the topics you may be exposed to include:
Teaching methods
Lesson planning
Course outlining and development
Teaching aids
Developing, administering, and grading exams
Classroom management
Record keeping
Beauty school administration
State board exam preparation
…and more!
At Dorsey School of Beauty, our Cosmetology Instructor program covers each of the topics listed above, and more!  If you are looking at different options when it comes to selecting a cosmetology instructor course, consider the program at Dorsey School of Beauty in Taylor, MI.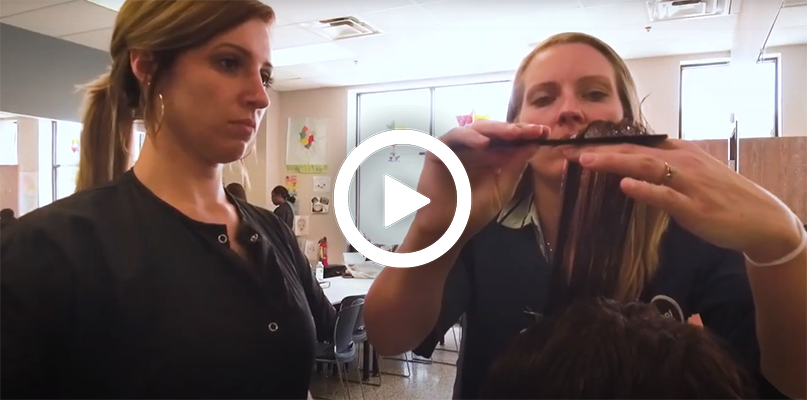 Looking for a "Cosmetology Instructor Program Near Me?"
If you are looking for a "Cosmetology Instructor program near me" and you live in the Downriver area, Dorsey School of Beauty can help you get on your way!
If you are wondering where our cosmetology instructor school is in the Downriver area, we are located in Taylor, MI.  Dorsey School of Beauty is conveniently located in in the Taylortown Shopping Center on Ecorse Road, just east of Pardee Road.
Contact us today to learn how our team can provide you with the training you need to pursue your new career as a Cosmetology Instructor!
Ready to make a change? Take the first step!
Requesting information requires no obligation or commitments.
Prepare to Become a Licensed Cosmetology Instructor
It's important to select a program that will help you prepare to become a licensed cosmetology instructor.  That's the goal of our training program here at Dorsey School of Beauty.
It's important to keep in mind that states require cosmetology instructors to become licensed in order to pursue gainful employment in this field.  That means you will want to select an approved training program, pass the state board exam, and ensure you meet all of the other requirements set forth by your state.
Dorsey School of Beauty has determined that its Cosmetology Instructor program curriculum is sufficient to fulfill educational requirements for licensure in the State of Michigan only. No educational determinations have been made for any other state, district or US territory in regards to licensure requirements.
As licensure is required for employment by the State of Michigan, Dorsey School of Beauty will pay the cost one time for graduates of this program to challenge the state licensure exam, contingent upon the graduate meeting Dorsey School of Beauty's exam preparation requirements.
A Career as a Cosmetology Instructor
A career as a cosmetology instructor offers a diversity of employment options. Those trained in this field (once they are licensed) may find entry-level employment as cosmetology and nail technician instructors, beauty school directors, state board members, and state board inspectors. Jobs in this specialty can be found in trade and beauty schools, community colleges, and other types of higher learning or career training institutions.
Want to know more about:
How to Become a Cosmetology Instructor?
The Dorsey School of Beauty Cosmetology Instructor program
Check out our Cosmetology Instructor FAQ page!
What is the total cost of the Cosmetology Instructor program?
Tuition and fees for a student to complete the Cosmetology Instructor program can be found by visiting our Student Consumer Information page. To calculate the total cost of education, including indirect costs of room and board, personal expenses, transportation costs and loan fees associated with the cost of attendance, go to the Cost of Attendance page.
Cosmetology Instructor Career Information
For more information about a career as a cosmetology instructor, please visit the U.S. Department of Labor's O*NET website. The Standard Occupational Code (SOC) for this career is 39-5012 and the Classification of Instructional Programs (CIP) code for this program is 12.0413.
Additional cosmetology career information specific to the State of Michigan can be found at the Career One Stop website, which is sponsored by the U.S. Department of Labor, Employment and Training Administration. When visiting the website, navigate to the browse occupations page, type "Vocational Education Instructor" in the key word search box, and then continue to select the State of Michigan.
The Cosmetology Instructor program is a short-length program not eligible for Title IV funds.