Where is the Dorsey College Wayne Campus located?
Hello, and thank you for visiting the page for the Wayne campus of Dorsey College! Our campus is located on Michigan Avenue in downtown Wayne, just minutes from the nearby communities of Wayne, Dearborn, Dearborn Heights, Garden City, Inkster, Romulus, Plymouth, Canton, Livonia, and more.
Address
35005 W. Michigan Ave Wayne, Michigan 48184
Phone
734-595-1540
Admissions Dept. Hours
Meet with one of our Admissions Representatives during these convenient hours:
Mon – Thu

9:00 – 8:00

Friday

9:00 – 5:00

Sat – Sun

Closed
*Hours may vary on or around holidays.
The Wayne campus is a branch campus of Madison Heights.
Are you a graduate of the Dorsey College Wayne Campus ?
Please take a moment to kindly review us here:
https://goo.gl/7GuVtF
---
Programs at the Dorsey College Wayne Campus
---
About Dorsey College Wayne Campus
The Wayne campus offers a variety of programs for those looking to train for a new career in either the healthcare or skilled trades field. Each of the healthcare programs has been designed to provide students with an opportunity to learn skills and knowledge in both a traditional classroom setting as well as in a hands-on setting. For those looking to begin a career in healthcare who want to help others and make a difference in the lives of others, one of our healthcare programs could be a good fit. For those looking for a new career where they can work with their hands, our HVAC Systems Technician program may be a good fit.
Our HVAC Systems Technician program gives students the opportunity to learn the fundamentals they need in the HVAC field as well as opportunities to practice and apply the skills they have learned in the labs on campus. Our staff at the Wayne campus would be happy to meet with you to discuss our programs and our campus in more detail as you prepare for a new career.
---
Here's What Some of Our Dorsey College Graduates Are Saying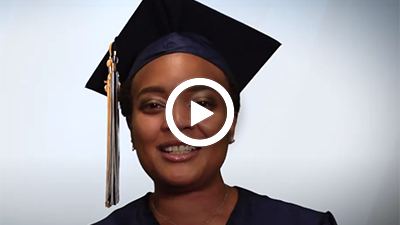 Meet Jade
A graduate from our Medical Assistant training program!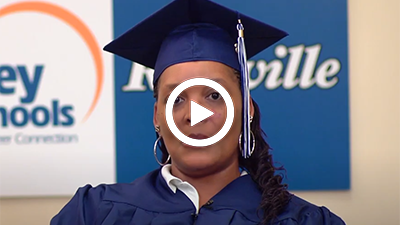 Meet LaShaun
A Graduate from our Medical Administration and Billing training program!
---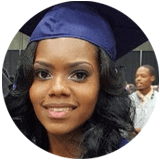 Quanicia Clark
Dorsey Medical Assistant program Graduate, 2015
How did studying at Dorsey make a difference for you or in your life?

"I now have a career in a field I enjoy."
What are the greatest strengths/skills you received from studying at Dorsey?

"I learned to not give up and push harder for things I want. The instructors were excellent in keeping me motivated."
Are you employed in your field? If so, where? What are your plans after Graduation from Dorsey?

"Yes, a Pediatrician's office in Waterford. I plan to gain experience I the field and return to school to further my education."
---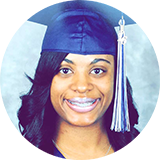 Tamara Thomas
Dorsey Medical Assistant program Graduate, 2016
How did studying at Dorsey make a difference for you or in your life?

"Studying at Dorsey made a huge difference in my life. I got a chance to enter into a field that I always wanted as a child."
What was the best part of your experience studying at Dorsey?

"The best part of my experience was having a "hands-on" experience learning new things and meeting great people. Also having experience on externship."
Are you a graduate of the Dorsey College Wayne Campus?
Please take a moment to kindly review us here:
https://goo.gl/7GuVtF
---
Parking at the Dorsey College Wayne Campus
There is plenty of parking in lot around our school building. When you visit our campus for the first time, please report to the front desk and you can check in with a member of our administrative staff who can assist you.

Ready to make a change? Take the first step!

Requesting information requires no obligation or commitments.
---
Frequently Asked Questions
How long will it take me to complete my program in Wayne, MI?

Most of the training programs at the Wayne, MI campus are designed to be completed in a year or less! The Dialysis Patient Care Technician program will take a little over one year to complete.

When are classes offered?

The Dorsey College Wayne, MI campus offers both day and evening classes. This may vary based on which program you are interested in, but one of our Admissions Representatives can share program availability when you visit our campus.

If I want to study at the Wayne, MI campus before or after class, can I do that?

If you're interested in using the computer lab or studying at the school outside of normal class times, we do make that available to students and you can check with a member of our staff for specific details.

How will I know what resources are available to me to help me fund my education?

If you are interested in studying at Dorsey College, when you visit our campus, you will have the opportunity to meet with one of our Financial Aid Advisors. They will share information with you such as tuition and any applicable fees for your program of interest, as well as the various funding sources that may be available at our institution. The goal of our Financial Aid team is to ensure our prospective students and current students understand the various need and non-need based Financial Aid programs and provide assistance through the application process. Additional Information and resources are also available on the Financial Aid page of the Dorsey College website. Financial Aid is available to those who qualify.

Can you get me a job once I graduate?

No school can guarantee their students and graduates a job once they have finished their program. Here at Dorsey College, we offer career services assistance to all program completers. You can learn more about the type of assistance our Career Services Coordinators offer by visiting our Career Services for Students and Graduates page.

Do you offer babysitting or childcare?

Our campus does not offer babysitting or childcare for enrolled students, however, if this is a concern for you, our team is more than happy to share any information we have available regarding local resources that may be able to assist you.

Who are your students? Will there be people like me?

Our students come to us from a variety of backgrounds and experiences.

If I run into difficulties during my program, is there someone I can talk to?

We're committed to our students and want to help them succeed. If you're having academic challenges during your program, we would encourage you to meet with your instructors or the Academic Dean at the Wayne, MI campus. If you have another concern, our Managing Director at the Wayne, MI campus has an open door policy and is always willing to speak with students regarding any concerns they may have.
Want to learn more about the Dorsey College Wayne, MI Campus? Check out our Wayne, MI campus events page!