Dorsey College offers catering services throughout the Metro Detroit area for events of all sizes. Our menu offers a full selection of popular favorites, including cold and hot hors d'oeuvres, savory comfort foods, elegant entrées, diverse party platters, fresh salad bars, delicious desserts and more. Best of all, all of our culinary creations are made-to-order, guaranteed fresh, and of the absolute highest quality. Dorsey College offers an affordable alternative to expensive catering services without compromising taste or value.
Catering Services – Dorsey College of Michigan
Dorsey College's catering service can even customize our menu options to your unique event. So, no matter the size or theme of your event, we can provide a menu of dishes to help make it memorable. The chefs on our catering team are the actual supervising chefs for the students in Dorsey College's Culinary Arts program. If you have an upcoming event that you want professionally catered, contact Dorsey College Catering Services today at catering@dorsey.edu. Our catering services are licensed and insured.
 Dorsey College Catering offers:
Custom Menus based on YOUR event and YOUR needs
Affordable pricing with no additional service fees
Catering services for ANY event, large or small
A staff of Chefs with culinary industry experience supervising our culinary students
Fully licensed and insured services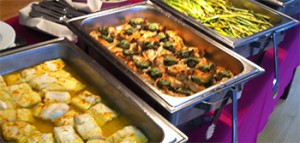 Offering high-quality catering services throughout Metro Detroit at affordable prices with menus tailored to YOUR specific event.  We can help turn your next gathering Into an event to remember! Are you ready to make your next gathering an event to remember?
Contact Dorsey College Catering  Services TODAY: Chef Robert Gordon, Catering Manager catering@dorsey.edu