Make your dreams a reality through Massage Therapy training at Dorsey College. Our hybrid Massage Therapy training program is designed with your success in mind, giving you the opportunity to build a career you love. Through Massage Therapy training you could learn foundational massage techniques as well as what to expect from a career as a massage therapist. Receiving a massage therapist education could help prepare you for an entry-level massage therapist position (once licensed) and the responsibilities that come with it. For those in Michigan who want to train to pursue a career in this field, the Dorsey College Massage Therapy curriculum fulfills the educational requirements for licensure in the state of Michigan. Dorsey College has determined that its Massage Therapy program curriculum is sufficient to fulfill educational requirements for licensure in the State of Michigan only. No educational determinations have been made for any other state, district or US territory in regards to licensure requirements. After successful completion of our Massage Therapy training program, you could have the skills needed to pursue a new career as a Massage Therapist, upon licensure.
Hands-on Training for a Hands-on Career: Massage Therapist Education
When choosing a massage therapy school, it is important to find a program that centers around hands-on training. Receiving real-world experience could prepare you for future job responsibilities and what to expect in a massage therapy career. At Dorsey College, we take your success seriously and understand that practice makes perfect! Our Massage Therapy program gives you the opportunity to apply textbook knowledge in a simulated work environment for a more thorough learning experience. Dorsey College massage instructors could help provide you with first-hand training in the proper application of massage techniques such as Swedish massage, deep tissue, sports massage, and much more! Massage Therapy training could prepare you for a hands-on career providing relief and healing to clients in need.
I want to take Massage Therapy classes in Michigan. Is there a Massage Therapy School near me?
If you're in the Metro-Detroit area, Dorsey College in Madison Heights, Dearborn, and Woodhaven offer our Massage Therapy diploma program. If you're in the Saginaw area, we also offer our Massage Therapy program at Dorsey College in Saginaw.  We offer flexible class schedules and work with you to reach your career goals! Fill out the request information form and one of our admissions representatives will help get you started on your massage therapist journey!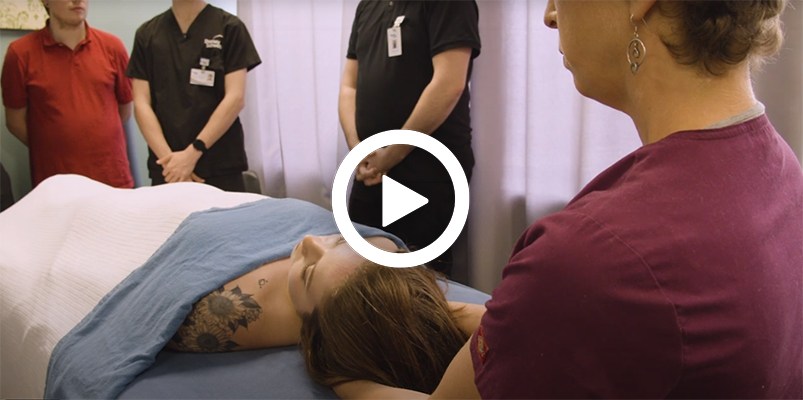 Find A Campus Near You
The Massage Therapy program at Dorsey College is offered at the following locations:
The Responsibilities of a Massage Therapist | Michigan Job Outlook
A career in Massage Therapy is centered around bringing relief and wellness to patients in need. Massage therapists specialize in healing sports injuries, easing tight muscles, and increasing the overall health of their clients through the use of touch. As a licensed Massage Therapist, you could perform a variety of duties including (but not limited to):
Discussing medical history with the patient
Recognizing problems and potential causes of stress and pain
Determining the type of massage that may be most helpful
Maintaining client treatment records and medical information
Developing treatment plans for the client's recovery.
Provide guidance and teach clients rehabilitative techniques
Use complementary tools when necessary
Through simply kneading muscles and soft tissues of the body, you could help relieve stress as well as heal injuries in your clients. Massage therapy, though not complicated, is very strategic. Correctly assessing your clients and using problem-specific massage modalities could mean the difference between being a good massage therapist and a great one.
Massage Therapy courses at Dorsey College
Massage students enrolled at Dorsey College have the opportunity to learn hands-on techniques, including Swedish massage, deep tissue, neuromuscular therapy, sports massage, and participate in supervised clinical practice. Our curriculum is also geared to prepare students to challenge the Massage & Bodywork Licensing Examination (MBLEx). Students enrolled in Massage Therapy training can also practice massage modalities learned in the classroom on members of the public to enrich the educational experience. During supervised clinical practice and as part of their training, students will provide massage services to customers who may be charged for the services rendered by students. Once licensed, our graduates may pursue a variety of jobs, including private practice, athletic team massage therapist, a massage therapist in a hospital, on-site massage therapist, massage therapist in a spa or salon, assistant to physical therapists or chiropractors, or serving as a massage therapist on cruise ships. Begin your journey today towards a rewarding career in Massage Therapy through training at Dorsey College!
Dorsey College will pay the cost one time for graduates of this program to challenge a certification exam as selected by Dorsey College, contingent upon the graduate meeting Dorsey College's exam preparation requirements.
Massage Therapy Frequently Asked Questions
Want to learn more about:
What Massage Therapists Do
Becoming a Massage Therapist
The Dorsey College Massage Therapy program
Check out our Massage Therapy FAQ page!
Accreditation
Dorsey College is accredited by the Commission of the Council on Occupational Education. This applies to the Madison Heights campus (which serves as the main campus) and the Dearborn, Saginaw, and Woodhaven campuses (which are branch campus locations of Madison Heights).  Contact information for the Council on Occupational Education is as follows: 7840 Roswell Road, Building 300, Suite 325, Atlanta, GA 30350, telephone: 770-396-3898 / FAX: 770-396-3790, www.council.org.
Financial Aid
Financial aid is available to those who qualify.
Ready to make a change? Take the first step!
Requesting information requires no obligation or commitments.
Additional Information
For your reference, we've included the links below of several very helpful websites where you can learn more about Massage Therapists, info pertaining to Jobs as a Massage Therapist, the work Massage Therapists do, etc.: