Financial Aid & Tuition Assistance
Students attending Dorsey College may apply for various need and non-need based Financial Aid programs for tuition assistance as well as paying for the expenses related to attending school. Financial Aid generally consists of a combination of grants and loans which supplement the student's (and possibly parent's) contribution toward the Cost of Attendance. For specific tuition information on the individual programs offered by Dorsey College, please visit our Student Consumer Information page.
Students should also visit the Federal Student Aid website at https://studentaid.gov/ for additional information. Information about Financial Aid programs available at Dorsey College can also be found on the Student Consumer Information page or by visiting the Financial Aid Office at one of our campus locations.
Contact Dorsey College Financial Aid Offices
Each campus of Dorsey College has a financial aid office, staffed with Financial Aid Advisor(s) available during regular school hours. The financial aid staff is prepared to help students and their families with information on the availability of tuition assistance and additional aid, determining eligibility, and guide applicants through the entire process. To contact one of the Dorsey College Campuses, click here or click on your campus location below for more information.
We have also provided links to additional websites for more information; see the section on this site labeled Federal Student Aid Resources for those additional sites.)
Funding Sources
Grants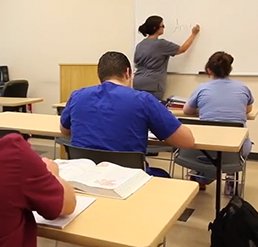 A grant is a need-based award that does not generally need to be repaid. Along with scholarships, grants are the best form of financial aid. The main difference is that scholarships typically look at academic merit or other specific criteria as well as financial need, whereas most grants are almost exclusively awarded because of financial need. There are federal, state, private and institutional grant programs.
Federal Pell Grant – The Pell grant is gift assistance which generally does not have to be repaid. Pell is awarded to students who have a financial need as determined by the U.S. Department of Education standards. Annually, the U.S. Department of Education determines student eligibility for this grant. For the 2023‐24 award year, the maximum grant is $7,395. To apply, students must complete the Free Application for Federal Student Aid at the following site: https://studentaid.gov/h/apply-for-aid/fafsa.
Federal Supplementary Education Opportunity Grant (FSEOG) – The FSEOG is gift assistance which generally does not have to be repaid. FSEOG is awarded to students who have an exceptional financial need as determined by the U.S. Department of Education standards. A student with the lowest "Expected Family Contribution" (EFC) are awarded FSEOG before students with higher EFCs. The average award amount varies from school to school. FSEOG is based on the annual allocation of funds provided to the school by the U.S. Department of Education. FSEOG is awarded to all students until the funds are depleted. The school cannot guarantee every eligible student will receive an FSEOG award.
Federal Work Study
The Federal Work Study program is an award made by the school (Campus-Based Aid) from limited funds provided by the federal government. The award is given to eligible students that are employed under the Federal Work Study program by the school in which the student is enrolled (on campus). Federal Work Study recipients may also be employed off campus by federal, state, or local public agencies, or certain private nonprofit or for-profit organizations. Not all Dorsey College campus locations may offer the Federal Work Study program, see your campus financial aid office for more information.
Additional Funding Options
Michigan Rehabilitation Services (MRS) – This state agency provides vocational rehabilitation services to Michigan citizens that are physically or mentally impaired. MRS may arrange, provide, or purchase the services necessary to achieve an individual's employment plan. Further information can be obtained through Dorsey College or Michigan Rehabilitation Services at 1-800-605-6722.
Michigan Merit Award – Eligibility for the Michigan Merit Award has now expired for all students unless they have served or are currently serving in the military. Students who have or are serving in the military should contact the Student Scholarships and Grants Division at 1-888-4-GRANTS (1-888-447-2687), for information on claiming this award. For additional information, please visit the Michigan Merit Award website at https://www.michigan.gov/mistudentaid/programs/michigan-competitive-scholarship.
Workforce Investment Act (WIA) – If you are "unemployed" or "underemployed," you may be eligible to receive a training fund voucher (ITA) to reduce your educational costs. For information, contact a Dorsey College location for directions to your local Workforce Development Board office.
United Auto Workers (UAW) Tuition Assistance Plan – Dorsey College nationally accredited and approved to participate in tuition assistance and scholarship programs provided by UAW-Chrysler, UAW-Ford and UAW-GM for employees, retirees, and their eligible dependent children. Contact your local union to determine your eligibility.
Veterans Benefits (VA) – Dorsey College has training programs that have been approved to accept Veteran Education Benefits and will work with the Department of Veteran's Affairs to process benefits for students. Eligibility is determined by the Department of Veteran's Affairs
Select Dorsey College programs are approved for training under the Post 9/11 GI Bill®, the Montgomery GI Bill® (MGIB), and the Veteran Readiness and Employment (VR&E) program at the following campuses: Dearborn, Grand Rapids, Madison Heights, Roseville, Saginaw, Wayne, and Woodhaven. "The GI Bill® is a registered trademark of the U.S. Department of Veterans Affairs (VA). More information about education benefits offered by VA is available at the official U.S. government website at https://www.va.gov/education/#get-gi-bill-and-other-education."
Dorsey College Scholarships and Grant
Dorsey College offer various scholarship opportunities to students. The Financial Aid Department will assist students by processing eligible awards used to fund their educational costs. Please visit the Scholarships and Grants page for information on available programs.
Tuition Reimbursement
Dorsey College will accommodate any student eligible for employer or employee-related benefits to secure such benefits by completing required forms and submitting required performance reports or other documentation. The student is responsible, however, for all tuition charges incurred with training in the event reimbursement requests are not honored as expected.
Loans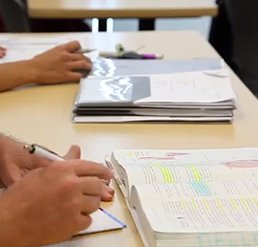 Student loans are a type of financial aid. Student loans are borrowed funds that must be repaid, with interest, just like car loans and mortgages. Even with the availability of other types of aid, many students must rely on loans to help cover educational expenses, as most students do not receive enough grant and scholarship funding to cover all their expenses.
Education loans from different sources have varying terms (e.g., interest rates, repayment plans, fees, and credit requirements). For example, Federal Direct Subsidized/Unsubsidized loans have no credit or cosigner requirements and the interest rates are generally lower than other types of loans. Whereas, Federal Direct PLUS loans (for parents) require the borrower to complete a credit check, and typically have a higher interest rate.
Borrowing conservatively means borrowing only the amount of money you need. Don't get carried away. Remember that you have to repay all student loans. One of the best strategies for borrowing conservatively is to come up with a budget at the beginning of the academic year in order to determine if you need to borrow a student loan.
Direct Subsidized Stafford Loan – The Subsidized Federal Stafford Loan program provides low-interest loans through the U.S. Department of Education's Direct Loan Program. The maximum annual loan amount for the first academic year is $3,500 for undergraduate students less origination and other fees (if applicable). For loans first disbursed after July 1st 2012, interest does not accrue until the student enters their grace period after leaving school or dropping below a half-time enrollment status. Subsidized Federal Stafford loans provide many flexible repayment plans as outlined in the loan counseling materials. Payments are based on the repayment plan selected by the student.
Direct Unsubsidized Stafford Loan – If you do not qualify for a full or partial Subsidized Stafford Loan based on your financial need, or need additional loan funding, you may qualify for an Unsubsidized Stafford Loan through the U.S. Department of Education's Direct Loan Program. The federal government does not pay the interest on unsubsidized loans while you are in school. Student loan borrowers are responsible for all interest that accrues on the loan while enrolled, during your grace period, and any deferment periods. Students may elect to make interest payments while in school to avoid the capitalization of interest and lower the overall repayment debt. Loan repayment begins six months after leaving school or if you elect to attend less than half the time.
Independent students can borrow up to $9,500 (Subsidized and Unsubsidized combined) for the first academic year. Dependent students can borrow up to $5,500 (Subsidized and Unsubsidized combined) for the first academic year.
Direct PLUS Federal Loan (For Parents) – The Federal PLUS loan is available to parents who wish to apply for additional assistance for their dependent child's education. A parent's decision not to apply for a PLUS loan does not guarantee the dependent student may receive additional financial aid assistance. The amount of the PLUS Loan cannot exceed the student's cost of attendance less other student aid awarded. The interest begins to accumulate on the date of the first disbursement. Loan repayment begins 60 days after the final loan disbursement; however parents may apply for a deferment. Payments will include both principal and the interest that accumulates.
Effective July 1, 2013, interest rates will be established each year for Direct Subsidized, Direct Unsubsidized, and Direct PLUS loans for which the first disbursement is on or after July 1 through the following June 30. The rate will be the sum of a uniform "index rate" plus an "add-on" that varies, depending on the type of loan (Subsidized/Unsubsidized or PLUS) and the borrower's grade level (undergraduate or graduate/professional). Thus, interest rates will be the same for Direct Subsidized Loans and Direct Unsubsidized Loans taken out by an undergraduate student. The interest rate for a loan, once established, will apply for the life of the loan – that is, the loan will be a fixed-rate loan. For Subsidized and Unsubsidized loans first disbursed on or after July 1, 2023, and before July 1, 2024, the interest rate is 5.50%. PLUS loans through the Federal Direct Loan Program disbursed on or after July 1, 2023, and before July 1, 2024, will have a fixed rate of 8.05%.
Private Educational Loans – Students have a variety of options if they choose to apply for private loans. Dorsey College does not use a preferred lender list, we provide students with a list of private education loan lenders that have offered private loans to our students over the past four years. Students should select a private lender of their choice – they are not required to use any of the lenders we have listed. Dorsey College will promptly process the application for any lender that is selected by students.
Students and parents should first apply for Federal Student Aid before resorting to private educational loans.
Dorsey College offers a private institutional loan to eligible students that have a gap in their Federal Student Aid and the amount of their institutional tuition and fees. This loan can only be used for direct educational expenses such as tuition and fees.