Explore a Culinary School Experience that Preps you to be Job Ready in One Year
Are you looking for a culinary program that will help you take your skills to the next level?  Dorsey College's Culinary Arts program is designed to give you the opportunity to embrace your love for cooking and turn it into a career. Through in-class instruction, hands-on training,  and real-life experience via an externship with a local restaurant, you gain practical experience in an occupational setting you need to be prepared for a career in the food industry.  
Over the years, the craft of cooking has elevated. It has transitioned from an exciting hobby to an established culinary industry, shaped by dedicated and experienced professionals in the field. As part of the Culinary Arts training program, each culinary arts student at Dorsey College will receive their own set of culinary equipment. This equipment will aid you as you learn professional techniques and allow you to practice your culinary skills.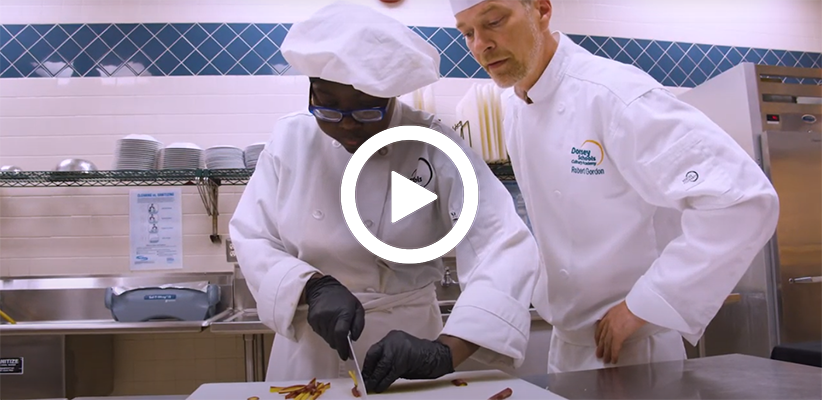 Looking for "culinary classes near me?"
The Dorsey Culinary Arts program is offered at the following Dorsey College campus location:
Culinary Program – Things You Can Learn
When selecting a culinary school, it's important to choose one where you can "learn by doing." This practical application can aid in the skills a student can develop during their culinary education. Students who enroll in a Culinary program should expect to be exposed to various topics as part of their training.  
Culinary training may cover topics such as:
Proper knife cuts

Mise en place

Safety and sanitation

Butchering

Baking

Various cooking techniques

Food preparation

Purchasing, costing, inventory control, and kitchen management

Nutrition and healthy cooking

Exposure to different regional and international cuisines

…and more!
In addition, a culinary program should offer you an opportunity to apply the knowledge and skills you've learned in a real-world setting through an externship. 
At Dorsey College, the Culinary Arts program includes coverage of the topics above, and we have partnered with local restaurants to ensure you get the hands-on, real-world training you need to succeed. Our chef instructors at Dorsey College are dedicated to helping students learn the skills to pursue their newly chosen careers.
How Long Does it Take to Graduate from Culinary School?
When you train at Dorsey College, you can earn your culinary diploma in just one year. That means you can learn the skills needed to gain the competitive and creative edge in developing your culinary career in a relatively short time!
You could be eligible for up to $1,200 towards your Culinary Arts program tuition! Contact us today to learn more about the new Pat Fischer Culinary Arts Grant.
Culinary Program Courses at Dorsey College
At Dorsey College, culinary training takes place in both a classroom setting and hands-on in our kitchens on campus. This blended approach provides a strong educational foundation for those learning and honing their culinary skills.
So, you may wonder, what do students learn in culinary school?  
At Dorsey College, you will be exposed to various topics throughout your culinary program.  
The culinary program courses you will take include the following:
Culinary Fundamentals

Culinary Skills

Nutrition and Purchasing Fundamentals

Culinary Specialties: Bakeshop and Healthy Cooking

Food Service Operations

Culinary Specialties: Catering, Regional, and International Cooking

Culinary Externship
Flexibility Added to Your Culinary Program
At Dorsey College, we realize that flexibility is important to you when selecting a culinary program. Because of this, we offer morning, afternoon, and evening classes. In addition, the Culinary Arts program at Dorsey College is delivered in a hybrid format. A hybrid format means that some culinary course content is delivered through distance education. In contrast, others will take place on campus, where you can benefit from hands-on training and develop your culinary skills. It's the best of both worlds!
Ready to make a change? Take the first step!
Requesting information requires no obligation or commitments.
Culinary School Frequently Asked Questions
Want to learn more about:
Info on Careers in the Culinary Arts

Pursuing a Career in the Culinary Arts

The Dorsey College Culinary Arts program
Check out our Culinary Arts FAQ page!
Financial Aid
Financial aid is available to those who qualify.
Accreditation
Dorsey College is accredited by the Commission of the Council on Occupational Education. This applies to the Roseville campus, which is a branch campus of Madison Heights.  Contact information for the Council on Occupational Education is as follows: 7840 Roswell Road, Building 300, Suite 325, Atlanta, GA 30350, telephone: 770-396-3898 / FAX: 770-396-3790, www.council.org.

The Culinary Arts program at Dorsey College is accredited by The Accrediting Commission of the American Culinary Federation Education Foundation (ACFEF).
ACFEF Reporting of assessment data of student outcomes and success measurements
As a postsecondary ACFEF accredited program, Dorsey College maintains an ongoing system for collecting, documenting and producing programmatic assessment data of student outcomes and success measurements from our Culinary Arts program. This data relates to student graduation rates, student job placement rates and students obtaining entry level ACF certification by graduation.  To access this information, please click here.
Ready to make a change? Take the first step!
Requesting information requires no obligation or commitments.
Additional Information
For your reference, we've included the links below of several very helpful websites. Here you can learn more about the work performed by those in the Culinary Industry. As well info pertaining to Jobs in the Culinary Arts, the path people take to enter the Culinary field, etc.:
Becoming a culinary artisan? Enroll in Dorsey College's Culinary Program Today!
We can't wait to see your culinary success story unfold. You have the potential and our passionate Chef instructors are ready to help you every step of your culinary school journey. To get started towards a career in culinary arts, simply request information.