Are you excited about nail design, trying out different shades of polish, and getting a good manicure/pedicure?  If so, training in a nail technician program could be right for you!  For those interested in this field, the terms nail technician and manicurist are often used interchangeably.
If this sounds like a path you'd like to pursue, you will want to find a Manicurist school and a nail technician program with a strong focus on hands on training.  This can help put you on a path towards success as you pursue your new career!  At Dorsey School of Beauty, our Manicuring program can help you get on your way!
Manicurist School Can Help You Develop Your Skills
The first step in pursuing your new career is to find a manicurist school that can help you develop your skills.  Your school may focus specifically on nails, or they may have various beauty training programs.  In either case, you will want to make sure the manicurist school you choose that offers a hands-on experience as part of their training.  This may include opportunities to practice the skills you are learning not only in class, but also on members of the public through the school's student salon.
At Dorsey School of Beauty, our Manicuring program has been designed to provide our students with opportunities to not only learn the skills and techniques needed for success, but also the opportunities to practice them in a hands-on environment.  As you are searching for a Manicurist school, consider Dorsey School of Beauty, located in Taylor, MI.
Nail Technician Program – Things You Can Learn
Once you have identified some potential manicurist schools, you will want to look at the nail technician program and the things you can learn in each.  Students who choose to enroll in a Nail Technician program (or Manicuring program) can learn about a variety of topics, including:
Safety
Sanitation
Nail care
Manicures and pedicures
Artistic principles
Basic color principles to nail technology
Artificial nails
Extensions
Nail repair
Shop management
…and more!
When you are looking at various training programs, you may also want to ask, "when does the next class start?"  This will help you determine how quickly you can begin your nail technician training.
At Dorsey School of Beauty, our Manicuring training program covers the topics listed above and more!  Don't trust your nail technician training to just anyone.  Contact us at Dorsey School of Beauty today to learn how you can begin your Manicuring training!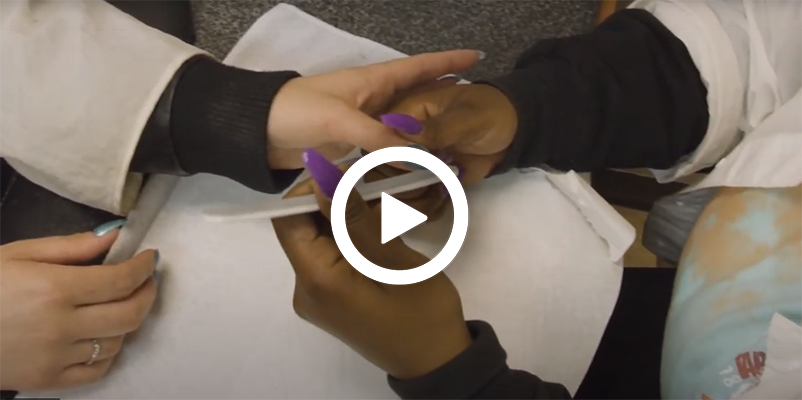 Looking for "Nail Technician Schools Near Me?"
If you are looking for "nail technician schools near me" and you live in the Downriver area, Dorsey School of Beauty can help you get on your way!
If you are wondering where our manicurist school is in the Downriver area, we are located in Taylor, MI.  Dorsey School of Beauty is conveniently located in in the Taylortown Shopping Center on Ecorse Road, just east of Pardee Road.
Contact us today to learn how our team can provide you with the training you need to pursue your new career as a manicurist or nail technician!
Nail Technician Training That Helps You Prepare to Become Licensed
As you pursue your new career, you will want to select a nail technician training program that helps you prepare to become licensed.  That's the goal of our training program here at Dorsey School of Beauty.
It's important to keep in mind that states require manicurists and nail technicians to become licensed in order to pursue gainful employment in this field.  That means you will want to select a state-approved training program.  It will also be helpful if your nail technician training helps prepare you for the state board exam.  In addition, you will want to ensure you meet all of the other requirements set forth by your state.
Dorsey School of Beauty has determined that its Manicuring program curriculum is sufficient to fulfill educational requirements for licensure in the State of Michigan only. No educational determinations have been made for any other state, district or US territory in regards to licensure requirements.
As licensure is required for employment by the State of Michigan, Dorsey School of Beauty will pay the cost one time for graduates of this program to challenge the state licensure exam, contingent upon the graduate meeting Dorsey School of Beauty's exam preparation requirements.

Ready to make a change? Take the first step!
Requesting information requires no obligation or commitments.
A Career as a Nail Technician / Manicurist
Nail technicians play an important role within the beauty industry.  These professionals specialize in the beautification of nails and can be found working in a variety of settings.  Some of these may include private, chain, and department store salons and other beauty-related businesses.
Career opportunities for licensed nail technicians and manicurists may include manicurist, platform manicurist, salon owner, nail technician director, theatrical nail technician, manufacturer's representative, beauty products supervisor, beauty magazine columnist, and beauty supply salesperson.
Want to learn more about:
How to become a Nail Technician / Manicurist?
The Dorsey School of Beauty Manicuring program
Check out our Manicuring FAQ page!
Additional Program Information
To learn more about the Manicuring program at Dorsey School of Beauty, request information using the form above.
What is the total cost of the Manicuring program?
Tuition and fees for a student to complete the Manicuring program can be found by visiting our Student Consumer Information page. To calculate the total cost of education, including indirect costs of room and board, personal expenses, transportation costs and loan fees associated with the cost of attendance, go to the Cost of Attendance page.
Dorsey School of Beauty Manicuring program Equipment and Books
The tuition for the Manicuring program includes the necessary textbooks along with a Manicuring Student Kit. The student kit includes items such as nail polish, acrylic supplies, and other manicuring instruments.
Dorsey School of Beauty will furnish all necessary materials and supplies to senior students who perform work on patrons. All equipment, materials, and supplies not included in the student kit are the property of Dorsey School of Beauty.
Manicuring / Nail Technician Career Information
For more information about a Manicuring career, please visit the U.S. Department of Labor's O*NET website. The Standard Occupational Code (SOC) for this career is 39-5092 and the Classification of Instructional Programs (CIP) code for this program is 12.0410.
Additional career information specific to the State of Michigan can be found at the Career One Stop website, which is sponsored by the U.S. Department of Labor, Employment and Training Administration. When visiting the website, navigate to the browse occupations page, type "Manicurists" in the key word search box, and then continue to select the State of Michigan.
The Manicuring program is a short-length program not eligible for Title IV funds.