The Manicuring diploma program offered at Dorsey School of Beauty provides students with the opportunity to obtain a basic understanding of manicuring techniques that include plain manicure, nail art, oil manicure, nail repair, and artificial nail application treatments. The Manicuring program features a combination of classroom instruction and hands-on training in our on-campus beauty clinic. A nail technician is an individual who considers themselves to be a people person. Manicurists and Nail Technicians enjoy working with their hands and take pride in seeing to it that the work they do is done well. Are you looking to pursue an exciting career that allows you to interact with people, increase their happiness, and help them feel good about themselves and improve the way they look? If so, a career as a manicurist or nail technician may be right for you.
The Manicuring program is offered at the Dorsey School of Beauty, Taylor, MI campus.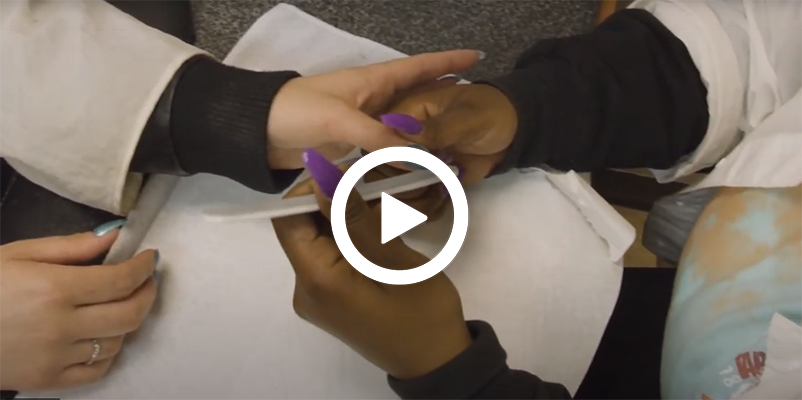 Manicuring training program
By the end of the program, each graduate will have had the opportunity to obtain the knowledge and experience that is designed to prepare them to enter this exciting profession. The Manicuring program totals 400 clock hours and consists of two courses: MANI101 Manicuring I (200 hours) and MANI102 Manicuring II (200 hours).
Training in this program includes:
Basic instructions in manicure techniques, nail technology, and manicure shop management.
A Manicuring Student Kit, which contains various items used in the industry, as well as textbooks – are all provided by Dorsey School of Beauty.
The opportunity for students to receive hands-on training (while supervised) in our on-campus beauty clinic where they will be able to provide services to the public who may be charged for the services rendered by students.
Dorsey School of Beauty's Taylor, MI campus is institutionally accredited by the National Accrediting Commission of Career Arts & Sciences, Inc. (NACCAS).
As licensure is required for employment by the State of Michigan, Dorsey School of Beauty will pay the cost of one time for graduates of this program to challenge the state licensure exam, contingent upon the graduate meeting Dorsey School of Beauty's exam preparation requirements.  Dorsey School of Beauty has determined that its Manicuring program curriculum is sufficient to fulfill educational requirements for licensure in the State of Michigan only. No educational determinations have been made for any other state, district or US territory in regards to licensure requirements.
Manicuring/ Nail Technology Career Information:
For more information about a Manicuring career, please visit the U.S. Department of Labor's O*NET website. The Standard Occupational Code (SOC) for this career is 39-5092 and the Classification of Instructional Programs (CIP) code for this program is 12.0410. Additional career information specific to the State of Michigan can be found at the Career One Stop website, which is sponsored by the U.S. Department of Labor, Employment and Training Administration. When visiting the website, navigate to the browse occupations page, type "Manicurists" in the key word search box, and then continue to select the State of Michigan.
Manicurist / Nail Technician Career Outlook
Career opportunities for those trained and licensed in manicuring include manicurist, platform manicurist, salon owner, nail technician director, theatrical nail technician, manufacturer's representative, beauty products supervisor, beauty magazine columnist, and beauty supply salesperson. Jobs in this field can be found in private, chain, and department store salons and other beauty-related businesses.
Want to learn more about:
How to become a Nail Technician / Manicurist?
The Dorsey School of Beauty Manicuring program
Check out our Manicuring FAQ page!
Additional Program Information
To learn more about the Manicuring program at Dorsey School of Beauty, request information using the form above.
What is the total cost of the Manicuring program?
Tuition and fees for a student to complete the Manicuring program can be found by visiting our Student Consumer Information page. To calculate the total cost of education, including indirect costs of room and board, personal expenses, transportation costs and loan fees associated with the cost of attendance, go to the Cost of Attendance page.
Dorsey School of Beauty Manicuring program Equipment and Books
The tuition for the Manicuring program includes the necessary textbooks along with a Manicuring Student Kit. The student kit includes items such as nail polish, acrylic supplies, and other manicuring instruments. Dorsey School of Beauty will furnish all necessary materials and supplies to senior students who perform work on patrons. All equipment, materials, and supplies not included in the student kit are the property of Dorsey School of Beauty.