Dorsey Schools, Dearborn MI Campus
Address
18660 Ford Road
Detroit, Michigan 48228
Phone: 313-982-3730

Where is the Dorsey Schools Dearborn Michigan campus located?

The Dearborn Michigan Campus of Dorsey Schools is located near the Southfield Freeway, off of Ford Road (adjacent to Planet Fitness). The Dorsey Schools Dearborn campus is only minutes away from communities such as Northwest Detroit, Dearborn, Dearborn Heights, Melvindale, and others.
Are you a graduate of the Dearborn campus?
Please take a moment to kindly review us here: https://goo.gl/Mj2qbX
Meet with one of our Admissions Representatives during these convenient hours:
Monday: 9:00 AM – 8:00 PM
Tuesday: 9:00 AM – 8:00 PM
Wednesday: 9:00 AM – 8:00 PM
Thursday: 9:00 AM – 8:00 PM
Friday: 9:00 AM – 5:00 PM
Saturday: Closed
Sunday: Closed
*Hours may vary on or around holidays.
The Dearborn campus is a branch campus of Madison Heights.

About Dorsey Schools Dearborn Campus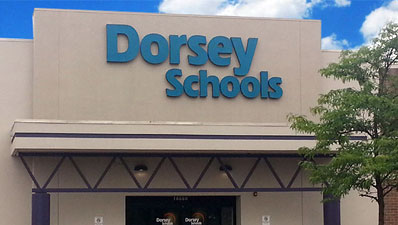 Many of the career training programs at the Dearborn campus give students the opportunity to learn in both a traditional classroom setting as well as in a lab environment where they can learn and practice the skills essential to their chosen area of study.
The Dorsey Schools Dearborn campus can help you launch an exciting new career in healthcare if you choose our Medical Assistant, Medical Administration and Billing, or Patient Care Technician program. A Dental Assistant training program is also offered and students will have the opportunity to learn in our beautifully outfitted Dental Lab. Prospective students interested in a career in the skilled trades can choose the Electrical Technician training program offered at the Dorsey Schools Dearborn campus.
Students enrolled in the Electrical Technician program will have the opportunity to learn skills such as circuitry and wiring in their classes.
Here's What Some of Our Dorsey Schools Graduates Are Saying
Dorsey Schools Graduate Testimonials
Dorsey Schools Medical Assistant program Graduate, 2015
Jessica Stateler
How did studying at Dorsey Schools make a difference for you or in your life?
"Before I started at Dorsey I did not believe in myself. I walked away with an education (that is priceless) along with confidence in myself."
What are the greatest strengths/skills you received from studying at Dorsey?
"I am a confident NCMA! I cannot put into words how important that is! My whole career is patient care – I am passionate and now with Dorsey's help, I am confident. The knowledge from the instructors and staff will be passed on!"
Are you employed in your field? If so, where? What are your plans after Graduation from Dorsey Schools?
"Yes, Dr. Devireddy, Chief Cardiologist at St. John. I plan on sharing my gift of compassion and knowledge as I grow as a NCMA."
Dorsey Schools Medical Assistant program Graduate, 2016
Tamara Thomas
How did studying at Dorsey Schools make a difference for you or in your life?
"Studying at Dorsey made a huge difference in my life. I got a chance to enter into a field that I always wanted as a child."
What was the best part of your experience studying at Dorsey?
"The best part of my experience was having a "hands-on" experience learning new things and meeting great people. Also having experience on externship."
Parking at the Dearborn Michigan Campus
We have parking available in the lot in front of our building and there is also a lot on the side of our building that students and visitors can use. Upon arriving, you can check in at the front desk (once you walk into the school) and a member of our staff can direct you.
Career Training Programs offered at the Dearborn Campus:
Frequently Asked Questions:
Are you ready to take the first step towards training for your new career? Click to schedule an appointment to visit us at the Dearborn campus today!
Want to learn more about the Dorsey Schools Dearborn, MI Campus? Check out our Dearborn, MI events page!