Are you passionate about dental health and desire a meaningful career helping others? If you answered, "Yes!", then becoming a Dental Assistant could be the right path for you! At Dorsey College, our comprehensive Dental Assistant classes are designed to teach students vital skills to help them excel in a Dental Assistant career. Each class in our Dental Assistant training program focuses on preparing the student for common clinical and administrative tasks that come with the job such as, how to schedule appointments or how to process an x-ray image. By enrolling in the Dorsey College Dental Assistant diploma program, you could learn the fundamentals of dental care, how to provide excellent patient service, and what it means to be on a dental team.
If you have been asking, "Where can I find Dental Assistant training near me," or searching for Dental Assistant programs in Michigan, it is time to learn more about Dental Assistant training with Dorsey College!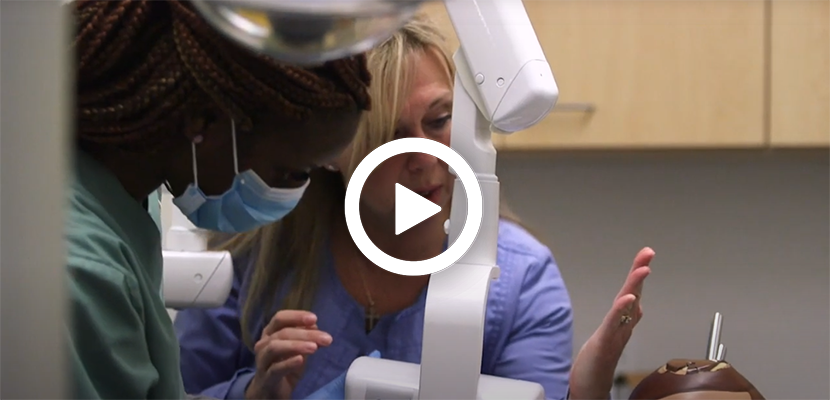 Find A Campus Near You
Are you searching for a Michigan dental assisting school? Dorsey College offers the Dental Assistant training program at multiple campus locations:
What you could expect from the Dental Assistant training program
The Dental Assistant training program at Dorsey College has been created with the student in mind. We aim to prepare students for an entry-level position in the dental industry through a higher education experience. With this goal in mind, we have curated Dental Assistant classes that cover fundamental topics and skills you could need on the job. The Dental Assistant classes at Dorsey College cover topics such as:
Dental anatomy and physiology
Terminology
Dental materials and equipment
Two-handed and four-handed chairside assisting
Radiography*
Sterilization
Infection control
Pharmacology
Laboratory procedures
Preventative oral care
Dental anatomy
Laboratory procedures
Attending Dental Assistant classes could give you the knowledge and the tools needed to help you become a Dental Assistant. Enrolling in Dental Assistant training school could provide you with hands-on learning through practical application. Dorsey College can help you get on your way towards becoming a Dental Assistant.
Externship Opportunity
After finishing the Dental Assistant classes portion of the program, you will be placed in an externship to complete your Dental Assistant training. Dorsey College's externship allows students to practice the knowledge and skills they have learned in a real-world setting. You could gain experience interacting with real patients in an externship. This could help you grow as an aspiring Dental Assistant and solidify what you learned in the classroom. Our externship takes place in a real dental healthcare facility where students may learn from dentists and hygienists with valuable knowledge and experience. By enrolling at Dorsey College, you could have the opportunity to interact with seasoned professionals and see firsthand what it's like to be a Dental Assistant in Michigan.
Career Prospects for Dental Assistants
After completing the Dental Assistant training program at Dorsey College, you could enter the dental industry and pursue your new career! Completing your Dental Assistant training could prepare you for these responsibilities and give you confidence when applying for jobs. Becoming a Dental Assistant could be your chance to improve someone's life and be part of a dental team. Are you ready to start your Dental Assistant training and bring a smile to someone's face? With Dorsey College, you could achieve your goal sooner than you think.
How long does it take to become a Dental Assistant in Michigan?
The Dental Assistant training program at Dorsey College can be completed in just one year. The program at Dorsey College provides students with the career-specific training needed to pursue their new career as a Dental Assistant in Michigan. If you are ready to begin what may be an exciting career as a Dental Assistant, apply to Dorsey College today!
Dental Assistant Frequently Asked Questions
Want to learn more about:
What Dental Assistants Do
Becoming a Dental Assistant
The Dorsey College Dental Assistant program
Check out our Dental Assistant FAQ page!
Accreditation
Dorsey College is accredited by the Commission of the Council on Occupational Education. This applies to the Dearborn, Roseville, and Woodhaven campuses (which are branch campus locations of Madison Heights).  Contact information for the Council on Occupational Education is as follows: 7840 Roswell Road, Building 300, Suite 325, Atlanta, GA 30350, telephone: 770-396-3898 / FAX: 770-396-3790, www.council.org.
Financial Aid
Financial aid is available to those who qualify.
Ready to make a change? Take the first step!
Requesting information requires no obligation or commitments.
Additional Information
For your reference, we've included the links below of several very helpful websites where you can learn more about dental assistant programs in Michigan, info pertaining to Jobs as a Dental Assistant, the work Dental Assistants do, etc.:
*DA114, the course that covers Introduction to Radiology, follows the Michigan Dental Association approved radiography training program.
NOTE: The Michigan Department of Licensing and Regulatory Affairs and the Michigan Board of Dentistry are responsible for the licensing of individuals who want to practice dentistry, dental hygiene and advanced levels of dental assisting.  Students attending a dental assisting program offered by a private college that is not accredited by the American Dental Association are not eligible for licensure in the State of Michigan. Dorsey College is classified as a private college and is not accredited by the American Dental Association's Commission on Dental Accreditation; graduates of this program are not eligible for licensure as a Registered Dental Assistant in Michigan. However, graduates of this program may challenge a certification exam offered by the Dental Assisting National Board, Inc. after completing 3,500 hours of dental work experience. Dorsey's Dental Assistant Program includes the opportunity to sit for the Radiation Health and Safety (RHS) and the Infection Control (ICE) certification exams, which are two components of the Dental Assisting national Board ("DANB") Certified Dental Assistant ("CDA") exam. Graduates of this program may complete the third exam component necessary for DANB's CDA credential, which is challenged after completing "a minimum of 3,500 hours' work experience as a dental assistant, accrued over a period of at least two years (24 months, if employed fulltime) to a maximum of four years (48 months, if employed part-time) which employment must be verified by a licensed dentist."