If you're looking to pursue a career in the world of healthcare, consider Dorsey College's Pharmacy Technician training program. Our Pharmacy Technician diploma program is designed to prepare students to work in an ambulatory pharmacy under the supervision of a licensed pharmacist. Students in this program are supplied with one complimentary lab coat at the beginning of their first laboratory class. No prior experience in this field is required to enroll in our Pharmacy Technician training program, just the desire to learn.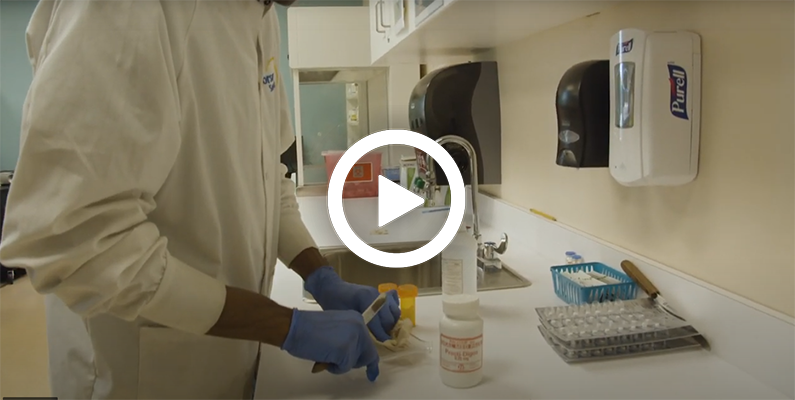 Find A Campus Near You
The Pharmacy Technician training program is offered at the following Dorsey College campus locations:
Pharmacy Technician training program – Michigan career training
Job duties of a Pharmacy Technician can include:
Provide critical support to the pharmacist
Assist in the filling of prescriptions
Assist in the dispensing of medications
Sterilize equipment
Create prescription labels
Billing insurance companies
Prepare medications for patients
Maintain inventory
Provide excellent customer service
Training in this program includes:
Coverage of topics such as pharmacy operations, including strong communication and customer service skills that are critical to the success of the pharmacy technician.
The opportunity to learn the language of medicine and building a proficient medical vocabulary, including the structure of the body, common diseases, treatment, laboratory tests and medical and pharmacological abbreviations.
Overview of the use and side effects of medications (generic and brand name, prescription, non-prescription, and alternative) that are commonly used to treat diseases.
Students are introduced to basic pharmacy practices, including laws and regulations.
An externship in a supervised, ambulatory pharmacy setting under the direct supervision of a pharmacist and his/her staff is included in the program.
Graduates of this program will be eligible to challenge a national Pharmacy Technician Certification exam.
For those who wish to earn their certification, Dorsey College will pay the cost one time for graduates of this program to challenge a certification exam as selected by Dorsey College, contingent upon the graduate meeting Dorsey College's exam preparation requirements.
Pharmacy Technician Career Outlook
A career as a pharmacy technician can be challenging, rewarding, and secure (especially in regard to the aging baby boomer generation and their need for more medications). Standard duties associated with this position include assisting the pharmacist in measuring, mixing, counting, and labeling dosages of medications, billing insurance companies and more. Pharmacy technician positions can be found in pharmacies, drug stores, hospitals, and department stores, grocery stores, and general merchandise stores with in-store pharmacies.
Enroll in the Pharmacy Technician training program at Dorsey College today and get the career training you need to become an integral member of a pharmaceutical healthcare team.
Pharmacy Technician Frequently Asked Questions
Want to learn more about:
What Pharmacy Technicians Do
Becoming a Pharmacy Technician
The Dorsey College Pharmacy Technician program
Visit our Pharmacy Technician FAQ page!
Accreditation
Dorsey College is accredited by the Commission of the Council on Occupational Education. This applies to the Madison Heights campus (which serves as the main campus) and the Dearborn, Roseville, Saginaw, Wayne, and Woodhaven campuses (which are branch campus locations of Madison Heights).
Effective March 18, 2021, Dorsey College was granted approval for hybrid delivery of its Pharmacy Technician program at the following locations: Roseville, Wayne and Woodhaven campuses (which are branch campus locations of Madison Heights).
Financial Aid
Financial aid is available to those who qualify.
Ready to make a change? Take the first step!
Requesting information requires no obligation or commitments.
Additional Information
Licensure as a Pharmacy Technician is required in the State of Michigan for employment in this field.  Dorsey College has determined that its Pharmacy Technician program curriculum is sufficient to fulfill educational requirements for licensure in the State of Michigan only. No educational determinations have been made for any other state, district or US territory in regards to licensure requirements.
Verification of high school graduation or its equivalent (a General Education Development "GED" High School Equivalency Certificate) and passing a mandatory background check is required for continued enrollment in the Pharmacy Technician training program.
For your reference, we've included the links below of several very helpful websites where you can learn more about Pharmacy Technicians, info pertaining to Jobs as a Pharmacy Technician, the work Pharmacy Technicians do, etc.:
Michigan Occupational Wage Information: http://milmi.org/?PAGEID=67&SUBID=124
O*Net Online: https://www.onetonline.org/link/summary/29-2052.00