The Patient Care Technician diploma program at Dorsey College provides career training in a broad foundation of skills, preparing students for success in the healthcare field. A career as a patient care technician can be one of the most satisfying jobs an individual can pursue.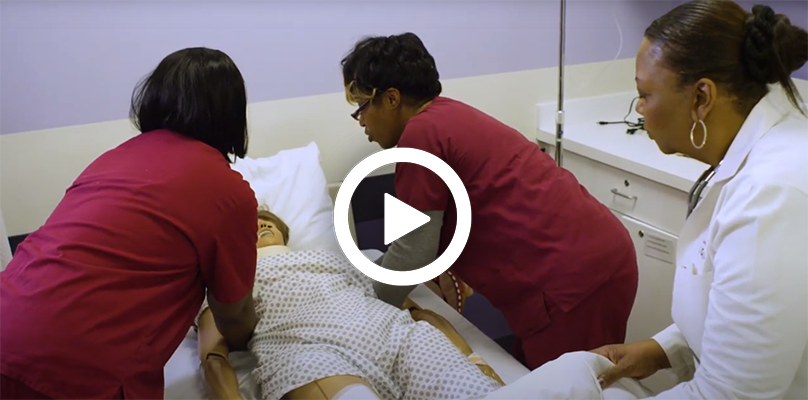 Find A Campus Near You
The Patient Care Technician diploma program is offered at the following Dorsey College campus locations:
Patient Care Technician training in Michigan – medical & healthcare programs
The responsibilities of a patient care technician include caring for injured, physically ill, mentally ill, and disabled patients in hospitals, nursing homes, assisted living communities, physicians' offices, long-term care or other medical facilities. Graduates who complete this specialized training from Dorsey College may go on to further advancement in the medical field, by way of becoming a certified Patient Care Technician.
The following are examples of some opportunities Dorsey College will present their students with while studying in our Patient Care Technician program:
The opportunity to develop the skills that are necessary for providing quality patient care in a variety of medical settings.
Training in infection control, pharmacology, and procedures for administering medications.
Exposure to the structures of the body, common diseases, treatments, and laboratory tests and coverage of medical terminology.
An externship with a local hospital, physician's office, long-term care facility, acute care setting, or other medical facility is included in the last module of training to provide experience in a medical facility and for professional exposure.
Patient Care Technician Duties:
Patient Care Technicians may enjoy a challenging and rewarding career in the healthcare field. Standard duties associated with this position can include:
Provide basic patient care — bathing, feeding, catheter care, etc.
Acquire, distribute and administer patient care supplies
Perform safety checks and ensure cleanliness in patient rooms
Accommodate the special needs of patients accordingly
Obtain EKG readings and monitor vital signs
Perform phlebotomy procedures
Provide emotional support to patients and families, particularly coping with grief and death
For those who wish to earn their certification, Dorsey College will pay the cost one time for graduates of this program to challenge a certification exam as selected by Dorsey College, contingent upon the graduate meeting Dorsey College's exam preparation requirements.
Patient Care Technician Career / Job Outlook:
Standard duties associated with Patient Care Technician jobs can include taking and recording patient vital signs, recording health histories, collecting lab samples, assisting with patient hygiene, safety and comfort, in addition to phlebotomy and blood glucose testing, performing ECGs, and more. Jobs in this field are most commonly found in hospitals, clinics, and rehabilitation facilities.
Enroll in the Patient Care Technician program at Dorsey College today and get the career training you need to become a valued professional in the healthcare field.
Patient Care Technician Frequently Asked Questions
Want to learn more about:
What Patient Care Technicians Do
Becoming a Patient Care Technician
The Dorsey College Patient Care Technician program
Check out our Patient Care Technician FAQ page!
Accreditation
Dorsey College is accredited by the Commission of the Council on Occupational Education. This applies to the Madison Heights campus (which serves as the main campus) and the Dearborn, Roseville, Saginaw, Wayne, and Woodhaven campuses (which are branch campus locations of Madison Heights).
Effective March 4, 2021, Dorsey College was granted approval for hybrid delivery of its Patient Care Technician program at the following locations: Dearborn and Roseville campuses (which are branch campus locations of Madison Heights).
Financial Aid
Financial aid is available to those who qualify.
Ready to make a change? Take the first step!
Requesting information requires no obligation or commitments.
Additional Information
For your reference, we've included the links below of several very helpful websites where you can learn more about Patient Care Technicians, info pertaining to Jobs as a Patient Care Technician, the work Patient Care Technicians do, etc.:
To learn more about the Patient Care Technician training program at Dorsey College request information by filling out the form above!