Patient care technician training provides career training in a broad foundation of skills. At Dorsey College, our Patient Care Technician program helps prepare students for success in the healthcare field with hands-on training. Having a career as a patient care technician can be one of the most satisfying jobs a person can pursue. After graduation, students may find fulfilling roles in places such as nursing homes, long-term care facilities, hospitals, and other types of medical settings.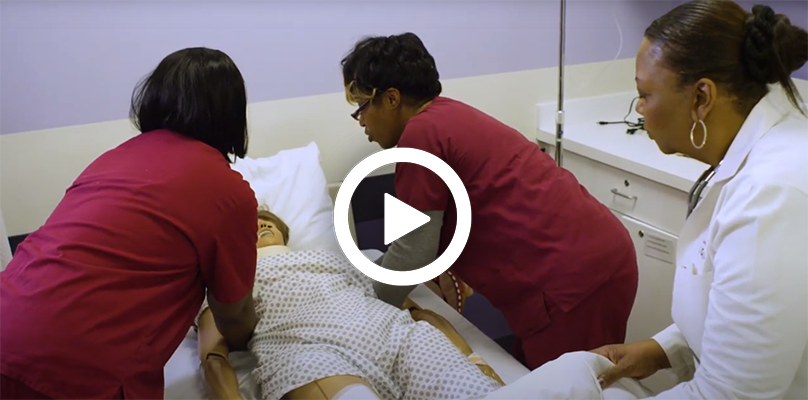 Find A Campus Near You
The Patient Care Technician diploma program is offered at the following Dorsey College campus locations:
Patient Care Technician training in Michigan – medical & healthcare programs
The responsibilities of a patient care technician include caring for injured, physically ill, mentally ill, and disabled patients in hospitals, nursing homes, assisted living communities, physicians' offices, long-term care or other medical facilities. Graduates who complete specialized training in a pct program may pursue further advancement in the medical field by becoming certified Patient Care Technicians.
Here are some of the opportunities that Dorsey College could provide its students while enrolled in our Patient Care Technician training program:
The opportunity to develop the skills that are necessary for providing quality patient care in a variety of medical settings.
Training in infection control, pharmacology, and procedures for administering medications.
Exposure to the structures of the body, common diseases, treatments, and laboratory tests and coverage of medical terminology.
The final module of training includes an externship. Students continue their learning and training at a local hospital, physician's office, long-term care facility, acute care setting, or other medical facility to gain experience and professional exposure in a medical setting.
Is Patient Care Technician Training Right for You?
Being a Patient Care Technician is being someone who wants to make a difference and is committed to health care. As a healthcare professional, you will be responsible for providing care and support to the people and patients around you. In this role, you could be viewed as the hero by providing the much needed comfort and support for people.
After successful completion of this program, graduates can enjoy a diverse selection of job location possibilities. These may include hospital settings, medical offices, long-term care facilities, nursing homes, etc.
Patient care technician training is the perfect way to gain experience and hands-on skills. Learning the skills and care that goes into being a PCT is a great way to begin your career. At Dorsey College, we will do our best to help you on your way to becoming the best Patient Care Technician you can be, so enroll today!
Patient Care Technician Duties:
Patient Care Technicians may enjoy a challenging and rewarding career in the healthcare field. Standard duties associated with this position can include:
Provide basic patient care — bathing, feeding, catheter care, etc.
Acquire, distribute and administer patient care supplies
Perform safety checks and ensure cleanliness in patient rooms
Accommodate the special needs of patients accordingly
Obtain EKG readings and monitor vital signs
Perform phlebotomy procedures
Provide emotional support to patients and families, particularly coping with grief and death
Students who complete the Patient Care Technician training program will be eligible to sit for a  Patient Care Technicians (PCT) certification exam. Students who earn a certification may be able to work under the supervision of registered nurses, licensed practical nurses, physicians, and other healthcare professionals.
Dorsey College will pay the cost one time for students to challenge a certification exam, as selected by Dorsey College. This will be contingent upon the student meeting Dorsey College's exam preparation requirements.
Patient Care Technician Career / Job Outlook:
Patient care technician jobs typically involve taking and recording patient vital signs, recording health histories, collecting lab samples, assisting with patient hygiene, safety, and comfort, as well as phlebotomy and blood glucose testing, performing ECGs, and other duties. Hospitals, clinics, and rehabilitation facilities are the most common places to find jobs in this field.
Enroll in Dorsey College's Patient Care Technician program today! Get the career training you need to become a valued professional in the healthcare field.
Patient Care Technician Frequently Asked Questions
Want to learn more about:
What Patient Care Technicians Do
Becoming a Patient Care Technician
The Dorsey College Patient Care Technician program
Check out our Patient Care Technician FAQ page!
Accreditation
Dorsey College is accredited by the Commission of the Council on Occupational Education. This applies to the Dearborn and Roseville campuses (which are branch campus locations of Madison Heights).  Contact information for the Council on Occupational Education is as follows: 7840 Roswell Road, Building 300, Suite 325, Atlanta, GA 30350, telephone: 770-396-3898 / FAX: 770-396-3790, www.council.org.
Financial Aid
Financial aid is available to those who qualify.
Ready to make a change? Take the first step!
Requesting information requires no obligation or commitments.
Additional Information
For your reference, we've included the links below of several very helpful websites where you can learn more about Patient Care Technicians, info pertaining to Jobs as a Patient Care Technician, the work Patient Care Technicians do, etc.:
To learn more about the Patient Care Technician training program at Dorsey College request information by filling out the form above!