If you are looking for LPN programs in Michigan, the Practical Nurse training program at Dorsey College offers comprehensive classroom education as well as hands-on clinical training. With formal training in Practical Nursing school, you could have the opportunity to take your place in the healthcare field. By enrolling in LPN programs in Detroit, Michigan and the surrounding area, you could be moving one step closer to acquiring the foundational skills you may need as a practical nurse!
Dorsey College's Practical Nurse training program is designed to provide you with valuable knowledge and techniques that could help you provide effective patient care in a variety of healthcare settings. Those who successfully complete our Practical Nurse program in Michigan could qualify to sit for the NCLEX-PN exam.
There is no better time than the present to explore LPN training schools in your area and begin training towards a rewarding career in the nursing field. We look forward to partnering with you on your journey into the nursing field!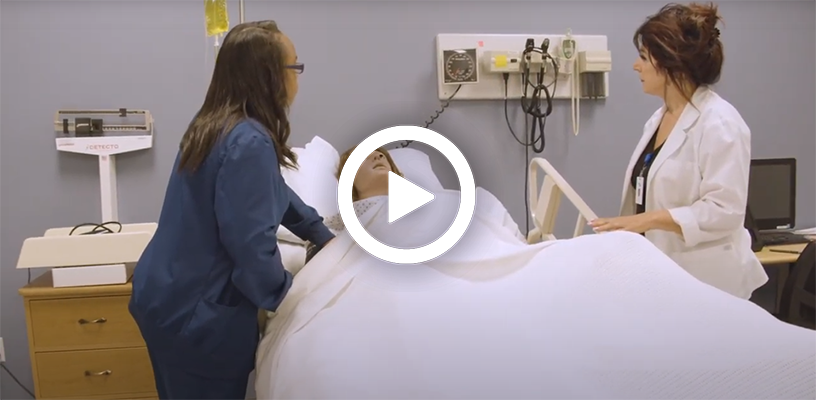 Find A Campus Near You
To give our students convenient access to the classroom, we have established locations in the Metro Detroit area as well as in Saginaw, MI. If you are asking yourself "
Where can I find Practical Nursing programs near me?
", explore our program at five Dorsey College locations:
Dorsey College's approach to Practical Nurse training
The classes offered in Practical Nursing school aim to provide you with the skills necessary to not only build a successful career as an LPN, but one that you could be proud of. We have designed our Practical Nurse training program at Dorsey College with this in mind. Our program is designed to be completed in one year and is committed to helping you reach your professional goals.
When you begin your search for LPN programs in Michigan, you want to make sure that you choose a program with a comprehensive in-class curriculum and hands-on training. Dorsey College's Practical Nurse training includes both key elements. Our program focuses on teaching practical nursing skills and responsibilities such as patient care, assisting with patient education, and managing team nursing care delivery. In our program, we cover a variety of course topics including:
Medical Terminology
Anatomy and Physiology
Practical Nursing Fundamentals
Medical Math Calculations
Pharmacology and medication delivery
Mental health concepts
Medical and surgical nursing
Maternal and newborn nursing
Pediatric nursing
Geriatric nursing
Dorsey College's Practical Nurse training program offers hands-on experience through clinical training, allowing you to apply textbook learning in real life.
The successful completion of Practical Nurse training could lead to a Practical Nurse certificate from Dorsey College and eligibility to sit for the NCLEX-PN exam. If students successfully pass the NCLEX-PN exam, you could become a Licensed Practical Nurse, which is required by the state of Michigan for employment. Make your dream a reality by discovering what you could achieve in LPN programs in Michigan!
Dorsey College has determined that its Practical Nurse program curriculum is sufficient to fulfill educational requirements for licensure in the State of Michigan only. No educational determinations have been made for any other state, district, or US territory in regards to nursing licensure requirements.
How LPN Programs in Michigan could potentially lead to a fulfilling career
For those researching LPN programs in Detroit, Michigan or the surrounding area, our Practical Nurse training program is designed to expand your current skill set and help you learn the qualities of an LPN. To assist in the learning process, our program curriculum encourages students to gain hands-on clinical experience to provide exposure to diverse patient populations, organizations, and agencies.
Through our program, you could learn new skills and techniques that will help you provide direct patient care. Enroll in LPN programs in Michigan and have the opportunity to pursue the training you may need to be a successful healthcare professional.
Why should I explore LPN programs near me?
A career-focused nursing education is a critical step to prepare you for a career as a Practical Nurse¹. LPN programs in Michigan are designed to help give you experience in the typical job duties you may have in the workforce.
The first step toward the career of your dreams is enrolling in Practical Nurse training classes. Our dedicated and experienced instructors could help you grow your skill set and give you the tools needed for a career in the healthcare sector. With practical nursing careers projected to grow over the coming years, you could pursue a rewarding career and meet a need in the medical community.
Licensed Practical Nurse (LPN) Job Outlook
After you have successfully completed your training in Practical Nursing school and become licensed, you could have the opportunity to work in a variety of healthcare settings. The need for skilled practical nurses is expected to grow in the coming years. This is due to the aging population and the need for practical nurses in nursing homes and home health care settings2.
What can an LPN do in Michigan?
Licensed practical nurses provide basic medical care under the direction of registered nurses and doctors3. Duties of LPNs vary, depending on their work setting and the state in which they work. Practical nurse duties could include but are not limited to, taking patient vital signs, reporting the patient's health status, providing basic care such as bathing and dressing, or administering medication. They can typically be found working in residential care facilities, home health care, hospitals, and offices of physicians5.
How long does it take to become an LPN in Michigan?
LPNs must complete an approved educational program. These programs typically take about 1 year to complete, but may take longer. After completing a state-approved educational program, prospective LPNs can take the National Council Licensure Examination (NCLEX-PN). In all states, they must pass the exam to get a license and work as an LPN6.
Practical Nurse Frequently Asked Questions
Want to learn more about:
What Practical Nurses Do
Becoming a Practical Nurse
The Dorsey College Practical Nurse training program
Check out our Practical Nurse FAQ page!
Ready to make a change? Take the first step!
Requesting information requires no obligation or commitments.
Additional Information
For your reference, we've included the links below of several very helpful websites where you can learn more about Practical Nurses, info pertaining to Jobs as a Practical Nurse, the work Practical Nurses do, etc.:
Michigan Occupational Wage Information: http://milmi.org/?PAGEID=67&SUBID=124
O*Net Online: http://www.onetonline.org/link/summary/29-2061.00