The healthcare industry is vast, to say the least. There are so many potential career options, but you know one thing for sure—you want to help people. If you're nodding along, it may be time to consider training for a career as a dialysis technician.
You don't necessarily need to go through years and years of school to work in a medical setting. At Dorsey College, our dialysis technician classes could prepare you to become an essential member of the healthcare community. If you want to learn the ins and outs of the profession, keep reading to find out what a dialysis technician education can do for your career.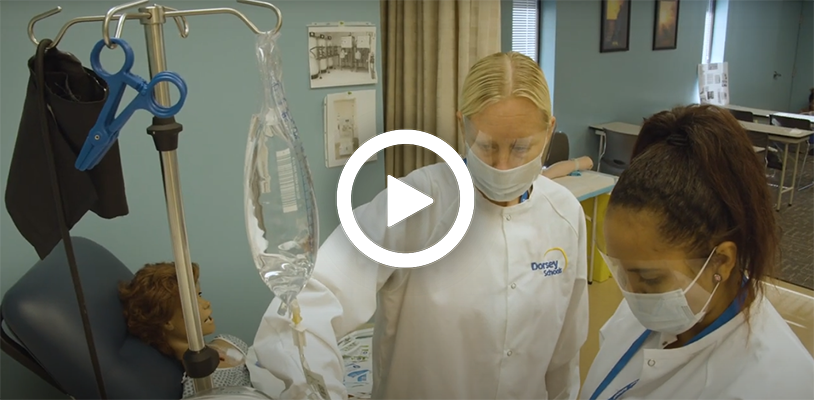 The Role and Responsibilities of a Dialysis Technician
First things first, you'll obviously want to know the foundation of a dialysis technician job description and responsibilities. A dialysis technician is responsible for the care of patients with renal failure and kidney disease. This means you could be in charge of operating, monitoring and disinfecting dialysis equipment and machines.
As a dialysis technician, you may also observe patients, take vitals, handle injections, draw blood, run ECGs and monitor your assigned patients' comfort and safety. This isn't a thoughtless job assisting doctors and nurses; you could play a vital role in each patient's direct care before, during and after dialysis procedures!
What kind of training will you need? Read on to learn more about dialysis technician training in Michigan.
Find A Campus Near You
The Dialysis Patient Care Technician diploma program is offered at the following Dorsey College campus locations:
Becoming a Dialysis Technician in Michigan: The Training
Dialysis technician classes at Dorsey College are designed to prepare students for entry-level work. The curriculum in our Dialysis Patient Care Technician program covers both the skills and fundamental knowledge you'll need in the career, as well as the qualities you'll need as a professional in the field.
The classes consist of:
Introduction to Dialysis Patient Care

Computer Applications for Allied Health Professionals

Health History and Physical Measurements Lab

Anatomy and Physiology with Medical Terminology A and B

Patient Care Technician II, III, IV

Health History and Physical Measurements Lab

And so much more!
Enrolling at Dorsey College could help prepare you to care for patients undergoing hemodialysis treatment in a myriad of ways. If you're looking for a fulfilling career that involves mastering the intricacies of renal care, the Dialysis Patient Care Technician program could be your start!
Externship: An Up-Close Approach
Your dialysis technician classes at Dorsey College won't solely take place in the classroom. Students also receive an externship as part of training. During the last module of training, students have the opportunity to apply the knowledge and skills they have learned in an actual occupational setting. This may help further prepare you for your new career in healthcare, and it could be what cements the career as a defined destination in your life, even before you graduate.
The dialysis patient care technician program includes an elective externship course option. Elective course options include the Medical Assistant Externship, the Patient Care Technician Externship or the Dialysis Patient Care Technician Externship. Externship course and site selection are dependent on externship site availability and therefore will be determined by Dorsey College.
Of course, not everyone with a dialysis technician career works in the same exact setting. What comes after graduation? Where can you apply to work?
Dialysis Technician Career Outlook: The (Many) Options
Once you've completed your dialysis technician education, you could finally have the opportunity to go and change lives for the better. Dialysis patient care technician jobs can be found at hospitals, dialysis centers, healthcare clinics, medical offices, rehab facilities, and other healthcare facilities. You have options! You could always change up where you'd prefer to work as your career advances as well.
Ready to take the first steps toward this rewarding career? Let's cover the basics for your requirements below.
How Long Is Dialysis Technician Career Training in Michigan?
You've learned the dialysis technician job description and responsibilities, but how long does it all take? Not to worry, because your dialysis technician education at Dorsey College could be completed in just under 14 months. Once you've graduated, you'll also be encouraged to sit for the applicable certification exam to finish up your dialysis technician education. Then you could start work as the knowledgeable professional Dorsey has trained you to be.
Ready to start pursuing your dialysis technician career as soon as…now? Contact Dorsey College today to take those exciting first steps!
Dialysis Technician Frequently Asked Questions
Want to learn more about:
What Dialysis Technician Do
Becoming a Dialysis Technician
The Dorsey College Dialysis Patient Care Technician program
Check out our Dialysis Technician page!
Accreditation
Dorsey College is accredited by the Commission of the Council on Occupational Education. This applies to the Madison Heights campus (which serves as the main campus) and the Wayne campus (which is a branch campus location of Madison Heights).  Contact information for the Council on Occupational Education is as follows: 7840 Roswell Road, Building 300, Suite 325, Atlanta, GA 30350, telephone: 770-396-3898 / FAX: 770-396-3790, www.council.org.
Financial Aid
Financial aid is available to those who qualify.
Ready to make a change? Take the first step!
Requesting information requires no obligation or commitments.