If you've always dreamed about becoming a beauty professional you should train at our cosmetology training program in Michigan. The instructors at Dorsey School of Beauty in Taylor are here to help you develop and refine your skillset. We understand you're ambitious to begin your cosmetology career and we're here to help make it a reality.
Cosmetology classes designed to enhance your technique
Our curriculum at Dorsey School of Beauty emphasizes real-world application along with classroom instruction. As a cosmetology student with us at Dorsey School of Beauty, you can put your new skillset to practice in our beauty clinic. That's right, you can gain valuable exposure training with actual clients! Services are provided by Senior Students (while supervised) to members of the public, who may be charged for the services rendered by students. Use this experience to advance your techniques in areas that can include hair coloring, permanent waving, hair styling and so much more! At Dorsey School of Beauty, you're encouraged to explore an area that interests you.
I want to take my cosmetology skills to a professional level. Is there a beauty school near me?
For those living in the Downriver area who may be wondering, "where are there beauty schools near me" – Dorsey School of Beauty is conveniently located in Taylor, MI. Our team of experienced instructors at the Dorsey School of Beauty Taylor, MI campus can help you develop your potential from the classroom and beyond.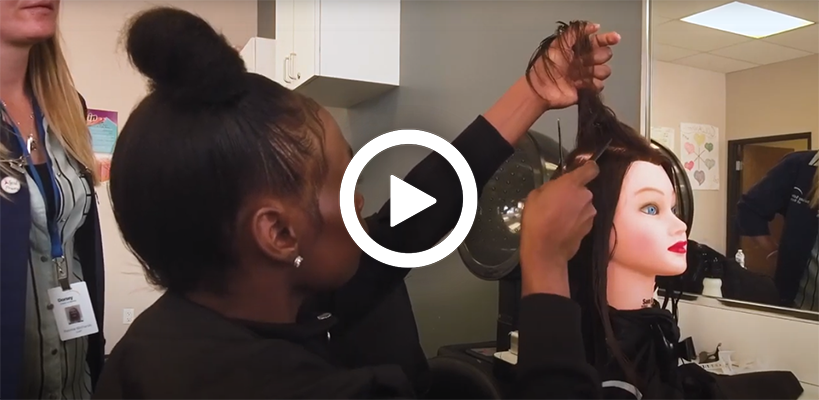 Cosmetology training in this program includes:
An in-depth focus on cosmetology theory and real-world practice (in our supervised on-campus beauty clinics).
Coursework that is designed to enhance your development of practical and technical skills.
The use of professional cosmetology facilities and equipment.
A Cosmetology student kit, which contains various tools used in the industry (as well as textbooks) are provided by Dorsey School of Beauty.
Can your program help prepare me for a Cosmetology career?
Yes, preparing the next generation of hairstylists is our specialty! Our cosmetology program prepares graduates to pursue entry-level positions in the beauty industry. Each cosmetology student in our beauty school will be required to complete 1,500 clock hours of training to meet state requirements. From there, graduates can take the cosmetology license exam in hopes of beginning their new career. Dorsey School of Beauty Taylor has determined that its Cosmetology program curriculum is sufficient to fulfill educational requirements for licensure in the State of Michigan only. No educational determinations have been made for any other state, district or US territory in regards to licensure requirements.
As licensure is required for employment by the State of Michigan, Dorsey School of Beauty will pay the cost one time for graduates of this program to challenge the state licensure exam, contingent upon the graduate meeting Dorsey School of Beauty's exam preparation requirements.
Cosmetology Job Outlook
A career as a licensed cosmetologist can provide you with the creative freedom and career flexibility you've always wanted. Graduates of our Cosmetology program (once they become licensed) are eligible to seek entry-level employment positions that may include hairstylists, skin or nail specialists, platform or makeup artists, among many other positions. Jobs in this field can be found in beauty salons, spas, and other beauty-related businesses.
Want to learn more about:
What Does a Cosmetologist Do?
How to Become a Cosmetologist?
The Dorsey School of Beauty Taylor Cosmetology program
Check our our Cosmetology FAQ page!
Accreditation
Dorsey School of Beauty (located at the Taylor campus) is also the main campus and is institutionally accredited by the National Accrediting Commission of Career Arts & Sciences, Inc. (NACCAS).
Financial Aid
Financial aid is available for those who qualify.
Ready to explore your career training options at Dorsey School of Beauty?
We can't wait to see your success story unfold. You have the potential and our passionate instructors are ready to help you every step of your cosmetology school journey. To learn more about our Cosmetology training and upcoming classes, request information.