Cosmetology Program
Are you ready to take your style and flair to the next professional level?  Perhaps you have wanted to take a cosmetology course but weren't sure how to get started?  If this sounds like you, training in a Cosmetology program may be right for you!  Here at Dorsey School of Beauty, our team is here to help you develop and refine your creative skillset.  We are ready to help you pursue your dreams of a new career!
Cosmetology School Can Help You Enhance Your Technique
When you enroll at a Cosmetology school, in addition to helping you prepare for your new career, they should also help you enhance your technique.  Choosing a cosmetology school that offers you both classroom instruction as well as real-world application can help put you on a path towards success.  At Dorsey School of Beauty, our team is all-in for our students.  We are committed to helping each student make the most of their time training with us at our school.
Cosmetology Classes – Things You Can Learn
Students who enroll in cosmetology classes can learn more about a variety of topics.  Cosmetology classes may cover topics such as hair cutting, styling, and coloring.  Students may also explore topics such as hair design, nail care, and skin care.  Students may also receive preparation for the board exam they will take in hopes of becoming a licensed cosmetologist.
Students enrolled in the cosmetology program at Dorsey School of Beauty will be exposed to a variety of topics in their cosmetology classes including:
Hair styling
Hair cutting and shaping
Hair coloring
Artistic principles
Thermal waving and curling
Permanent waving
Chemical relaxing
Shampooing
Manicuring
Scalp and facial treatments
…and more!
When you are looking to enroll at a beauty school, make sure the classes are structured in such a way to help you prepare for your new career.  Here at Dorsey School of Beauty, our Cosmetology program has been designed with our students in mind as they embark on their journey towards becoming a licensed cosmetologist.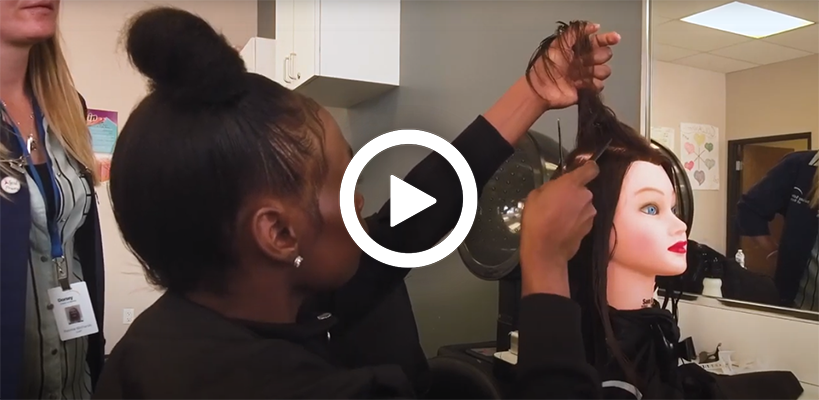 Looking for a "Cosmetology program near me?"
If you are looking for a "cosmetology program near me" and you currently live in the Downriver area, Dorsey School of Beauty can help you get on your way!  Our cosmetology school has been chosen by students living in nearby communities such as Taylor, Southgate, River Rouge, Inkster, Ecorse, Ypsilanti, Detroit, and more for years!
Our school is conveniently located in Taylor, Michigan, in the Taylortown Shopping Center on Ecorse Road, just east of Pardee Road.
Contact us today to learn how our team can help you shape your creative potential in the classroom and beyond!
Ready to make a change? Take the first step!
Requesting information requires no obligation or commitments.
Prepare for Your Career in Cosmetology
Our Cosmetology program is designed to prepare the next generation of hairstylists and we'd like to help you prepare for your career in Cosmetology as well! As you pursue your new career, you will want to ensure you meet the applicable licensing requirements.  In terms of the necessary education, each student at our cosmetology school will be required to complete 1,500 clock hours of training to meet that specific state requirement. From there, graduates can take the cosmetology license exam in hopes of beginning their new career. Dorsey School of Beauty in Taylor, MI has determined that its Cosmetology program curriculum is sufficient to fulfill educational requirements for licensure in the State of Michigan only. No educational determinations have been made for any other state, district or US territory in regards to licensure requirements.
As licensure is required for employment by the State of Michigan, Dorsey School of Beauty will pay the cost one time for graduates of this program to challenge the state licensure exam, contingent upon the graduate meeting Dorsey School of Beauty's exam preparation requirements.
Beauty Careers – Cosmetology Job Outlook
For those interested in pursuing beauty careers, becoming a licensed cosmetologist can provide you with the creative freedom and career flexibility you've always wanted. Graduates of our Cosmetology program (once they become licensed) are eligible to seek entry-level employment positions that may include hairstylists, skin or nail specialists, platform or makeup artists, among many other positions. Jobs in this field can be found in beauty salons, spas, and other beauty-related businesses.
Want to learn more about:
What Does a Cosmetologist Do?
How to Become a Cosmetologist?
The Dorsey School of Beauty Cosmetology program
Check our our Cosmetology FAQ page!
Accreditation
Dorsey School of Beauty (located in Taylor, MI) is accredited by the National Accrediting Commission of Career Arts & Sciences, Inc. (NACCAS).  Dorsey School of Beauty is located at 23125 Ecorse Road, Taylor, MI 48180 and has additional classroom space located at 23129 Ecorse Road, Taylor, MI 48180.  Contact information for the NACCAS is as follows: National Accrediting Commission of Career Arts & Sciences, Inc., 3015 Colvin Street, Alexandria, VA 22314, telephone (703) 600-7600, http://www.NACCAS.org.
Financial Aid
Financial aid is available for those who qualify.
Ready to explore your career training options at Dorsey School of Beauty?
If you're ready to express yourself and begin your training, what are you waiting for?  You got this!  Contact Dorsey School of Beauty today to learn more about the Cosmetology program.