Do you want to work in a field that promotes health, wellness, and harmony? Massage Therapy may be a perfect career for you. As a massage therapist, you can help people in a meaningful way by reducing pain, help to manage their anxiety and improve their overall health. With the rise of alternative health care, massage therapy is becoming popular in a wide range of settings – from spas and fitness clubs to hospitals and nursing homes.
Become a Massage Therapist in Michigan
Before you can start working as a massage therapist in the state of Michigan, you'll need to get licensed. To obtain a massage therapy license, you must complete a supervised curriculum in massage therapy that has been approved by the Michigan Board of Massage Therapy. One such curriculum is the Massage Therapy Diploma Program at Dorsey Schools.
The Massage Therapy Diploma Program at Dorsey Schools provides students with a foundation in anatomy, physiology and pathophysiology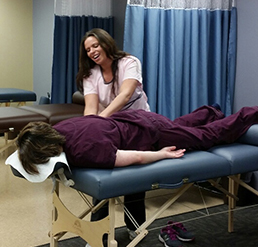 – all of which form the basis for training in specific massage techniques. The program provides students with the opportunity to prepare for entry-level positions in the massage therapy industry (once licensed, of course). Successful completion of this program meets the approved curriculum requirement needed to apply for licensure in Michigan.
We recently sat down with Sheri Pierce, LMT, the Massage Therapy Program Coordinator at Dorsey Schools, to talk about what makes the Massage Therapy program at Dorsey Schools stand out, the related job outlook in Michigan and more!
Dorsey's curriculum teaches a variety of modalities to prepare our students to obtain a career [once licensed] in many settings, such as salon/spa, medical office, chiropractic, gym/health club, in-home. Modalities our instructors teach are Swedish massage, Deep Tissue/Therapeutic massage, Chair massage, Sports massage, and spa applications such as Sugar/Salt Scrub, Hot Stone massage, Aromatherapy, Eastern Modality-Shiatsu, Hydrotherapy applications.
The Massage Therapy Personality 
A person thinking of becoming a massage therapist would need certain social and emotional qualities so they can establish a comfortable, personal environment for their clients while maintaining highest professionalism.
Empathy: Massage therapists show genuine empathy for other people, which is vital in helping them heal. Massage therapists rely on their own intuitive awareness, consider a client's vulnerabilities, and show compassion to establish a trust between them and their clients, so they are able to develop a long-term relationship.
Good Communication Skills: A critical trait in building trust and gaining a loyal client. A massage therapist must listen to the client's needs and provide treatment that responds to their needs.  The therapist needs to feel comfortable working in a quiet atmosphere (many times in silence). They need to know when to speak and when to remain quiet during a client's session.
Strong Systemizing Skills: The massage therapist must maintain a neat, organized business.  In their own practice, they will manage accounts, maintain client records, market their practice, schedule appointments, and order equipment and supplies. Owning their own business requires time management skills and dedication.
Physical Stamina: Massage therapists stand for extended periods of time and must learn how to provide a treatment session using their upper body strength; movement/leverage of hips allows for more or less pressure and not just using their hands and wrists.
Good Personal Hygiene: It is very important for a massage therapist to maintain good personal hygiene because of the intimate environment and working in close proximity as they are performing the massage modality.
Ability to Self-Promote: They will be most successful if they can promote their work to attract new clients.
Characteristics
Confidence (in themselves and the ability to provide care)
Patience (healing can take time)
Understanding (the ability to listen and relate to their clients)
Compassion
Calm
Curiosity/Willingness to learn
Willingness to help
How are the graduates of the program prepared to challenge the Massage & Bodywork Licensing Examination (MBLEx) for licensure, which is required for employment by the State of Michigan?
In a student's last module, they take a Capstone course, which prepares them to challenge the MBLEx. In this course, they review the Anatomy & Physiology, Kinesiology, Pathology, Massage techniques, Business Skills, Ethics, complete a client assessment and determine the appropriate treatment for each session.
Is it a good time to start a career in massage therapy in Michigan?
Absolutely. As an industry, we are under-employed. The employment demand is greater than the massage therapy school enrollment. The franchised massage businesses are growing and in greater demand of massage therapists. It is also considered one of the fastest growing professions in the US, according to the Department of Labor & Statistics.*
Do you have any advice for someone just starting out in massage therapy here in Michigan?
Have a good, positive attitude and great study skills.
Dorsey Schools offers the Massage Therapy Diploma Program at the Farmington Hills, Madison Heights and Saginaw, MI campus locations. For more information on this program, click here. For Massage Therapy FAQs, click here. To download our free Healthcare Career Outlook Guide, which includes info on Massage Therapy, click here.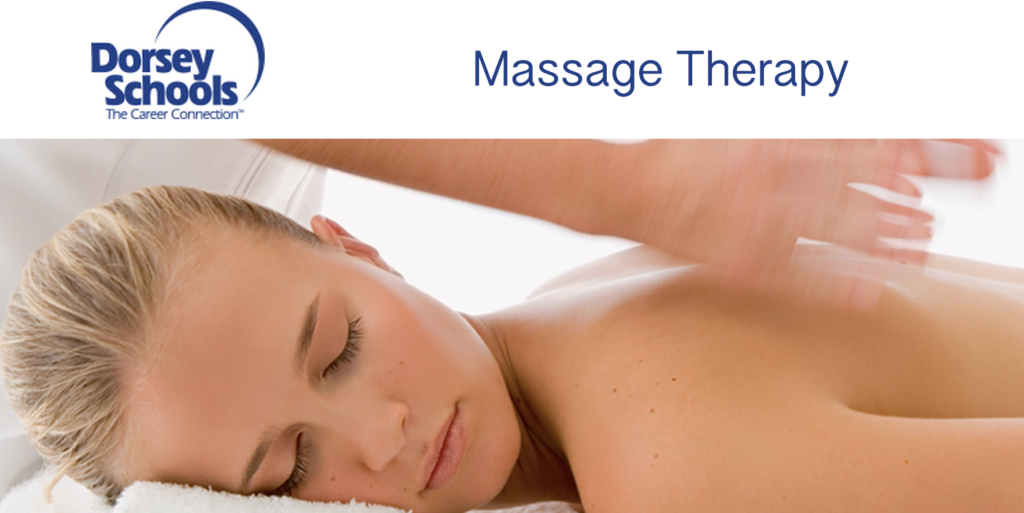 For more information about our graduation rates, the median debt of students who have completed the program, and other important information, please visit www.dorsey.edu/disclosures.
*Bureau of Labor Statistics, U.S. Department of Labor, Occupational Outlook Handbook, 2014-15 Edition, Massage Therapists, on the Internet at http://www.bls.gov/ooh/healthcare/massage-therapists.htm (visited September 05, 2015).