Dorsey Schools Roseville, MI Campus is home to various career training programs including our Culinary Arts program. Our campus is conveniently located in Roseville on Gratiot Avenue (just minutes from I-94 and I-696), next to JC Penney's on the Gratiot bus line taking bus 560. For years, students throughout the Metro Area have chosen Culinary Arts schools in Michigan, and namely our Roseville campus for their career training. Our campus is ideally located for those traveling in from the city of Detroit, those in the eastern suburbs of St. Clair Shores, Eastpointe, Harper Woods, Warren, the Grosse Pointes, and Hamtramck (just to name a few) as well as the northeastern communities of Clinton Township, Mt. Clemens, Harrison Township, Sterling Heights, Chesterfield, and more!
Culinary Arts Schools in Michigan | Roseville Campus Tour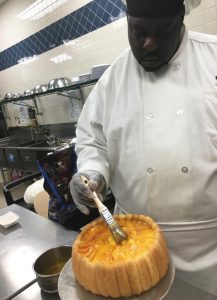 The campus is currently under construction, to expand its current facilities.  Pardon the dust, but once finished, it will be well worth it!
In order to get a proper sense of the Roseville Michigan Culinary Art School, we decided to take a tour of the campus. We found our visit to the Roseville, MI campus to be extremely welcoming and warm. There is a strong sense of passion and family togetherness that many feel when they visit the campus and speak with the students and staff. It's very clear that the staff loves what they do.  They also want students to feel comfortable and welcome so they can truly learn and enjoy themselves at this Michigan Culinary Art School.
The lobby and common area is filled by a dining style open seating area.  The walls are lined with inspirational posters stressing key values such as confidence, discipline, community and teamwork. There are three identical kitchens, each stocked with industry-current and industry-relevant equipment. The campus also has its own Garden Project where they grow various herbs and veggies.
In addition to our tour, we also had a chance to eat some of the delicious food prepared that day. The culinary students make platters of food each day as a part of their cooking classes and lessons.  Students along with staff members, later get to taste and enjoy the dishes prepared that day.  For example, on the day we visited, one class prepared desserts such as cheesecake while another class prepared various dishes with Russian origins.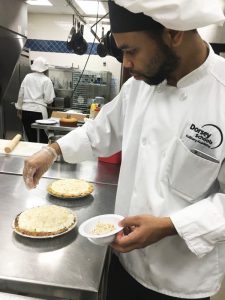 Chef Piazza, the Culinary Arts Program Director, is the one who gave us a tour of the campus. He was also gracious enough to answer several of our questions.  Here's what he had to say about the campus, and the culinary arts program.
Q: What is your favorite thing about this Culinary Arts School in Michigan?
The people. I love the team that we have developed here in Culinary and the campus as a whole. All of Roseville is very vibrant and full of energy. There are lots of students which add excitement every day. There's a passion for education at the Roseville campus.  From a Culinary standpoint, the team that we have here is intelligent and knowledgeable in the craft, which is imparted on the students.
Q: What was the driving force for you to go to Culinary Arts School?
I love food and I wanted to own a business one day so I went to a regular university and got a hotel & restaurant management degree knowing that I wanted to be a business owner and I knew it was going to be in food service it's the only employment that I've ever had has been in the food service sector after graduating with my hotel and restaurant management degree I realized it was still the kitchen where I wanted to be so then I went to culinary school after that and received an Associates Degree in culinary arts.
Q: What can a student gain or learn from attending Culinary Arts School?
They can learn a great number of things because not only do we teach fundamentals of culinary (so they're getting the skills they need to be able to enter pretty much any food service establishment after graduation), we also impart professionalism and what it really means to be a chef out in the industry so that students have the knowledge and skills to be able to be professional to understand how to manage people and be a leader in the industry.
Q: For someone interested in pursuing Culinary Arts School in Michigan, what should they look for or consider?
They should look for the facility to make sure that all the equipment in it is industry relevant, for a faculty that cares about the students' success, and for a curriculum that is hands on and designed to teach culinary the way it really should be learned.
Q: Why should someone enroll in the Culinary Arts Program at Dorsey Schools?
We're the only one-year program in the state of Michigan that is accredited by the Accrediting Commission of the American Culinary Federation Education Foundation. Because we've got the stamp of approval on all of our curriculum and our faculty, once a student joins our program and they complete the 12 months of education, in addition to 12 months of working experience, then they can fill in their application to become a member of the ACF and they automatically earn a credential which is Certified Culinarian.
Q: What makes this program unique and different from other Culinary Arts Schools in Michigan?
Upon graduation from our program we have a student that's better prepared to hit the ground running. They've gone out on catering, they have their externship, and they have all of their fundamentals. One of the biggest issues for chefs out in the industry is when chefs hire somebody from a culinary school there is an obvious gap between knowledge and application. Culinary school focuses a lot on understanding why things happen and is a little bit slower paced. You get to practice and if it doesn't turn out right then you get to try it again. But then they take that pace and move it into the restaurant business where you open at 11 o'clock for lunch there's not room for error or wasting product. The transition for the person coming from the pace of school to the pace of a real restaurant, usually doesn't exist. But here we have an externship at the end of our program which is 360 hours. Its for [students] to get into a restaurant and really start picking up that pace so when they graduate they're already practiced in the skills they learned.
Q: Can you tell me a little about the Catering Program here?
We have a live catering company that we operate through Dorsey and it's really focused on the student's education. The catering company adds an additional layer of getting out there and being in front of guests to understand to professionalism. What we're doing with this catering company is producing food on site so its controlled by an educator, moving it offsite, setting it up, serving it, and then breaking it down and cleaning it up.
Interested in learning more about Dorsey Schools?
We would like you to join us and be part of the exciting things happening at the Roseville campus. Our dedicated team is available to help our students make the most of their experience.  At Dorsey we're here to assist our students as they prepare for a new career. We invite you to schedule a visit with us today or visit us online to learn more about our Roseville, MI location and its programs!
If you're interested in pursuing a career in the Culinary Arts or perhaps the Healthcare field, then please give us a call at 888-422-1188 or Request Info Online.
Career Training Programs offered at the Roseville Campus include:
For more information about graduation rates, the median debt of students who completed Dorsey programs, and other information, please visit www.dorsey.edu/disclosures/