Are you are considering pursuing a career as a Pharmacy Technician?  If so, training is a very important step. Pharmacy Technician training programs can provide students with the necessary training to enter this role in healthcare. Even though each program is different, these are 5 important things that a pharmacy technician program may teach you.
5 Things You Can Learn in Pharmacy Technician Classes in Michigan
Pharmacy Law and Ethics
Pharmacy technician programs can teach students about the legal and ethical issues.  This includes those issues involved with healthcare with which the Pharmacy Technicians must be familiar.  Examples include HIPPAA and OSHA. It's important for Pharmacy Technicians to understand and follow these guidelines.  In fact, it is essential to maintain licensure as a Pharmacy Technician and succeed as a professional in the healthcare industry.
Computer Applications for a Pharmacy Setting
In a pharmacy technician training program, students may have the opportunity to learn how to use computers.  They may also be exposed to software and other technology commonly found in pharmaceutical settings. These technology-based skills are helpful in the workplace.  That's because they can enable you to monitor and control inventory, equipment, and supplies in a pharmacy. Students also have the chance to learn about other topics.  These may include pharmaceutical terminology and abbreviations.  Programs may also cover symbols for proper documentation and tracking of controlled substances which can help prevent medication errors that may endanger patients.
Prescription Preparation and Pharmacology
In a pharmacy technician program, students may have the opportunity to learn the steps involved with properly receiving and screening prescriptions orders.  This includes how to examine orders for completeness, authenticity and accuracy. Students may also be exposed to other concepts such as the chemical and physical properties of the medications.  The possible side effects of prescription, non-prescription and alternative medications may also be discussed. They can also learn how to calculate and measure dosages, and prepare and package medications for patients.
Medical Billing and Inventory Management
Pharmacy technician programs can teach students various administrative tasks as well.  This could include payment collection and billing procedures.  It may also include the procedures necessary for purchasing pharmaceuticals, devices and supplies. Other skills may include medical billing and monitoring inventory such as medications, equipment and devices.  This can better prepare students for their new career.
Customer Care / Customer Service Skills
Pharmacy Technician programs may also include a component on proper customer care.  This is a very important step in order to prepare students for the field. Topics covered could include respect for diversity, confidentiality and propriety.  The importance of verbal and written communication skills, conflict management and proper ethical conduct may also be discussed.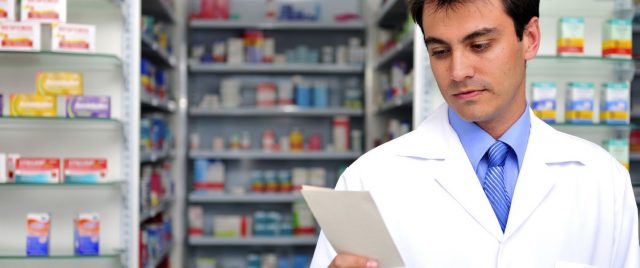 Dorsey Schools offers a Pharmacy Technician diploma program.  This program is designed to prepare each student to challenge a national certification exam and enter the workforce. Students in our pharmacy technician training program will have the opportunity to learn about various topics.  These include pharmacy operations, communication and customer service skills, and medical vocabulary.  Laws and regulations, common diseases and treatment, and medical and pharmacological abbreviations are also covered. Students will also be exposed to topics such as an overview of the use and side effects of medications (generic and brand name, prescription, non-prescription, and alternative) that are commonly used to treat diseases.
The Pharmacy Technician Diploma Program is offered at the following Dorsey Schools campus locations:
Interested in learning more about Dorsey Schools?
Give us a call at 888-422-1188 or Request Info Online
Pharmacy Technician Program – Gainful Employment Disclosures
For more information about our graduation rates, the median debt of students who have completed the program, and other important information, please click here.
Sources:
Bureau of Labor Statistics, U.S. Department of Labor, Occupational Outlook Handbook, 2016-17 Edition, Pharmacy Technicians,
on the Internet at http://www.bls.gov/ooh/healthcare/pharmacy-technicians.htm (visited June 19, 2016).