It's that time of year again! National Donut day will land on June 5th, 2015. It is on this day when we indulge ourselves with one of America's favorite delectable treats, the donut. During #NationalDonutDay2015, donut shops and bakeries around the country – which include Krispy Kreme, Dunkin' Donuts, and Tim Hortons – usually have special deals on donuts (like a free donut with any purchase).
Donuts still remains one of America's favorite treats even with the cupcake trend that is continually popping up all over the country. While this may not be the healthiest snack to munch on, there's no denying that there are plenty of donut lovers in America. The great thing about donuts is that there are endless toppings and flavors that will please anyone to their liking, making donuts is fun and delicious while bringing out your creative side. We recently sat down with Dorsey Schools' instructor Chef Usher to discuss the donut craze.
The Culinary Arts Diploma Program at Dorsey Schools offers career training in this popular profession that continues to grow. Cooking has been elevated in the past few years from an intriguing hobby to a whimsical art form to a serious career goal, crafted by dedicated and experienced professionals.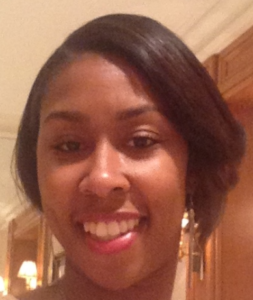 What is your favorite type of donut? A plain or glazed donut is my favorite. I'm not a big fan of a lot of flavor and toppings on a donut. It takes away from the actual donut.
Where is the "go to" place to get the best donut here in Michigan? Franklin Cider Mill (in Franklin, Michigan) has the best donuts when they are open for the season. They are only open from September to November, so I try to make a stop there to get the donuts as often as I can.
Do you see any current baking trends in the pastry chef world aside from donuts? Cupcakes are a big trend right now. There are so many cupcake stores opening up around the metro-Detroit area. Just Baked is a more popular cupcake store. There's nothing better than a specialty cupcake. I saw one the other day that was a thin-mint cupcake (a variation from a Girl Scout cookie).
What is the secret behind the truly 'great' donut? There is nothing like a hot fresh donut right out of the deep fryer. That to me is "truly a great donut." It just seems to melt in your mouth.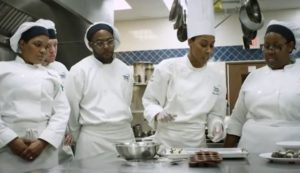 What are your favorite kitchen gadgets that you use in baking? I can't live without my plastic spatula. It works for everything; even getting the tiniest drop of cake batter or frosting out of the bowl. Most importantly, my favorite is my KitchenAid mixer. I can use it for anything – from making bread to cookies, cakes, brownies (even buttercream frosting).
What are some skills/trends that you see in the baking/pastry field that might help out prospective culinary students? Trends that I have noticed are "healthy" gluten-free baking, which is really big right now. People love alternatives to their favorite baked goods without the regular all-purpose flour.
If a donut was the main ingredient in a basket on "Chopped," what would you do to transform it? Great question! I would make a deconstructed Monte Cristo Sandwich, which would include the donut at the bottom, topped with ham, turkey and a Mornay sauce (béchamel sauce with gruyere and parmesan cheese).
Interested in pursuing a career in the exciting and creative field of culinary arts? Check out the Dorsey Schools Culinary Arts Diploma Program, which is programmatically accredited by the Accrediting Commission of the American Culinary Federation Education Foundation. Dorsey Schools offers the Culinary Arts program at two campus locations, Roseville and Waterford-Pontiac here in Michigan. Students of this program will have the opportunity to learn various aspects of the culinary industry that not only include baking but butchering, healthy cooking, nutrition, menu planning and much more. For more details on how to get started today, please visit us at https://www.dorsey.edu/culinary-arts/
For more information about our graduation rates, the median debt of students who completed the programs, and other important information, please visit our website at www.dorsey.edu/disclosures.php