Dorsey Schools – Waterford-Pontiac Campus
Address
440 N. Telegraph Road
Pontiac, Michigan 48341
Phone: 248-333-1814

Where is the Dorsey Schools Waterford-Pontiac campus located?

Welcome to the Dorsey Schools Waterford-Pontiac campus page! Our campus is conveniently located on North Telegraph Road in the North Pointe Shopping Center (across the street from the old Summit Place Mall).
Are you a graduate of the Waterford-Pontiac campus?
Please take a moment to kindly review us here: https://goo.gl/17RKdo
Meet with one of our Admissions Representatives during these convenient hours:
Monday: 9 AM – 8PM
Tuesday: 9 AM – 8PM
Wednesday: 9 AM – 8PM
Thursday: 9 AM – 8PM
Friday: 9 AM – 5 PM
Saturday: Closed
Sunday: Closed
*Hours may vary on or around holidays.
About Dorsey Schools' Waterford-Pontiac Campus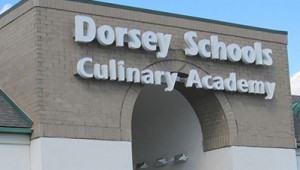 Men and women throughout Oakland County have come to the Waterford-Pontiac campus of Dorsey Schools to pursue their career training due to the programs we offer and our convenient location to neighboring communities.
If training for an exciting new career in the Culinary Arts intrigues you, you're in luck, because the Waterford-Pontiac campus has a Dorsey Culinary Academy. Our talented team of chefs are dedicated to training and preparing the culinarians of tomorrow for their new career.
The Waterford-Pontiac campus also offers a variety of healthcare training programs such as Medical Assistant, Medical Administration and Billing, or Patient Care Technician. For those looking to enter the healthcare field, the various programs at the Waterford-Pontiac campus provide them with several paths to consider.
We'd like you to join us and be part of the exciting things happening at the Waterford-Pontiac campus of Dorsey Schools. Our dedicated team is available to help our students make the most of their experience at Dorsey Schools and assist them as they prepare for a new career.
Here's What Some of Our Dorsey Schools Graduates Are Saying
Meet Alicia: A Graduate of Dorsey's Culinary Arts Schools in Michigan
Dorsey Schools Graduate Testimonials
Dorsey Schools Culinary Arts Program Graduate, 2016
LaRel Alexander
How did studying at Dorsey Schools make a difference for you or in your life?
"It opened up a whole new direction for me. New doors. New people."
What was the best part of your experience studying at Dorsey?
"Everything. My chefs and classmates kept me going."
Are you employed in your field? If so, where? What are your plans after Graduation from Dorsey Schools?
"I'm employed at Louisiana Creole Gumbo. My plans are to open up "Rel's Kitchen," my own catering company."
Dorsey Schools Patient Care Technician Program Graduate, 2015
Jasmine Khoshiko
How did studying at Dorsey Schools make a difference for you or in your life?
"Studying at Dorsey Schools had a HUGE impact on my life. I always doubted myself when it came to school/studying but coming here changed my perspective on where & how far I would get in life.  Now, I believe I can do anything I set my mind to. Thank you Dorsey!!"
Parking at the Waterford-Pontiac Michigan Campus
There is plenty of parking in front of our school buildings in the shopping center parking lot. When you visit our campus for the first time, please report to the Allied Health Building (not the Culinary Academy Building). The Allied Health building is the one closest to Telegraph Road in the shopping center.
Career Training Programs offered at the Waterford-Pontiac Campus:
Frequently Asked Questions: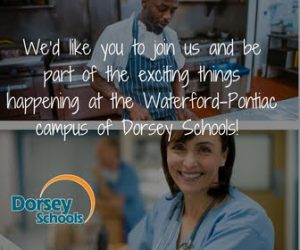 Are you ready to take the first step towards your new career? Click to schedule an appointment to visit us at the Waterford-Pontiac campus today!
Want to learn more about the Dorsey Schools Waterford-Pontiac, MI Campus? Check out our Waterford-Pontiac, MI events page here.