Happy New Year from all of us here at Dorsey Schools!  January is always a special time of year.  It marks a fresh start with a new year.  It also has special meaning for many working in the healthcare community.  January 2017 is National Blood Donor Month.  National Blood Donor Month has been around since 1970.  National Blood Donor Month is geared towards increasing blood and platelet donations.  This is because there has historically been a shortage of blood and platelets into the winter months.    The Red Cross is encouraging men and women to resolve to roll up their sleeves and give blood this new year.
Interested in Donating Blood?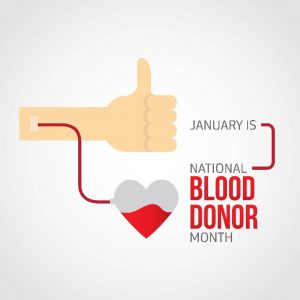 That's great!  Guess what?  The American Red Cross has made the process very easy.  If you're interested in donating blood, here's how you can help and schedule an appointment to donate blood:
Download the American Red Cross Blood Donor App
Visit redcrossblood.org
Call 1-800-RED-CROSS
It's easy to say "there's a blood shortage."  Or encourage others to donate blood (not only in January but on a regular basis).  Many though do not fully understand how great the need is for blood and platelet donations.  Check out our blog post from last year, January Is National Blood Donor Month | How Will You Help? to get some interesting facts about donating blood.
As a committed career training school, Dorsey takes pride in not only providing its students with a quality education but also raising awareness on important issues related to the fields of study our students are pursuing.  This includes National Blood Donor Month and its importance to the healthcare community.  Dorsey Schools offers several medical training programs for those who want to pursue work in the healthcare field.
Are you thinking about training for a new career?  Is the field of healthcare interesting to you?  If so, the team at Dorsey Schools would be happy to talk about how they may be able to help!  Dorsey Schools offers a variety of medical training programs at their schools in Michigan.  These include a Medical Assistant and a Patient Care Technician program.  For those looking for more of an administrative role, a Medical Administration and Billing program is also offered.  Pharmacy Technician, Massage Therapy, and Dialysis Patient Care Technician are other options as well.  Programs vary by campus location.  The programs at Dorsey are hands-on.  In many programs, learning takes place in both the classroom as well as the labs on campus.  Some programs also include an externship.  This allows students to apply what they learned throughout their classes.
Want to know more?  Give the team at Dorsey a call at 888-422-1188.  You can also request info online.  What are you waiting for?  You got this!  Take the first step today to learn more about training for a new career in healthcare at Dorsey Schools.
Reviewed and edited 12/6/17