As we ring in the New Year, the Red Cross is putting out the call asking people to roll up their sleeves and give blood, and there's no better time to donate than during January, which is National Blood Donor Month Why Is Donating Blood So Important? The need for blood donors is great, especially during the winter months.  Here are some fast facts from the American Red Cross about the need for blood a:
January is National Blood Donor Month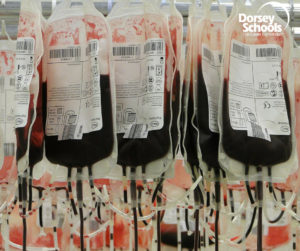 Every 2 seconds, someone in the United States needs blood.
Approximately 41,000 blood donations are needed each day.
A single blood donation can help save the lives of up to three people!
Type O is the blood type most often requested by hospitals.
A single car accident victim can require as many as 100 pints of blood.
More than 1.6 million people were expected to be diagnosed with cancer in 2015. Many of these individuals will need blood donations during their chemotherapy treatments (some may need blood donations daily).
7 million blood donations are collected in the United States each year
There are 9.2 million blood donors in the United States in a given year
Even though an estimated 38 percent of the U.S. population is eligible to donate, less than 10% actually do each year.
Type O negative blood (red cells) can be received by patients of all blood types. Because of this, it is often in great demand and short supply.  In addition, only 9% of the population in the United States has Type O negative blood.
Thinking about donating blood?
Are you thinking about donating blood?  Whether you're a regular donor or a first time donor, it's important to know not only what to expect, but how your donation can help others.  Here are some interesting facts about donating blood from the American Red Cross a:
Donating blood is a simple, safe process, and the actual donation takes around 10-12 minutes. The entire process (start to finish) can take about 60 to 75 minutes to complete.
An average adult has 10 pints of blood. One pint of blood is given during a donation.
A healthy blood donor can donate red blood cells every 56 days or double red cells every 112 days. In addition, a healthy donor may also donate platelets as few as 7 days apart, but no more than 24 times per year.
All blood donations are screened to ensure safety. Donations are tested for HIV, hepatitis B and C, syphilis, and other infectious diseases.  Blood donations are tested/screened before they are released to hospitals for use.
Many people say they donate blood because they "want to help others."
About the American Red Cross
Today, the American Red Cross supplies about 40% of the nation's blood supply.  The American Red Cross blood program was started in 1940 by Dr. Charles Drew.  The American Red Cross relies solely on donations from volunteers, and these donations provide blood for patients in approximately 2600 hospitals across the United States.  The vast majority of donations received by the American Red Cross (80%) are received at mobile blood drives that are usually set up by community organizations, schools, places of worship, or companies (just to name a few)a.
How Will You Help?
Are you ready to make a difference and help positively contribute towards this cause?  You can give back in a number of ways during National Blood Donor month.  Obviously, you may choose to donate blood yourself, but perhaps you can look at the possibility of setting up a blood drive event, or even volunteering.  Regardless, the need for blood is great, and January is a time where we can bring added education and awareness towards this cause and the good work that the American Red Cross does on a daily basis!
About Dorsey Schools
Dorsey Schools are postsecondary institutions that provide short term comprehensive training to prepare students for promising career opportunities in fields such as cosmetology, culinary arts, healthcare and skilled trades.
Today Dorsey is proudly represented by thousands of successful graduates working in their chosen careers throughout Michigan, because employers know they can feel confident hiring a Dorsey graduate.
Dorsey Schools has one main mission: to better educate their students, thus improving career opportunities available to them. This is why the entire staff of Dorsey Schools strives to prepare men and women for the best possible career training in a variety of fields. Each program at Dorsey Schools is committed to providing quality career education and positive reinforcement – enabling the development of self-esteem, self-reliance, discipline and confidence in each graduate, coupled with an obligation to the communities where they live and work.
If you're considering training for a new career in the healthcare field, Dorsey Schools may be able to help.  Dorsey offers the following healthcare career training programs:
While specific program availability varies by campus, the following Dorsey Schools campus locations offer healthcare training programs:
If you're ready to learn more about training for a new career in the healthcare field, the staff at Dorsey Schools would be happy to speak with you about how they may be able to help!  You may call Dorsey Schools at 888-422-1188 or request info online.
For more information about our graduation rates, the median debt of students who completed the program, and other important information, please visit our website at www.dorsey.edu/disclosures.
Resource:
a http://www.redcrossblood.org/learn-about-blood/blood-facts-and-statistics