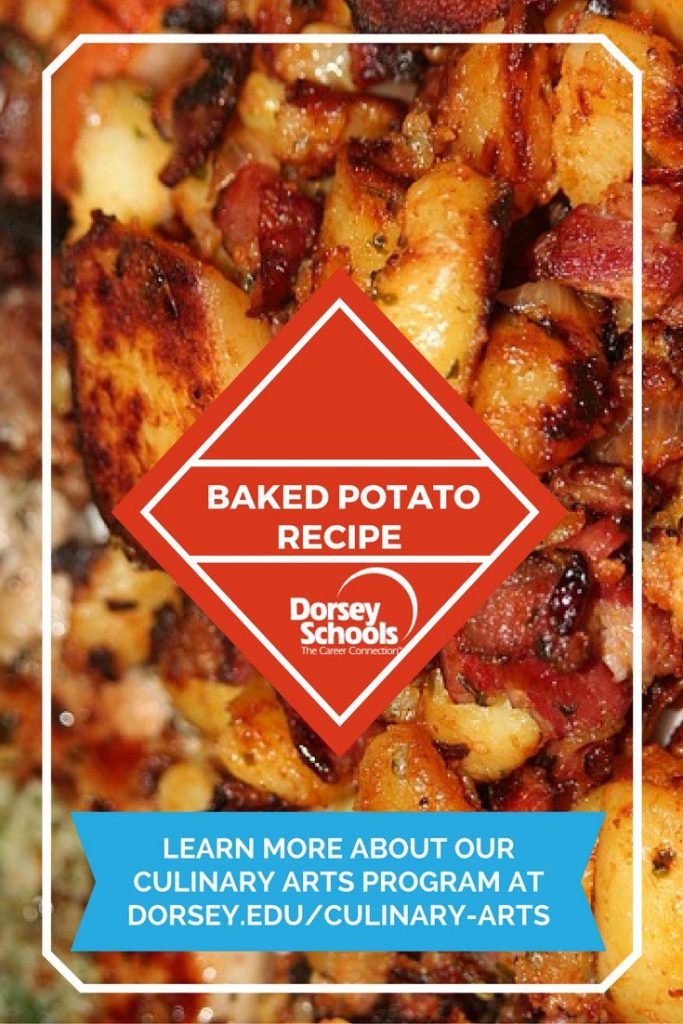 Happy Holidays from all of us here at Dorsey Schools.  The holidays are a great time to enjoy time with family and friends.  It's also a time when we can all enjoy some really delicious food, too!  We wish all of our students, staff, and the loyal readers of our blog the happiest of holidays.  In appreciation, we are also sharing some of chefs' favorite holiday recipes.  Feel free to take a look at today's recipe.  You never know, this dish could be making an appearance at your home this holiday season.
Holiday Recipes | Twice Baked Potatoes
Today we are sharing a Holiday Recipe from Chef Adamski at our Roseville, MI Culinary School.  The recipe Chef Adamski's is sharing today is for Twice Baked Potatoes.  Twice Baked Potatoes are often a popular side dish at many holiday gatherings.  For those looking for something besides traditional mashed or bakes potatoes, a twice backed potato could be exactly what you're looking for.  Check out the recipe below along with a Culinary School Tip Chef Adamski shares with us.
Holiday Recipe:  Twice-Baked Potatoes w/ Bacon, Cheddar and Chives
Ingredients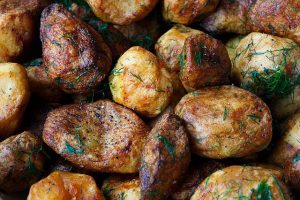 12 Idaho potatoes-washed, oiled and seasoned
Directions:
Roast potatoes at 375 degrees until tender and crispy
Allow to cool
Cut each in half long ways, and scoop out the insides, leaving some of the "meat" inside the potato, to give it some structure
Deep-fry the halves
Season them when they come out of the fryer
Allow to drain
Puree the potato "guts."  Season with butter and white pepper
Add cooked crumbled bacon, cut chives, and a good amount of grated cheddar cheese
Pipe from a pastry bag (without a tip) into the potato shells
Re-bake at 350 degrees until golden brown
Culinary School Tip:  Making Enough Potatoes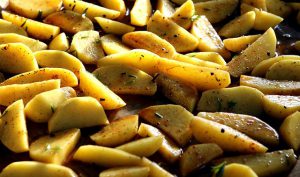 Are you thinking about preparing this dish for one of your gatherings?  If so, you're in luck!  Chef Adamski is sharing a tip with us to help you along the way.  "Here's the trick: When making a large amount of twice-bakes for a party, it is suggested to make thick mashed potatoes separately, and fold in the bacon, cheese, and scallions or chives. Frequently, the amount of potatoes scooped from the skins is not enough to re-fill the potatoes, even with the addition of the other ingredients." 
There you have it!  If you're looking for a great side dish to prepare this holiday season, consider giving this one a try.  This could be just what you're looking for to add to your holiday meal.
Are you thinking about training for a career in the Culinary Arts?  If you said yes, Dorsey Culinary Academy may be able to help.  Dorsey's Culinary Arts training program offers the opportunity to explore the vast world of food preparation.  Instruction in the culinary arts program takes place in both the classroom as well as the kitchen.  This gives students a balanced approach to their culinary arts school education.  A number of topics are covered in the Culinary Arts program.  Some of the these include coverage of various cooking techniques, baking and butchering.  Nutrition, catering, and regional and international cuisines are also introduced.  Students also participate in an externship.  The externship happens at the end of the culinary arts training program.  The goal is to allow students to apply what they have learned while giving them the chance to gain professional exposure in the field.
Two Dorsey campuses offer the Culinary Arts program.  It is offered at the Roseville, MI and Waterford-Pontiac, MI campuses.
The Culinary Arts program at Dorsey Schools is accredited by The Accrediting Commission of the American Culinary Federation Education Foundation (ACFEF). Each graduate of the Culinary Arts program at Dorsey Schools is eligible to become an ACF certified culinarian with documentation of both membership in the ACF and one year of in-field working experience.
Do you want to learn more?  If so, the team at Dorsey would love to talk to you.  Feel free to contact Dorsey Schools at 888-422-1188 or request info online.
Culinary Arts Program – Gainful Employment Disclosures
For more information about our graduation rates, the median debt of students who have completed the program, and other important information, please click here.