Michigan Dialysis Technicians are frontline healthcare providers. They come in direct contact with patients. Often a Michigan dialysis technician is the person that children and adults receiving kidney care see most.
7 Things That Really Good Dialysis Technicians Do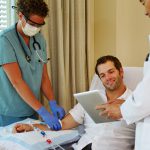 According to the National Kidney Foundation, "Certified hemodialysis technicians are the primary direct care giver for patients undergoing dialysis treatments." 1  In addition to knowing how to use medical equipment, an exceptional technician does the following seven things well:
Communicate regularly and effectively.
Good dialysis technicians don't stop at connecting patients to medical equipment. They develop a rapport with children and adults they serve. They do this by asking questions. Even more, a dialysis tech who works at a Michigan medical center actively listens to the people for whom he or she cares for.
Understand individual patient needs.
To understand a patient's needs, Michigan dialysis technicians review medical records. Technicians discuss changes in how a patient responds to care. If a patient requires emotional support, a good dialysis tech adjusts her approach to help that patient get a setback.
Keep clear and detailed records.
Because patient records are kept for years, it is important to keep immaculate records. This applies to all medical records, including those that a Michigan dialysis tech maintains.
Monitor equipment.
Good dialysis technicians keep a steady eye on medical equipment. For example, they track alarms, room temperature, and vital sign instruments. If adjustments need to be made to equipment, a good technician knows how to make those necessary adjustments.
Safely disposes of medical supplies.
Properly disposing of medical supplies helps to keep Michigan medical facilities safe. It also helps to keep the environment safe. Top technicians place used and unused supplies in safe containers. Additionally, they handle supplies ethically and with care.
Get quality dialysis patient care technician training.
Many government licensing agencies require a tech to complete Dialysis Technician training at an accredited school. Dialysis Patient Care Technician training is designed to teach students how to take vital signs, take blood, work with medical equipment, and track patient safety. The training also aims to teach students how to follow Michigan medical facility procedures.
Stay up-to-date on skills, knowledge, and industry changes.
Policies and regulations that impact the healthcare industry change frequently which is why good dialysis technicians continue learning. They read medical reports and follow healthcare procedural updates. Good technicians also ask qualified educators questions and look for ways to improve their technical skills.
By adhering to the above seven actions, dialysis technicians who work at Medical facilities in Michigan can provide patients with the best care. They can also sharpen their skills. Perhaps most of all are the rewarding relationships that a really good dialysis tech develops with the people for whom they care.
Dorsey College Dialysis Patient Care Technician training program
Instructors for Dialysis Patient Care Technician training program at Dorsey College in Michigan are ready to answer your questions. Contact us today to learn more about our Dialysis Patient Care Technician training program. During the program, students can learn about important processes and procedures such as treating patients with chronic renal disease, cleaning dialysis equipment, and performing clinical exams.
Our Dialysis Patient Care Technician training program is taught at our Madison Heights, Michigan campus (main campus) and our Wayne, Michigan campus (a branch campus of Madison Heights). Dorsey College also educates students to prepare for careers in healthcare such as Medical Assistant, Medical Administration and Billing professionals, Pharmacy Technician, Patient Care Technician, and Massage Therapy.  Programs vary by Dorsey College campus location.  Contact us today to speak with one of our experienced admissions representatives.
Let us support your Dialysis Patient Care Technician training goals. Call us at 1-888-422-1188 to learn how our team can help provide you with important medical training knowledge and skills.
Resources:
Reviewed and edited:  2/28/22