Season's Greetings!  Our series of holiday recipes continues.  What would the holidays be without desserts?!  After all, who can pass up a delicious slice of apple pie?  Then there's the age-old question – pumpkin pie or sweet potato pie.  Or for others, they may wish to opt for a delicious pecan pie.  For some though, they may seek something different.  They may want to add a different sweet treat to their holiday menu this year.  If that's you, we have a great recipe for you today! Today's Holiday Recipe comes to us from Chef Usher. Chef Usher's recipe is Mint Chocolate Swirl Cookies.
Mint Chocolate Swirl Cookies 
These cookies can be great for your holiday gathering or meal.  They can also be a nice gift idea.  Imagine baking cookies for someone special in your life and then festively packaging them to add a touch of holiday flare.  Check out Chef Usher's recipe below.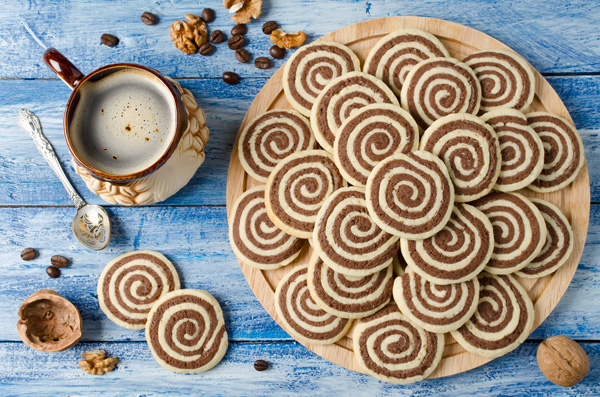 Holiday Recipe:  Mint Chocolate Swirl Cookies
Ingredients:
1 cup Butter, softened
1 Cup Granulated sugar
1 Egg
1 teaspoon Vanilla Extract
2 oz Semi-sweet chocolate, melted
2 Tablespoon Crème de Menthe
1 1/2 teaspoon Peppermint extract
3 cups plus 3 Tablespoons All-purpose flour
1 1/2 teaspoon Baking powder
1/4 teaspoon Salt
Directions:
1. Cream butter in a large bowl; gradually add sugar, beating at medium speed of an electric mixer until light and fluffy. Add egg and vanilla; beat well. Divide mixture in half, transferring one half to a separate bowl. Add melted chocolate o half of batter beating well. Add crème de menthe and peppermint extract to another half, beating well.
2. Combine 3 cups flour, baking powder, and salt; stir well. Add half of flour mixture to each creamed mixture, beating at low speed of electric mixer. Add remaining 3 Tablespoon flour to crème de menthe mixture, mixing well. Cover and chill both portions of dough 1 hour. Roll each half of dough to a 15 x 8 inch rectangle on floured wax paper. Invert peppermint dough onto chocolate dough; peel off wax paper. Tightly roll dough, jellyroll fashion, starting at long side.
3. Cover and chill 1 hour.
4. Slice dough into 1/4 inch thick slices; place on ungreased cookie sheets. Bake at 350 for
10-12 minutes. Remove to wire racks to cool.
Yield: 5 dozen
Do you want to train for a new career in the Culinary Arts?  If so, Dorsey Culinary Academy in Michigan may be for you!  Their Culinary Arts training program offers students the opportunity to explore the exciting world of cooking.  Instruction in the program takes place in both the classroom as well as in the kitchen.  This gives students a dual approach to their culinary arts school education.  A variety of topics are covered in the Culinary Arts program.  Topics covered include various cooking techniques, baking, and butchering.  Other topics such as nutrition, catering, and regional and international cuisines are also discussed.  Students will also take part in an externship.  The externship takes place at the end of the culinary arts training program.  The goal here is to allow students to apply what they have learned while giving them the opportunity to gain professional exposure in the field.
Two Dorsey campuses offer the Culinary Arts program.  It is offered at the Roseville, MI and Waterford-Pontiac, MI campuses.
The Culinary Arts program at Dorsey Schools is accredited by The Accrediting Commission of the American Culinary Federation Education Foundation (ACFEF). Each graduate of the Culinary Arts program at Dorsey Schools is eligible to become an ACF certified culinarian with documentation of both membership in the ACF and one year of in-field working experience.
Interested in learning more?  The team at Dorsey would love to talk to you.  Feel free to contact Dorsey Schools at 888-422-1188 or request info online.
Culinary Arts Program – Gainful Employment Disclosures
For more information about our graduation rates, the median debt of students who have completed the program, and other important information, please click here.