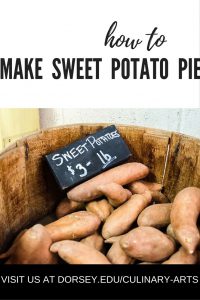 Happy Holidays!  One of the hallmarks of the holiday season could very well be delicious items baked in kitchens across the world.  We tend to agree that delicious baked goods help make the holidays even more special.  That said, we had to share some dessert holiday recipes.  At the top of the list was this special recipe from Chef Waniece Usher. Below she shares with us how to make Sweet Potato Pie.
Holiday Recipe: Sweet Potato Pie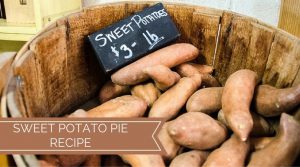 Sweet Potato Pie is a true classic when you think about holiday desserts.  You simply can't beat a delicious piece of pie at the end of a delicious holiday meal.  If you're still looking for a 'final act' for your holiday meal, you should consider this pie.  Take a look and see if this dish will be making an appearance at your home this holiday season.  Check out the recipe below for more info
Ingredients:
1 Unbaked Pie Crust
1 Sweet potatoes, mashed
2 ½ lbs
1/2 cup  Butter, melted
2 cups Sugar
5 ounces Evaporated Milk
1 teaspoon  Vanilla extract
4 Eggs
2 teaspoons Ground cinnamon
1/4 teaspoon Ground cloves
 1/2 teaspoon Ground ginger
1/8 teaspoon Ground nutmeg
Directions:
1. Preheat oven to 350, roll pie crust into a greased pie pan. In a large bowl mix together mashedsweet potatoes, butter, sugar, milk, vanilla, eggs, cinnamon, cloves, ginger and nutmeg.
2. Pour filling in pie pan and bake for 60  minutes or until middle is set. Remove and cool.

Does the thought of creating delicious dishes excite you?  Do you want to be able to create tasty treats for others to enjoy?  If so, attending Culinary Arts school in Michigan could be right for you.  The Culinary Arts program at Dorsey Schools gives students the opportunity to explore the exciting world of food preparation.  Instruction in the culinary arts program happens in both the classroom and kitchen settings.  This affords students a balanced approach to their culinary arts school education.  Various topics are covered in the Culinary Arts program.  Those covered include various cooking techniques, baking and butchering.  Other topics such as nutrition, catering, and regional and international cuisines are also discussed.  Students will also take part in an externship.  The externship happens at the end of the culinary arts training program.  The goal of externship is to allow students to apply what they have learned while giving them the opportunity to gain professional exposure in the field.
Two Dorsey campuses offer the Culinary Arts program.  It is offered at the Roseville, MI and Waterford-Pontiac, MI campuses.
The Culinary Arts program at Dorsey Schools is accredited by The Accrediting Commission of the American Culinary Federation Education Foundation (ACFEF). Each graduate of the Culinary Arts program at Dorsey Schools is eligible to become an ACF certified culinarian with documentation of both membership in the ACF and one year of in-field working experience.
Interested in learning more?  The team at Dorsey would love to talk to you.  Feel free to contact Dorsey Schools at 888-422-1188 or request info online.
Culinary Arts Program – Gainful Employment Disclosures
For more information about our graduation rates, the median debt of students who have completed the program, and other important information, please click here.