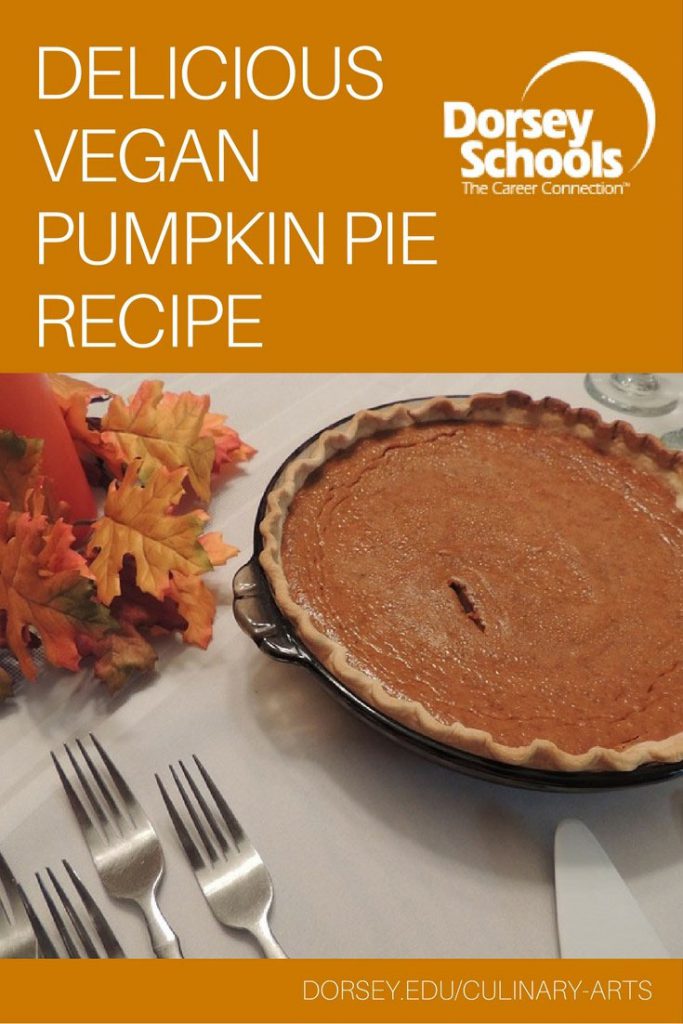 Most know that Thanksgiving is only a few days away.  The month of November is also celebrated as World Vegan Month.  For those who may be entertaining a vegan this holiday season, this recipe is for you!  Today, we're sharing a holiday recipe for Vegan Pumpkin Pie.  The term vegan is used to describe food that is made without any animal products.  This includes food that is free of milk and dairy.  Veganism has grown over the years, and World Vegan Month 2016 marks the 22nd year of this celebration.  Vegan recipes have also grown in popularity among those who have food allergies to dairy and/or eggs.  If you're looking for a great vegan recipe or a great pumpkin pie recipe, check this one out from Chef Piazza.  He also shares some culinary tips below.  Enjoy!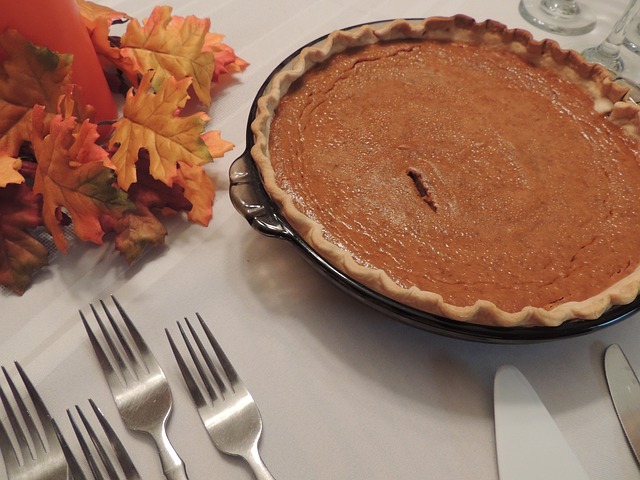 Holiday Recipes – Vegan Pumpkin Pie | World Vegan Month 2016
Holiday Recipe:  Vegan Pumpkin Pie (milk and dairy free)
9 inch unbaked pie crust – see recipe below
Pumpkin Pie Filling
¾ cup sugar
1 teaspoon cinnamon
½ teaspoon powder ginger
¼ teaspoon powder cloves
½ teaspoon salt
¾ teaspoon Xanthan gum
Mix above dry ingredients together
15 ounces pumpkin mashed
2 tablespoons egg replacer
12 ounces rice milk
Mix wet ingredients together with egg replacer
Mix wet and dry ingredients together and pour mixture into unbaked pie crust. Bake in a 350 degree F pre-heated oven on the middle rack for 75 minutes.  Let cool completely before slicing.
Dairy Free Crust
2 ¼ cups All Purpose flour
2 tablespoons sugar
1 teaspoon salt
½ cup vegetable oil
1/3 cup rice milk
Mix together with fork.  Roll out between two sheets of plastic wrap.  As you roll, straighten out the wrinkles in the plastic wrap.  Once it is the correct size, peel off the top wrap and place the crust and bottom wrap crust side down into the pie dish.  Remove the second piece of plastic wrap and form pie crust edge to your liking.
Culinary School Tips
There are many tips and tricks to creating the perfect pie!  In addition, making vegan dishes can seem intimidating with many ingredients being substituted.  We sat down with Chef Piazza and he had the following culinary school tip to share with us in regards to this recipe.  Chef Piazza shared the following ingredients with us that can be used in making this pie:
Use an egg replacer (Ener-F Foods Inc) – it is made of potato starch, tapioca flour, non-dairy calcium lactate, cellulose gum and modified cellulose.
Use of Xanthum gum – bacteria derived thickening agent.
Use rice milk (a good substitute for dairy here!)
Use vegetable oil in the crust instead of animal fat.
Chef Piazza also recommends using plastic wrap to support the oil crust during the role-out step and the transfer to the pie dish.
Do you love cooking for friends and family?  Is the kitchen where you find yourself at ease?  If so, have you thought about training in the Culinary Arts?  If you answered yes, Dorsey Culinary Academy can help.  The Culinary Arts school at Dorsey offers students the opportunity to explore the wide world of cooking.  Instruction at Dorsey's culinary arts school takes place in both the classroom as well as in the kitchen.  This allows students a balanced approach to their culinary arts school education.  A variety of topics are covered in the Culinary Arts program.  Some of these topics include exposure to various cooking techniques, baking and butchering.  Topics such as nutrition, catering, and regional and international cuisines are also discussed.  Students in this program will also take part in an externship.  The culinary arts externship takes place at the end of the culinary arts training program.  The goal here is to allow students to apply what they have learned while giving them the opportunity to gain professional exposure in the field.
Two Dorsey campuses offer the Culinary Arts program.  It is offered at the Roseville, MI and Waterford-Pontiac, MI campuses.
The Culinary Arts program at Dorsey Schools is accredited by The Accrediting Commission of the American Culinary Federation Education Foundation (ACFEF). Each graduate of the Culinary Arts program at Dorsey Schools is eligible to become an ACF certified culinarian with documentation of both membership in the ACF and one year of in-field working experience.
Interested in learning more?  The team at Dorsey would love to talk to you.  Feel free to contact Dorsey Schools at 888-422-1188 or request info online.
Culinary Arts Program – Gainful Employment Disclosures
For more information about our graduation rates, the median debt of students who have completed the program, and other important information, please click here