Burger Bash Detroit 2018 was a huge success this year! On June 8, 2018, 18 culinary competitors gathered to battle for the title of "best burger." The event was held at the Royal Oak Farmers Market. All of the vendors were using Fairway Packing Co. beef patties. It was their job to show the crowd that they could dress up or down this simple piece of meat. Judging was based on several categories including the best dessert, best French fries, the most unique, and best overall. The public was invited to purchase tickets, come and taste and was able to vote later in the night for their favorites. The burgers were also accompanied by a variety of brews from local to national brands. With over 31 beer vendors to choose from, it was certain no one was leaving thirsty! Don't forget that there were also four dessert vendors in the event competing as well!
Dorsey Schools' Burgers
Dorsey Schools' culinary arts program competed and made two different b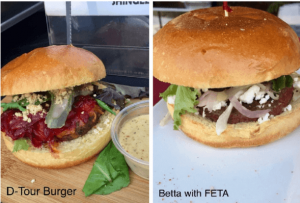 urgers. One of the burgers made by our students was called "Betta with FETA." This burger was an all-beef burger topped pickled onions, pomegranate seeds, black olives, lettuce, and feta cheese. The second burger was a 'made in Detroit' burger called the "D-Tour Burger." This burger included an all-beef patty topped with onions braised in Faygo Rock N' Rye, McClure's garlic pickles deep fried and tossed in better made sour cream &onion potato chip crumbs, Pinconning Cheddar Cheese, Local Microgreens & Special D Sauce; served on a toasted St. Pierre brioche bun with garlic butter.
Dorsey Schools' Culinary Team
Burger Bash and Brews hosted some of Dorsey Schools' finest cooks. The culinary team was led by Chef Natalia Tarnavski and Chef Mercado. Our students did a fantastic job at the event. It was great experience for them as they got to cook and prepare the food and work with the public in a more hurried environment. The cooks involved did a fantastic job keeping up with the high demand of the burgers while keeping a smile on their face.
At Dorsey Schools, we are ready to connect with you and answer your questions about how our Culinary Arts training program could help you to gain the knowledge and skills that are generally necessary of cooks, food preparers, bakers, and caterers. Important areas covered during the training include, but are not limited to safe knife handling, customer service strategies, sanitation, and catering. To learn more about the topics and skills covered in our Culinary Arts program, visit our website.
Campus locations where Dorsey Schools' Culinary Arts diploma training program are Roseville, MI and Waterford-Pontiac, MI (both branch campuses of Madison Heights). The Culinary equipment needed is provided to each student during the program. Dorsey's Culinary Arts training program is accredited by the Accrediting Commission of the American Culinary Federation Education. Contact us today to speak with one of our experienced admissions representatives.
Let us support your culinary training goals. Call us at 1-888-422-1188 to learn how our experienced team can help provide you with important cooking, food preparation and kitchen management skills.
Sources: