Congratulations, Class of 2018! You did it! For those of you who have not finalized your post-high school plans yet, Dorsey Culinary Academy has a free event you may be interested in attending!
On Friday June 8, 2018, Dorsey Culinary Academy's Waterford-Pontiac, MI campus is hosting an event for graduating high school seniors who may be interested in learning more about training for a career in the culinary arts. The event will take place from 10AM to 1PM at the Dorsey Culinary Academy campus located at 440 N. Telegraph Road in Pontiac. Space is limited for the special event.
During the event, our expert chef instructors here at Dorsey Culinary Academy will be performing various cooking demos, such as how to make homemade sauces and dressings, making pasta from scratch and how to make a custard that can be turned into homemade ice cream. The best part? Attendees will be able to enjoy the food that the chefs prepare during the event.
If you are graduating from high school this year and you are thinking about training for a career in the culinary arts, contact Dorsey Culinary Academy to reserve your seat in this event.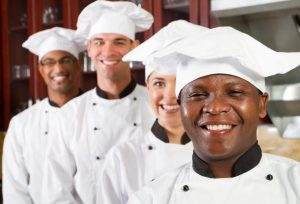 The Culinary Arts program at Dorsey Schools in Michigan is designed to prepare students to work in professional food serving facilities. Students enrolled in the Culinary Arts training program have the opportunity to "learn by doing" in the practical side of professional food preparation. Education in the program takes place in both kitchen and classroom settings. An externship component is included at the end of the Culinary Arts program, allowing students to apply the knowledge they have learned and put it into practical application. Students of Dorsey Schools' Culinary Arts training program have the opportunity to acquire the experience and training they need to gain the competitive and creative edge in the development of their cooking career.
The Culinary Arts training program at Dorsey Schools is accredited by the Accrediting Commission of the American Culinary Federation Education Foundation.
The Culinary Arts program is available at the Roseville, MI and Waterford-Pontiac, MI campuses.
Are you ready to learn more? Take the first step! Contact us today to request more information!
The Roseville and Waterford-Pontiac campuses are branch campuses of Madison Heights.