Did you know that May is National Barbecue Month? It's the beginning of summer, a time for everybody to enjoy the outdoors with family and friends. To jump start the celebration, we, at Dorsey Schools recently sat down with Chef Adam McGiness. He explained the two primary ways of preparing meats for a barbecue: marinades and rubs, and provided us with two great barbecue sauce recipes.
Here is some of what Chef McGiness had to say about the different forms of barbecue:
Marinade or Wet brine is a method of preparing your meats for BBQ. Most marinades are made with an acid base, seasoning and oil. Using acid based marinade breaks down the fibers of the meat to tenderize it, creating the fall off the bone texture we all know and love. Wet brine can include simple ingredients like apple juice or beer with sugar and salt. There are endless possibilities. That's the cool part of BBQ: we can always experiment with different flavors and decide what works best.
A rub is a mixture of spices that is massaged into the meat before cooking it.  Rubs can contain anything, as long it has sugar and kosher salt. Its best to dry rub the meat and let it sit in the fridge overnight (that lets the rubs do some magic with the meat). As the rubbed meat is cooking, the heat will help lock in the flavors of the rub; the heat will also help produce a crisp and tasty bark which allows the meat to retain its savory moisture. Chef McGiness calls the smell in the air "Love."
Barbecue Sauce Recipe Courtesy of Dorsey Culinary Academy
As we all know the final touch to any good barbecue is the sauce. According to Chef McGiness, it can be made with a vinegar base or sugar base type of BBQ sauce. And can be put on the meat during any stage of cooking process (although Chef McGiness prefers to put on the sauce after the meat has been cooked). Just remember this, he cautions, if your sauce contains any type of sugar base in it, it's best to put it on last minute, otherwise, the sauce will burn during the cooking process.
These are the two recipes that Chef McGiness shared with us (a dry rub recipe and his special BBQ sauce recipe). They were so great that we had to share them with you!
Dry Rub Recipe (Great to use on ribs or any type of pork)
1/2 cup paprika
1/4 cup garlic powder
1/4 cup medium chili powder
2 tablespoons kosher salt
3 tablespoons black pepper
2 tablespoons onion powder
2 tablespoons celery salt
1 tablespoon brown sugar
1 tablespoon dried oregano
1 tablespoon dried thyme
1 tablespoon cumin
2 teaspoons/10 mL dry mustard
2 teaspoons allspice
Mix all the spices and put in air tight container.
Spice your Sweet Life BBQ sauce
1 cup chopped sweet onion
3 garlic cloves, minced
1 jalapeño pepper minced ( hotter use habanero pepper)
1 tablespoon oil
4 cups ketchup
1 cup firmly packed dark brown sugar
1 cup apple cider vinegar
1/2 cup apple cider
1/2 cup honey
1 tablespoon Worcestershire sauce
1 teaspoon kosher salt
1/8 teaspoon dry mustard
1 teaspoon freshly ground black pepper
1/2 teaspoon dried crushed red pepper
A pinch of cinnamon
Sauté onion, minced garlic, and jalapeño pepper in hot oil in a large saucepan over medium-high heat 4 to 5 minutes or until tender. Stir in ketchup, dark brown sugar, vinegar, apple juice, honey, Worcestershire sauce, kosher salt, freshly ground black pepper, dry mustard and dried crushed red pepper. Bring to a boil, stirring occasionally. Reduce heat to low; simmer, stirring occasionally, 30 minutes. Use immediately, or refrigerate in an airtight container for up to 1 month.
We hope that these tips and recipes will be useful to you as summer kicks into full swing. Remember be safe and enjoy BBQ.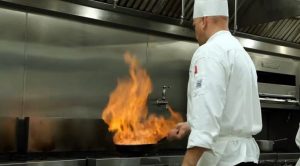 The Culinary Arts program at Dorsey Schools is designed to prepare students to work in both public and private professional food serving facilities. Our students are given the opportunity to "learn by doing" the practical side of professional food preparation. Education takes place in both kitchen and classroom settings and students have the opportunity to learn skills that are needed to gain the competitive and creative edge in the development of their culinary career.
Training in this program includes:
Exposure to fundamental skills such as proper sanitation, knife cuts, "mise en place," cooking techniques, food preparation, food purchasing/specifications, catering and professionalism
Various aspects of the culinary industry, including baking, butchering, and healthy cooking and nutrition
Introduction to menu planning/pricing, kitchen management, and inventory control.
An externship allowing students to apply what they have learned throughout the program in a real-world culinary environment
Students have the opportunity to challenge the National Restaurant Association's ServSafe® Certification exam and National Restaurant Association Educational Foundation's ("NRAEF") Nutrition certification test
The Culinary Arts program is offered at the following Dorsey Schools campus locations:
Interested in learning more about the Dorsey Schools?
Give us a call at 888-422-1188 or Request Info Online
Culinary Arts Program – Gainful Employment Disclosures
For more information about our graduation rates, the median debt of students who have completed the program, and other important information, please click here.