Red Nose Day returns for its second year in the US on May 26, 2016. Dorsey Schools invites you to join us in celebrating it. Let's all come together and have fun by making a difference and raising awareness to help children in need.
Red Nose Day is a fundraising campaign turned global movement run by Comic Relief UK and Comic Relief Inc. It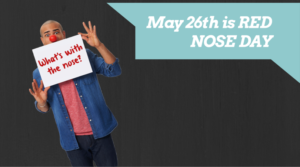 originated in the UK in 1985 in response to the East African famine and was launched in the US in 2015. It now has support from over 15 countries worldwide. They each possess a shared vision of a just world, free from poverty; and the same mission to drive positive change through the power of entertainment.  Over the last 25 years, Red Nose Day has raised over $1 billion globally to help children living in poverty in the US and around the world.
Dorsey Schools Gives Back
Dorsey Schools is holding fundraisers at several of our campuses. There will be a fun competition to see which campus can raise the most money and awareness for Red Nose Day.
Anyone interested participating in the festivities and helping the less fortunate children of the world should wear a red nose, red hat, and red shirt to promote awareness (these can all be found at Walgreens, the exclusive retailer of Red Nose Day merchandise). You should also feel free to donate to the cause and ensure that kids across the globe are safe, educated, and vaccinated.
Here's a look at how your contribution can make a difference:
Money raised will be used to funds food banks in all 50 states
Kids will be given supplies and resources that they need to get a safe and proper education
Malaria drugs, bed nets, and HIV drugs will be given to children and pregnant women
American children in low in come and homeless families will be given access to medical care and treatment
Children and families in Africa will have access to clean water and proper sanitation
More information about how donations are used to make a positive impact can be found on http://rednoseday.org/our-impact/
The children of the world need our help and are depending on us to make a difference by improving the quality of their lives. Please spread the word and don't forget to tune in to the two-hour Red Nose Day live TV special on NBC at 9:00pm ET, featuring the biggest stars across comedy, music, TV and film.
Career Training Programs at Dorsey Schools
Dorsey Schools is an institutionally accredited career training school that aims to prepare individuals for promising opportunities. Our goal at Dorsey Schools is to give our students access to the tools which will enable them to excel in their new chosen field.
Programs vary based on campus location and include:
Interested in learning more about the Dorsey Schools?
Give us a call at 888-422-1188 or Request Info Online
For more information about our graduation rates, the median debt of students who have completed the programs, and other important information, please visit www.dorsey.edu/disclosures.
Sources: