A dental assistant may often be one of the first people that a patient speaks with, whether they are scheduling a dental appointment, paying a dental bill, or calling to get more information on a dental procedure. These factors make connecting with patients crucial as it regards a long, rewarding career in the profession.
Succeeding as a Dental Assistant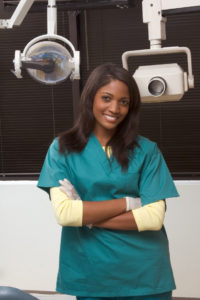 Unlike other assistant roles, those working dental assistant jobs don't stop at performing administrative tasks. In fact, other functions that a dental assistant fills may include taking patient x-rays, sterilizing dental equipment, assisting dentists with procedures, and letting patients know how to maintain healthy dental hygiene.
Interpersonal skills is a key quality that those working dental assistant jobs need, shares the Bureau of Labor Statistics a. Attention to detail, organizational skills, physical agility, and listening abilities are additional qualities that work as an advantage for a dental assistant. These qualities hold a secret to steps that dental assistants could take to improve their patient connections.
For example, dental assistants can actively listen to each patient that they work with. Active listening means that assistants don't interrupt patients when they are talking, whether patients are asking questions, making comments, or voicing a concern or complaint.
Other Ways to Improve Patient Relationships
More tips that can help dental assistants effectively connect and communicate with patients are for dental assistants to get clear info about their responsibilities and to discuss the details of their dental assistant job description with the dentist or another employer they are working with. A clear understanding of what's expected of them could keep dental assistants from feeling overwhelmed and potentially allowing patients to see the dental assistant in a stressful situation.
A third tip is to focus on getting patients to relax and feel comfortable before, during and after dental procedures. The American Dental Association b also shares that a dental assistant can explain dental procedures to patients and ask patients about their medical history. These actions can show patients that the dental assistant cares about them and has their welfare as a top priority.
Organization skills also go a long way in the profession. By being organized, a dental assistant could avoid mixing up patient records. They can also locate patient files quickly, keeping patients from having to wait while they search for their up-to-date records. Sincere concern for patients may be the top resource that dental assistants have at their disposal when it comes to improving patient connections. After all, when you know that someone genuinely cares about you, it's generally easier to trust, listen, and communicate with him/her more fully.
Finally, dental assistants can receive adequate dental assistant training. For instance, Michigan-based training programs may adhere to the Michigan Dental Association radiography training program. Quality dental assistant training may cover topics like medical terminology, radiography, pharmacology, and bookkeeping.
Training, experience, and practicing the above four tips could also help dental assistants to step into larger roles.  As of 2012, in Michigan, there were 8,820 employed dental assistants. The Michigan Bureau of Labor Market Information and Strategic Initiatives also reports that job growth in the field is projected to grow by 10.7% from 2012 through 2022. c At the national level, the Bureau of Labor Statistics shows dental assistant jobs could grow by 18% from 2014 through 2024.
a http://milmi.mt.gov/Portals/137/publications/projectionsdata/LongTerm_OccupationalProj_2024_MI.xlsx