Medical Training Programs / Healthcare
Medical Training Diploma Programs for Careers in the Healthcare Field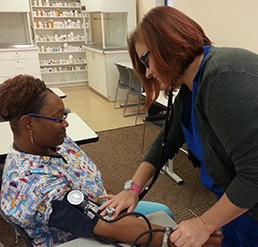 By enrolling in one of our Medical Training programs, the opportunity for a rewarding career in healthcare begins here at Dorsey Schools! As the nation's healthcare system continues to evolve, the need for trained, specialized support staff is as important as ever. At Dorsey Schools, we are committed to providing quality Medical Training to the healthcare workers of tomorrow! Most of our Medical Training programs offer a balanced curriculum of in-class lectures along with hands-on practice in our medical labs or clinical massage environment. Many of the Medical Training programs also offer students an externship component during their final module, providing them with industry experience and professional exposure in real-world occupational settings. You can train for an exciting new career in healthcare, and many programs can be completed in one year or less!
Do you like helping people? Do you want to give back? Have you always dreamed about working in the medical field? Are you ready to become an important member of the healthcare team? If you answered "yes" to any of these questions, pursuing Medical Training for a new career in the healthcare field at Dorsey Schools may be for you.
For more information on each individual program, please visit the Medical Assistant, Medical Administration and Billing, Patient Care Technician, Enhanced Nurse Aide, Dialysis Patient Care Technician, Pharmacy Technician, or Massage Therapy Program pages, or call us at 1-888-422-1188 to learn more!
Practical Nurse Program
The Practical Nurse Certificate Program at Dorsey Schools strives to prepare students for a career as a practical nurse. Graduates of the Practical Nurse Program who have successfully met all of the program's requirements will be eligible to challenge the NCLEX-PN Exam. The curriculum in the Practical Nurse Program is designed to challenge students to solve problems, develop critical thinking skills, and to understand legal, ethical, moral and cultural issues of today's healthcare communities. Practical nurses work under the direction of physicians or registered nurses to provide patient care, assist with patient education, manage team nursing patient care delivery, and supervise unlicensed assistive personnel.
For more information, please visit the Practical Nurse Program page, or call us at 1-888-422-1188 to learn more!