Massage Therapy Training Program
The Massage Therapy diploma program at Dorsey Schools is designed to provide students with a foundation in anatomy, physiology, and pathophysiology which form the basis for training in specific massage techniques. The program provides students with the opportunity to prepare for entry-level positions in the massage therapy industry, once licensed. Successful completion of this program meets the approved curriculum requirement needed to apply for licensure in Michigan.*
Massage Therapy Training – Michigan Career Training Programs
The Massage Therapy Diploma Program is offered at the following Dorsey Schools campus locations: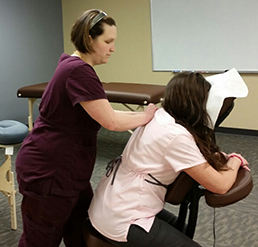 Training in this program includes:
Students have the opportunity to learn hands-on techniques, including Swedish massage, deep tissue, neuromuscular therapy, sports massage, and supervised clinical practice.
Once licensed, our graduates may pursue a variety of jobs, including private practice, athletic team massage therapist, a massage therapist in a hospital, on-site massage therapist, massage therapist in a spa or salon, assistant to physical therapists or chiropractors, or serving as a massage therapist on cruise ships.
The curriculum is also geared to prepare students to challenge the Massage & Bodywork Licensing Examination (MBLEx).
Students will have the opportunity to practice massage modalities learned throughout the program on members of the public in a simulated work environment. During Supervised Clinic Practice and as part of their training, students will provide massage services to customers who may be charged for the services rendered by students.
As licensure is required for employment by the State of Michigan, Dorsey Schools will pay the cost one time for graduates of this program to challenge a certification exam as selected by Dorsey Schools, contingent upon the graduate meeting Dorsey Schools exam preparation requirements.
Massage Therapy Career Outlook

Massage therapists specialize in relieving tight muscles, reducing stress, healing sports injuries, and increasing the overall health of their patients. They accomplish this through making accurate patient assessments and targeted applications of specific massage modalities. Once licensed, jobs in massage therapy can be found in a variety of settings, including hospitals, nursing homes, physical therapy and rehabilitation facilities, sports medicine centers, salons, spas and other healthcare facilities.
According to the US Department of Labor, Bureau of Labor Statistics, employment of massage therapists is projected to grow 22% from 2014 to 2024, which is much faster than average for all occupations.a In addition, according to the State of Michigan DTMB, Bureau of Labor Market Information and Strategic Initiatives, employment of massage therapists is projected to grow 20.6% from 2014 to 2024.b
To learn more about the Massage Therapy program at Dorsey Schools, call 888-422-1188 or contact us.
Massage Therapy FAQs
Check out our Massage Therapy FAQ page to learn more about…
What Massage Therapists Do
Becoming a Massage Therapist
The Dorsey Schools Massage Therapy Program
Massage Therapy Program – Gainful Employment Disclosures
For more information about our graduation rates, the median debt of students who have completed the program, and other important information, please click here.
---
*As of November 29, 2014, massage therapists will be required to obtain a license to work in the State of Michigan. All applicants for a Massage Therapist license must have completed a supervised curriculum in massage therapy that has been approved by the Michigan Board of Massage Therapy. Dorsey Schools Massage Therapy program is an approved supervised curriculum by Michigan Board of Massage Therapy. Dorsey Schools will keep affected students apprised of newly implemented requirements for licensure as a Massage Therapist in the State of Michigan.
aBureau of Labor Statistics, U.S. Department of Labor, Occupational Outlook Handbook, 2016-17 Edition, Massage Therapists, on the Internet at http://www.bls.gov/ooh/healthcare/massage-therapists.htm (visited July 11, 2016).
bMichigan DTMB, Bureau of Labor Market Information and Strategic Initiatives, Long-Term Occupational Employment Projections (2014-2024) Michigan Statewide, Massage Therapists (SOC Code: 31-9011), http://milmi.mt.gov/Portals/137/publications/projectionsdata/LongTerm_OccupationalProj_2024_MI.xlsx (visited July 11, 2016).
*Please note:  The Saginaw campus is not accepting Massage Therapy enrollments at this time.