Thursday, March 9, 2017 is World Kidney Day.  The theme of World Kidney Day 2017 is Kidney Disease and Obesity.  Those who are obese pose a risk factor for developing kidney disease.  This is because obesity is commonly linked to diabetes and hypertension.  These specific conditions can cause the kidneys to work harder by filtering more blood throughout the body (due to the increase in weight).
World Kidney Day 2017 – Michigan Events
When the kidneys work this hard, it can have an increased risk of a person developing chronic kidney disease in the long run.  This year's campaign for world kidney day is dedicated to promoting awareness and education around obesity and kidney disease.
This is important because both conditions are preventable.  In the end, by reducing the obesity epidemic, the nation can also help slow the number of cases of chronic kidney disease and end-stage renal disease, as there has been a link between obesity and these conditions.  Good kidney health is critical for the overall health of a person.  When someone's kidneys are not working properly, this can cause health concerns.  For those who have serious kidney problems, dialysis treatment may be needed.  Dialysis treatment is for those who suffer from kidney disease.  It's needed when the body's kidneys are not functioning as intended.
What Do Dialysis Technicians Do?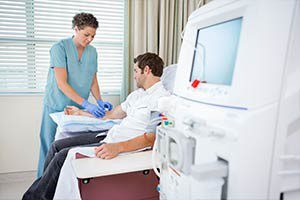 Dialysis Technicians perform a number of tasks.  First, they work with dialysis equipment.  This includes monitoring and disinfecting dialysis equipment.  They are also responsible for providing patient care.  This may include monitoring patients and measuring and recording vital signs.  Dialysis Technician may perform other tasks such as drawing blood, evaluating intradialytic problems, calculating and entry of individual patients' dialysis machine programming, and collecting, labeling, appropriately preparing and storing lab samples.
Dialysis Patient Care Technician program at Dorsey Schools
Are you looking for a career in the world of healthcare? If so, consider our Dialysis Patient Care Technician program. The Dorsey Schools Dialysis Patient Care Technician diploma program combines classroom-based career training and instruction with a hands-on externship component.  This dialysis training allows students to have an exceptional learning experience to prepare to pursue a career as a dialysis technician.
Have you ever wondered, what is a dialysis technician? Well, dialysis patient care technicians are healthcare professionals.  They are responsible for the technical management of hemodialysis (or blood filtering) treatment for patients who are undergoing dialysis treatment. Dialysis patient care technicians also  operate dialysis machines and provide basic patient care while under the supervision of registered nurses. Students in the Dialysis Patient Care Technician program at Dorsey Schools can master the specific duties that are necessary to properly assist patients who are undergoing dialysis treatment.
Dialysis training in the Dorsey Schools program includes an introduction to the interpersonal, communication, and basic clinical skills required of Dialysis Techs.  These skills are critical in caring for patients with acute/ chronic renal disease who are undergoing dialysis treatment at a dialysis facility or hospital.  Students will also be exposed to the techniques for operating, monitoring, and disinfecting kidney dialysis equipment and machines while observing facility policies/procedures and Federal and State Regulations.  Throughout the program, students can also develop direct skills (including observation, education, taking vital signs, injections, blood draws, ECGs, and more), all while monitoring patient comfort and safety.
The Dorsey Schools Dialysis Patient Care Technician training program is offered at the Wayne, MI campus (a branch campus of Madison Heights).
Do you think a career as a dialysis patient care technician may be for you?  If so, consider giving Dorsey Schools a call at 888-422-1188 or you can request info online.
Sources:
Reviewed and edited 12/6/17