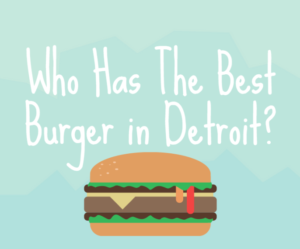 Set aside the Coney Dogs and Pizza Michigan foodies. We're going to look into what Detroit has to offer when it comes to one of America's most classic comfort foods and summer favorites – the burger. Burgers are a fan favorite. They are also a favorite among chefs. And every chef has their own "philosophy" on what the perfect burger is, as their mission is to create a work of culinary art. Burgers are enjoyed in an infinite number of ways. Some burgers are extravagant, some are experimental, some are straight to the point – and all are delicious in their own way (but are also worth trying). It seems as though burger joints are popping up on every corner, from pubs to high-end restaurants. But who has the best? Detroit Eater recently put together a list of The 21 Hottest Burgers in Detroit, 2015, and we asked our own burger enthusiast and Dorsey Culinary  instructor, Chef Nicholas Eaton, about some of his favorite places to grab the best burger in town that is on this list.
When thinking about getting a perfectly made burger, one of the first restaurants that come to Chef Eaton's mind is Redcoat Tavern. Redcoat has been a retro, red booths, Veteran British-American Pub and Burger Joint since 1972. The Original Redcoat Special Hamburger is made from a half pound of hand-selected freshly ground choice beef that's prepared continental style with a wide variety of cheese, veggies, and types of buns. Redcoat has been making their burger the same way for over 30 years.
"It's the standard. Food is for people, and Redcoat is consistently a local Detroit metro favorite. In the six years, I have lived here, I have never had a bad experience here. The food itself is consistent. I have never had my burger built poorly or done over or under temp. Plus, when I don't feel like a burger, the rest of the food there is also exceptional, even in its simplicity." – Chef Eaton
Right down the street from Redcoat is a newer garage-themed joint, Vinsetta Garage. Burgers take up a hefty amount of the menu, with unique and exciting ingredients (like house pickled beets, shiitake bacon, house-made bacon jam and much more). Vinsetta Garage even has a "Noodle Burger."
"This place is great for the opposite reason of Redcoat. It's not a burger place. They do both a lamb burger and a duck, which are lovely though. The food, in general, is good. They have a penny floor in the bathroom area and the establishment itself is in a century-old auto garage, recently closed a few years ago and refurbished." – Chef Eaton
The last burger joint we'll be visiting is the homey and cozy bar/restaurant that is Mt. Chalet, which is also located on Woodward Avenue in Royal Oak. Mt. Chalet has a "Build Your Own Burger"-style menu with various types of meat, buns, and toppings. Mt. Chalet also features a wide variety of sliders, such as Seared Ahi Tuna Sliders and Piedmontese Sliders and a "Burger of the Month" special.
"[Mt. Chalet is] not classy or cool, and that's why I like it. The food itself is always good and the burgers are the ultimate in "build your own." Not only do they have a regular bar burger and Piedmontese, but they have turkey and black bean burgers too, and half a dozen different types of buns and a bazillion different toppings (not all of which I agree with). I definitely like this place; it reminds me of my hometown and is totally Rust Belt in character."  – Chef Eaton
Fortunately for burger enthusiasts and foodies alike, this isn't even the tip of the iceberg of what the Detroit food scene has to offer. In the comments below, let us know where your favorite places are to go to grab a burger here in Michigan.
If you think you have the secret to making the perfect burger and are interested in pursuing a career in the culinary field, check out Dorsey Culinary Academy. Students enrolled in the Culinary Arts Program will learn by doing and have access to professional culinary equipment as part of their training in our industry-current kitchens. The Dorsey Schools Culinary Arts program is currently offered at our Roseville, MI and Waterford-Pontiac, MI campus locations. The Culinary Arts Program at Dorsey Schools is accredited by the Accrediting Commission of the American Culinary Federation Education Foundation.
For more information about our graduation rates, the median debt of students who have completed the program, and other important information, please visit www.dorsey.edu/disclosures.