Looking to become a Medical Assistant, but are wondering who Medical Assistants work with? Medical Assistants can work with many people. These may include physicians, patients, and other medical support staff. They help patients in need whether it is in a medical office, clinic, or perhaps even a hospital. Medical Assistants may help patients from the beginning to the end of their visit. A medical assistant may check you in at the front desk. They may also walk you back to see the doctor and take your vitals. They may even schedule your next appointment. Medical Assistants play a large role in healthcare, as they are one of the doctor's "right-hand." MAs are a large part of a foundation of a health center. Without them, the setting could be unorganized and potentially chaotic. Because Medical Assistants help doctors, nurses, and everyone in between, they work to help you get the help you need as quickly as possible.
Medical Assistants work with Patients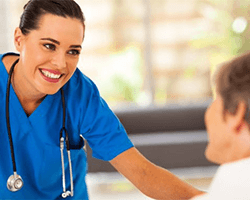 Medical Assistants interact with patients from both a clinical and an administrative aspect. Medical Assistants may take vitals. They may also record the chief concern and review the patient's medical history. Once the physician assesses the patient, the MA may do bloodwork, administer injections, or run/prepare tests, such as an EKG. Medical Assistants may assist the patient with paperwork as well. This could be updating their insurance or scheduling a follow-up appointment.
Medical Assistants work with Doctors and Nurses
Medical Assistants work as a physician's "right hand." They work behind the scenes to prepare the patient so that they are ready to be seen by the physician. Other daily tasks may include sterilizing medical equipment. They may also call prescriptions into pharmacies and stock exam rooms. The physician may also ask the Medical Assistant to schedule tests or procedures.
Medical Assistants work with other Healthcare Support Staff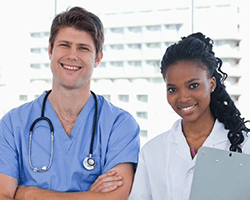 Medical Assistants may work with a variety of people outside of their clinical work. This may include the administrative team. It may also include medical billers and insurance representatives. Together they make sure all personal information and insurance are up to date. The Medical Assistants may also handle the health center's mail or provide billing assistance. It all depends on the setting, number of employees, and job duties.
Dorsey Schools provides Medical Assistant training in Michigan. Dorsey School provides students the opportunity to learn the skills necessary to become a Medical Assistant. Students can receive hands-on training, so that they have the chance to practice what they learn before stepping into the real world. Before completing the Dorsey Schools Medical Assistant training program, students can gain even more experience by completing an externship. This may be done at a physician's office, long-term care facility, or other medical practices. Dorsey Schools works to provide students many opportunities to apply the knowledge and skills they have been taught, so that they may reach their full potential in their Medical Assistant career.
To learn more about Dorsey Schools Medical Assistant training click here.