You're smart, hardworking and want to make a real difference in the world. You've thought about exploring the healthcare industry for some time but are not quite sure if pursuing a medical assistant career path is right for you. Naturally, you're thinking, "What do I need to become a medical assistant?". If you have a high school diploma or GED there's good news – you are eligible to begin Medical Assistant training! But read on and discover why your passions could complement a new career as a Medical Assistant!
Break Into The Healthcare Industry | 4 Reasons to Become A Medical Assistant
A medical assistant career is a great way to enter the healthcare field. Pursuing training in a medical assistant course could be the bridge that helps connect you to working alongside both doctors and patients in need.
Here are some reasons why you should consider a career as a medical assistant:
Medical Assistants Are In-Demand1
According to the US Department of Labor, Bureau of Labor Statistics, employment of medical assistants is projected to grow 29%, from 2016 to 2026, which is much faster than average for all occupations2. In addition, according to the State of Michigan DTMB, Bureau of Labor Market Information and Strategic Initiatives, employment of medical assistants is projected to grow 28.1% from 2016 to 20263. As people get older and need preventative care, there is a great need for medical assistants to provide valuable support in clinical and administrative settings.
Make A Difference By Helping Others
As a medical assistant, you can work directly with patients and help make their visit to the doctor a more pleasant experience. If you believe patients should be treated with dignity and compassion, a medical assistant career can provide you with the tools needed to help make this a reality
Medical Assistant Career Advancement | Options In the Future!
By enrolling in medical assistant training, you can be on your way to your first job in the healthcare field in just one year. You can fit your studies around your current commitments and be on the fast-track to your new career as a medical assistant in just twelve months. Some may choose to become a Medical Assistant as a starting point in their healthcare career and choose to advance their career by going back to school in the future.
Have The Opportunity To Make Your Own Schedule
Since medical facilities have hours of operation that may vary, medical assistants may have the option of working both a part-time and full-time schedule. This may provide you with the job flexibility you've always wanted!
What Skills Will I Learn During My Medical Assistant Training Program?
Medical Assistants are needed in all types of settings – doctor's offices, medical offices, and clinics are just a few of your potential employers. Working in these settings requires you to know how to perform many different job functions, such as: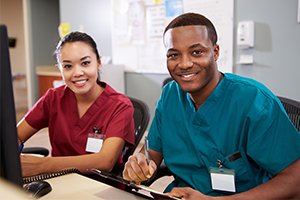 Measuring a patient's vital signs, such as blood pressure
Recording patient history and personal information
Helping physicians with patient examinations
Scheduling patient appointments4
These are just some of the skills that you can learn during your medical assistant training. Many programs are designed to provide instruction in both a classroom and clinical setting. This is to make sure that you receive the best possible instruction and it aims to fully prepare you for your new career upon graduation.
What Is The Advantage Of Becoming A Certified Medical Assistant?
Although some states do not require you to receive certification as a medical assistant, potential employers may prefer to hire certified medical assistants. There are some schools that offer to pay the fee one-time for a certification exam to further help you with your medical assistant career path. This may be offered if you meet exam preparation requirements and is an extremely helpful benefit to receive.
What Should I Look For In A School To Receive The Best Opportunities For Medical Assistant Career Advancement?
There are many things to consider as you move forward in your search for a medical assistant school. Here are some important questions to ask as you begin your search:
Is the school close to my house?
The school you attend should be close to home in order to fit your schedule. By attending a school that is located nearby, you can attend classes and still maintain your daily routine.
Does the medical assistant school emphasize hands-on training?
Medical assistants are expected to know how to perform a variety of tasks in order to help healthcare professionals. The school you attend should teach you all of these skills so that you are confident in your future workplace and can assist when needed. Hands-on training in medical laboratories is extremely useful and can help with learning all of these important skills.
Will I learn a wide range of medical assistant skills to help make me a marketable candidate upon graduation?
You want to be well rounded in all areas of your new career. A school that provides an externship at a healthcare facility would be a great way to put what you've learned into practice and prepare yourself for life as a medical assistant. Having professional exposure in a healthcare environment prior to graduating is a great way to help you be the best that you can be in your new field.
Is career assistance available after I graduate?
You've completed your medical assistant training and are now ready to begin your new career as a medical assistant – congratulations! Now it's time to put your new skills to use and begin your exciting new career. Ideally, you want a school that is going to help you in this important transition from valued student to entrusted employee. You want to attend a school that is going to continue to help you even after your days in the classroom have come to an end. Choosing a school that is going to be with you even after you leave the classroom is vital in making sure you succeed in your new medical assistant career. Schools that provide career services assistance are helpful to future medical assistants. These schools are helpful because they offer graduates a great way to obtain assistance in getting their foot in the door and helping with obtaining a position with a new employer.
Dorsey Schools is ready to provide you with the skills needed in order to succeed as a medical assistant. By emphasizing a "learn-by-doing" approach, you will receive quality comprehensive training in both administrative and clinical areas. The Medical Assistant program at Dorsey Schools also helps prepare you to challenge a national certification exam!
Other benefits of enrolling at Dorsey Schools are:
Externship opportunity
Network with healthcare professionals and learn the ins and outs of a healthcare setting! Test out your new skills at a physician's office, assist patients visiting an urgent care clinic – these are just some of the possible environments that you may encounter.
Small classroom size
Receive personalized attention and the one-on-one guidance needed for your success as a medical assistant!
Career-Service Assistance
As a graduate of Dorsey Schools, you will receive career-service assistance at no additional cost. A skilled team of Career Services Coordinators are available to help you with things like your resume, potential job interviews and many other areas as you pursue your new career.
Financial aid is also available to those who qualify!
Provide A Better Future For Yourself. Get Started Now At Dorsey Schools!
By taking these steps and completing medical assistant training at Dorsey Schools, you can be providing a better future not only for yourself but for others as well. A rewarding new career and a school that is ready to help you on this new path – what are you waiting for? Contact Dorsey Schools to learn how to get started on your medical assistant career path!
Additional Information:
1https://www.bls.gov/ooh/healthcare/medical-assistants.htm#tab-1
2https://www.bls.gov/ooh/healthcare/medical-assistants.htm#tab-1
3http://milmi.mt.gov/Portals/137/publications/projectionsdata/LongTerm_OccupationalProj_2026_MI.xlsx
4https://www.bls.gov/ooh/healthcare/medical-assistants.htm#tab-2