Things are heating up in Michigan. We're currently in the middle of what historically is considered to be Michigan's hottest month of the year. July 13th marks the anniversary of the hottest day ever recorded in this state, when the northern Michigan City of Mio experienced temperatures of 112°F on July 13th, 1936. Saginaw came in at second place, having experienced temperatures of 111°F that same year. Luckily, we haven't experienced anything as hot for the summer of 2015.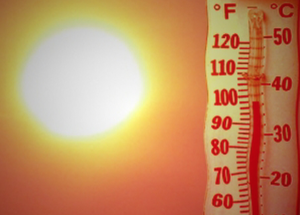 There's a good mix of weather here in Michigan, as we enjoy the four seasons throughout the year. Although many people enjoy soaking up the heat and sun during the summer months, some may argue that the winter is the best time of year in Michigan. Opposite to the hottest day recorded in the state, another northern city in Michigan holds the record for the lowest temperature on record, which occurred on February 9, 1934 in Vanderbilt, Michigan (at -51°F).
Michigan's Hot History
Michigan isn't known for its extreme temperatures, despite the fact that during the winter months, they have been known to fall below zero, and in the summer, they generally stay within the mid-80s range. One thing we do rely on year-round is heating and air conditioning to keep us comfortable. Because of this, HVAC Systems Technicians are in high demand, and Michigan can be a great place for anyone who is looking to pursue a career in HVAC.
According to the Bureau of Labor Statistics, the job outlook for heating, air conditioning, and refrigeration mechanics and installers is expected to see an increase of 21% from 2012 to 2022, which is a much faster than average job growth.
With new technologies readily available in today's market, HVAC equipment has become much more efficient (i.e., green) and cheaper to run than outdated HVAC equipment. Consumers are expected to continue purchasing newer and more efficient HVAC systems. The increase in installations and maintenance should be on the rise as well, providing people with better comfort levels for their homes and workplaces all across Michigan.
Programs like the HVAC (Heating Ventilation and Air Conditioning) Systems Technician Diploma Program at Dorsey Schools provide students with the knowledge and experience to prepare them for EPA Universal Certification. The hands-on approach of the curriculum covers basic workplace skills and the fundamentals of HVAC, electricity, refrigeration, residential and commercial systems, and much more.
If you (or someone you know) might be interested in learning more about training to become an HVAC Systems Technician in Michigan, and how to get started with the HVAC Systems Technician Program at Dorsey Schools, call 888-422-1188 or click here.
Graduates from Dorsey Schools have been employed by:
Bayside Home Improvement Co.
C & C Heating and Air Conditioning
DeAngelis Heating & Cooling
Dunrite Heating & Cooling Systems, Inc.
Expert H & C
Family Heating & Cooling Inc.
Sharon's Heating & Cooling
Top Dog Building Maintenance
…and more
For more information about our graduation rates, the median debt of students who completed the programs, and other important information, please visit our website at www.dorsey.edu/disclosures.php