Have you heard the news??  Dorsey Schools, a trusted name in career education throughout Michigan for over 80 years, has just opened a Dorsey School of Beauty location in Madison Heights, MI.  Conveniently located on John R Road between 13 Mile Road and 14 Mile Road (and just down the street from Oakland Mall), the Madison Heights, MI campus has been a destination for men and women throughout Oakland County interested in training for a new career.  Dorsey School of Beauty in Madison Heights officially opened its doors to enroll students on July 15th, with the first class of students scheduled to begin on August 13th.  Dorsey Schools is by no means a stranger to the Madison Heights community, and has operated a campus within the city for a number of years.  In addition to the new Dorsey School of Beauty, the campus offers Medical Assistant, Medical Administration and Billing, Patient Care Technician, Enhanced Nurse Aide, Practical Nurse, and Massage Therapy training programs.  The Madison Heights campus is within minutes of nearby communities such as Clawson, Royal Oak, Troy, Hazel Park, Berkley, Ferndale, Huntington Woods, and Warren (just to name a few).  The campus is also conveniently located on the SMART bus line.
Dorsey Beauty School is now open in Madison Heights!!
About Dorsey School of Beauty
Dorsey School of Beauty opened its doors in 2011 at the Taylor, MI campus location of Dorsey Schools.  Since then, due to popular demand, Dorsey School of Beauty has expanded to the Roseville, MI campus as well as the Lansing, MI campus.  Students choose Dorsey School of Beauty for a variety of reasons, including the fact that the curriculum offers a balance between classroom instruction and hands-on practice.  Students will have the opportunity to practice what they've learned in a fully functioning salon that is open to the public.  This provides students with a chance to apply various skills and techniques they have been learning throughout their training program, prior to entering the actual occupational setting.  Dorsey School of Beauty takes great pride in training the cosmetologists of tomorrow!
About the Cosmetology Program at Dorsey School of Beauty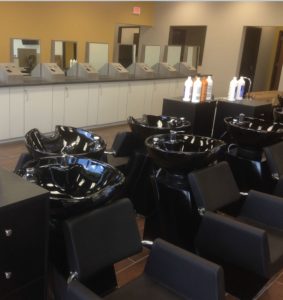 The Cosmetology program at Dorsey School of Beauty is a 1500-hour program, during which students will have the opportunity to attain a basic knowledge of the various phases of cosmetology.  This includes (but is not limited to) shop management, ethics, and good grooming.   The program will also afford students with an opportunity to gain knowledge and understanding of art principles, hair styling, hair cutting and shaping, hair coloring, thermal waving and curling, permanent waving, chemical relaxing, shampooing, manicuring, and scalp and facial treatments.  Dorsey School of Beauty will furnish all necessary supplies and materials to senior students who perform work on patrons in the Dorsey School of Beauty salon during their training program.  The tuition for the cosmetology program includes textbooks, a cosmetology student kit, a uniform, the mandatory State of Michigan registration fee, and a one-time fee to sit for a certification exam, as determined by Dorsey Schools.  Upon graduation and successful completion of the program requirements, students will be eligible to challenge a certification exam.  Licensure by the Michigan Board of Cosmetology is required for employment in Cosmetology in the State of Michigan.  Once a graduate has become licensed, they may work as an entry level Cosmetologist under numerous job descriptions.  In order to aid graduates in this process, Dorsey Schools offers Career Services assistance to all eligible graduates, however, job placement is not guaranteed.
If you're ready to take your love for hair, make-up, and nails to the next level, consider training at the new Dorsey School of Beauty in Madison Heights, MI.  You may also consider our existing Dorsey School of Beauty campus locations in Taylor, MI; Roseville, MI; or Lansing, MI.  Contact Dorsey Schools today to schedule an appointment to meet with an Admissions Representative and tour the campus!
For more information about our graduation rates, the median debt of students who have completed the program, and other important information, please visit www.dorsey.edu/disclosures.