2016 marks a year where The Olympics are back!  But did you know that Rio won't be the only site of an Olympic competition this year?  The International Culinary Art
Exhibition is also known as the IKA/Culinary Olympics.  It is the largest international professional competition for chefs, cooks and pastry chefs. It began in 1900 in Frankfurt, Germany.  Every four years since its inception, youth, regional and national teams have competed to show off their culinary skills. This year more than 45 nations are expected to attend.
Michigan Chefs Training for Culinary Olympics 2016
This October, the Messe Erfurt will turn into the Mecca for chefs and food enthusiasts from around the world. In 18 glass kitchens, more than 2,000 chefs will turn the Erfurt exhibition halls into the largest restaurant in the world.  The dates of the competition will be October 22-25th 2016.
All of us here at Dorsey Schools and Dorsey Culinary Academy are particularly excited about this year's event.  That's because several of our own talented Chef Instructors will be traveling to Messe Erfurt to compete in the IKA/Culinary Olympics! Members of the competing team include:
Chef Matt Schellig, Associate Director Dorsey Culinary Academy
Chef John Piazza, Director Dorsey Culinary Academy
Chef Tom Giles, Executive Chef over all food service at Western Michigan University
Chef Jeremy Abbey, Former Associate Director Dorsey Culinary Academy
This won't be the first time Chef Instructors from Dorsey have competed in a world class culinary competition. In 2014, Dorsey Culinary Academy's own Chef Piazza, Chef Abbey and Chef Schellig made the long journey to Luxembourg to compete in the Culinary World Cup as part of a team that represented the state of Michigan. They did great in that competition and we are all excited for them to once again compete, have fun, and be victorious.
Because the trip itself is very expensive, the team is putting together a fundraiser dinner on September 17th.  The event is being hosted by DUO – Omakase, and includes a 12+ course meal created by the Olympic hopeful chefs – JerMichigan Chefs Training for Culinary Olympics Press Release (1)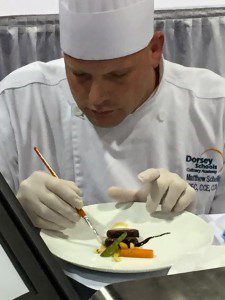 my, Matt, Tom and John. The ticket price is $100 per person and seating is limited to 40 guests.  After paying for a few expenses of the night, all the money raised will be donated to the 4 chefs heading to the Culinary Olympics. Your support is greatly appreciated and we hope to see you there.  Please click the link below to purchase your tickets.
To read more about the Michigan Chefs Training for the Culinary Olympics, you can read our press release here.
If you're interested in learning more about Dorsey Schools, you can visit us online at www.dorsey.edu.  You may also give us a call at 888-422-1188 or request info online.
Click here to download our press release for the 2016 Culinary Olympics!