This recipe came about when our culinary team at Dorsey Schools was thinking about how to make the most of my leftovers around the Thanksgiving holiday. Many things came to mind like, soups, stews, sandwiches, and casseroles to name a few. As we thought about things to make with these leftover items, one of our favorite breakfast meals kept coming to mind, Eggs Benedict.
Eggs Benedict Recipe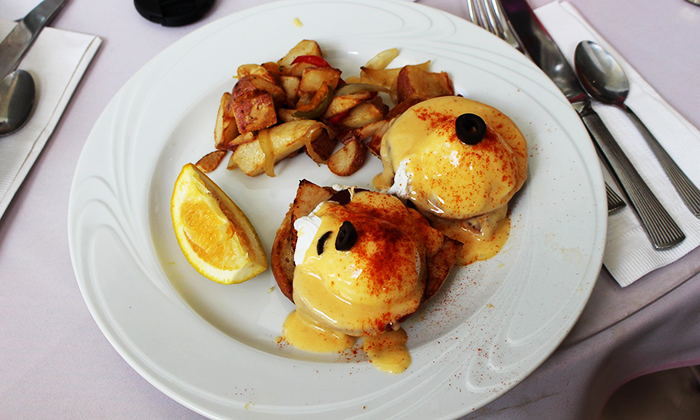 So where exactly does eggs benedict gets its name? While the certainty of such claims are unknown, according to  Wikipedia,  "Eggs Benedict was circuitously made by Edward P. Montgomery on behalf of Commodore E. C. Benedict. In 1967 Montgomery wrote a letter to then The New York Times food columnist Craig Claiborne which included a recipe he claimed to have received through his uncle, a friend of the commodore. Commodore Benedict's recipe — by way of Montgomery — varies greatly from chef Ranhofer's version, particularly in the hollandaise sauce preparation — calling for the addition of "hot, hard-cooked egg and ham mixture". Interesting!
In honor of National Eggs Benedict day, we decided to create a play on the classic with new, leftover (Thanksgiving) flavors involved. This is Chef John Felczak's take, a green bean casserole bites and turkey Benedict over a pumpkin potato cake. We hope you enjoy!
Classic Benedict Sauce Ingredients:
Egg Yolks
White Wine
Tabasco Sauce
Butter
Leftover green bean casserole
Pumpkin potato cakes
Directions:
Cook egg yolks in a double boiler stirring constantly until the eggs become thick, then add a little white wine, Tabasco sauce, and finally melted butter until the sauce is slightly thinned.
Next we need to make our green bean bites. Take the leftover green bean casserole and chop it lightly to create smaller pieces of beans
Then stir in eggs and breadcrumbs and mix well, then roll the large marble size balls of filling in extra breadcrumbs
Pan Fry to a golden brown and reserve
Mix together the filling of the pumpkin pie and the left over mashed potatoes together
Gently mix in eggs, flour, and salt and pepper to taste
Pan fry the cakes until crispy and golden brown
Heat leftover turkey and assemble our meal
Over medium heat, sauté the turkey with some carrots, onions, and celery, toss that together with the green bean bites
Spoon the hash over the potato cakes that have had cranberry sauce spread on them
Place an egg cooked to your liking over the top and finish with the hollandaise sauce
"This dish may seem as if it involves a lot of steps, but trust me, after that first bite you will be in pure heaven, making the effort involved well worth it! I hope you have all enjoyed my take on a leftover meal!"
The Culinary Arts Program at Dorsey Schools
The Culinary Arts program at Dorsey Schools is designed to assist students in taking their love for food and transforming it into an exciting new career.  Training in the Culinary Arts program at Dorsey takes place in the classroom, in the commercial kitchens (with industry-current equipment) on campus, as well as during the externship (which takes place the final module of training).  The Dorsey Schools Culinary Arts program strives to expose students to various facets of the culinary industry including Butchering, Baking & Pastry, Nutrition and Healthy Cooking, International Cuisine, Catering, and more!  The Culinary Arts program is offered at the Roseville, MI and Waterford-Pontiac, MI campuses of Dorsey Schools.  It's also worth noting that the Culinary Arts program at Dorsey Schools is programmatically accredited by the American Culinary Federation Education Foundation's (ACFEF) Accrediting Commission.
If you're interested in pursuing a career in the Culinary Arts, consider the program at Dorsey Schools.  You can call us at 888-422-1188 or click here to contact us online!
Culinary Arts Program – Gainful Employment Disclosures
For more information about our graduation rates, the median debt of students who have completed the program, and other important information, please click here.