The journey to becoming a dental assistant may start with completing training at a dental assistant school. Requirements to begin working dental assistant jobs are made by individual states. Local state mandates and the length of dental assistant training programs often determine how long does it take to become a dental assistant, so do your research in advance because it's important!
How Long Does It Take To Become A Dental Assistant?
Dental assisting can be a sought-after career choice for many reasons, including job security, quickly integrating yourself into a workplace setting, and making patients feel comfortable. Whether you are scheduling appointments, taking X-rays or assisting dentists with their daily routines, dental assisting keeps you on your toes. At Dorsey Schools, prospective students can learn about the steps needed to become a dental assistant, available training programs, components of a successful career, and overall job outlook.
Exploring a Dental Assistant Career
Generally, it takes one year to graduate from dental assistant schools. However, some undergraduate programs take two years to complete. It's a good idea to always check the curriculum of any program you're considering to see what topics and courses are included in the program.  Skills and knowledge taught during dental assistant programs may include:
Laboratory work
Anatomy
Infection control
Dental office administrative procedures
Interpersonal skills
Preparing clients for treatments and cleanings
Scheduling appointments
Cleaning or sterilizing dental instruments
Radiography/Processing X-Rays
Gaining Practical Experience as a Dental Assistant
Externships (or comparable hands-on experience) are a part of some dental assistant training programs. This is another factor to consider when trying to decide how long does it take to become a dental assistant. Even if you attend a dental assistant school on campus, where you can gain a lot of hands-on learning, your greatest practical clinical experience may come through an externship. You could be required to complete externships after you complete all classroom studies or you could complete externships before all class courses are finished, in just depends upon your specific program or school.
Get hired by an employer who operates in a state that doesn't require licensing and you could start working independently as a dental assistant in a year. In these instances, how long it takes to become a dental assistant may completely depend on your employer. Personal drive, commitment, and dedication could prove to be deciding factors. Private and public employers you work for, including what part of the country you work in as a dental assistant, are other factors that impact how much you may earn as a dental assistant.
How much do Dental Assistants Make?
According to the US Department of Labor Bureau of Labor Statistics, as of May 2014, the median annual wage that a dental assistant earned was $35,390a. Those filling other healthcare support jobs earned an annual median income of $31,540. The Bureau of Labor Statistics (BLS) also shares that the bottom 10% of earners made less than $24,580 as of May 2014, while the top 10% of dental assistants earned more than $49,540 annually.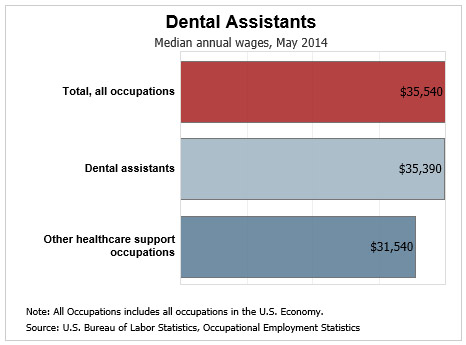 Our team of instructors and staff at Dorsey Schools are available to answer your questions and support you as you pursue a dental assistant career. The foundation of our dental assistant training includes clinical practice, classroom training, and practical hands-on experience.
Contact us to learn more about our dental assistant diploma program. The on-campus training is offered at our Dearborn, Michigan campus and our Roseville, Michigan campus. Both campuses are centrally located, putting you within minutes of places like the Fairlane Town Center, the Henry Ford Museum, Dearborn Heights, St. Claire Shores, and Eastpointe.  Both campuses are easily accessible by local highways and are on the bus line for those using public transportation.
You will be taught by experienced instructors at Dorsey Schools. Guidelines that our instructors meet are set forth by the State of Michigan and the Accrediting Council for Independent Colleges and Schools (the institutional accrediting body for Dorsey Schools). Contact us today to speak with one of our admissions representatives.
We are here to support your professional dreams and goals. Call us at 1-888-422-1188 or contact us online today to learn how we can help you gain valuable skills and knowledge to work towards becoming a Dental Assistant.
Licensure and/or Certification as a Dental Assistant
In terms of licensure/certification, here in Michigan, the Michigan Department of Community Health, Bureau of Health Professions and the Board of Dentistry, are responsible for the licensing of individuals who want to practice dentistry, dental hygiene and advanced levels of dental assisting. Students attending a course in dental assisting that is offered by a licensed proprietary school that is not accredited by the American Dental Association are not eligible for licensure by the State of Michigan. Dorsey Schools is classified as a licensed proprietary school and is not accredited by the American Dental Association's Commission on Dental Accreditation. Graduates of the Dorsey Schools Dental Assistant program are not eligible for licensure as a Registered Dental Assistant. However, graduates of the Dorsey Schools Dental Assistant program may challenge a certification exam offered by the Dental Assisting National Board, Inc. after completing 3,500 hours of dental work experience. Dorsey's Dental Assistant Program includes the opportunity to sit for the Radiation Health and Safety (RHS) and the Infection Control (ICE) certification exams, which are two components of the Dental Assisting national Board ("DANB") Certified Dental Assistant ("CDA") exam. Graduates of this program may complete the third exam component necessary for DANB's CDA credential, which is challenged after completing "a minimum of 3,500 hours' work experience as a dental assistant, accrued over a period of at least two years (24 months, if employed fulltime) to a maximum of four years (48 months, if employed part-time) which employment must be verified by a licensed dentist."
Dental Assistant Program – Gainful Employment Disclosures
For more information about our graduation rates, the median debt of students who have completed the
program, and other important information, please click here.
Sources:
a Bureau of Labor Statistics, U.S. Department of Labor, Occupational Outlook Handbook, 2016-17 Edition, Dental Assistants, on the Internet at http://www.bls.gov/ooh/healthcare/dental-assistants.htm (visited January 06, 2016).
Additional Sources:
https://www.dorsey.edu/dental-assistant/
http://www.ada.org/en/education-careers/careers-in-dentistry/dental-team-careers/dental-assistant