Dorsey Culinary Academy, a local culinary school in Pontiac, MI, will play host to dozens of professional and student culinarians as they host the 2018 Annual Culinary Salon VII in conjunction with the Michigan Chefs de Cuisine and the American Culinary Federation February 9-10, 2018.
Dorsey Culinary Academy in Pontiac Hosts Competition with the American Culinary Federation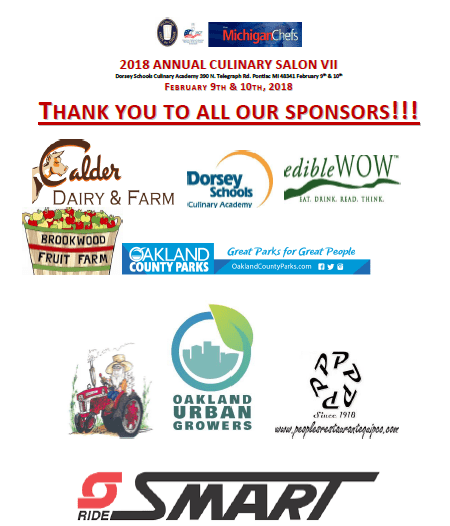 A collection of 80 impressive culinary competitors from across the state and beyond will be participating in the event in either the Professional or the Student categories.  The competition will include both hot and cold food categories and dishes are judged on a scale (not against other dishes).  Gold, Silver, and Bronze medals are awarded in the various categories for dishes that earn an established number of points.  The competition will also feature several local farms including Calder Dairy, and Hickory Hills Farms.  A panel of impressive culinary judges are scheduled for this event, including:
Chef Kevin Gawronski CMC, Lead Judge
Chef Stafford DeCambra CEC, CCE, CCA, AAC, and President of the American Culinary Federation
Chef Dan Hugelier CMC
Chef Kevin Gawronski and Chef Dan Hugelier are Certified Master Chefs, a title issued by the American Culinary Federation that is held by only 68 chefs nationwide.  Other members of the American Culinary Federation will be on hand for the competition as well.
Dorsey Schools would like to extend special thanks to those serving as sponsors for this event:
Chef Matt Schellig, Associate Director at Dorsey Culinary Academy, was on WMYD – TV 20 Detroit with Carl Leatherberry, a student at Dorsey Culinary Academy's Waterford-Pontiac campus, who will also be competing this weekend.
Check out the video here:
Be sure to stay tuned to Dorsey Schools Facebook page (www.facebook.com/DorseySchools/) for updates on the event.  We'll be using the hashtag #DorseyACF2018.