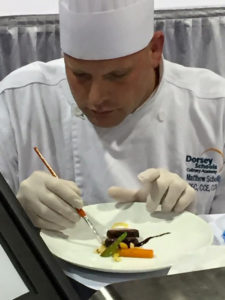 On Tuesday October 13, 2015 Dorsey Culinary Academy in conjunction with the MCCA (Michigan Chefs de Cuisine) hosted a Cold Food Competition at the 2015 Michigan Restaurant Show (put on by the Michigan Restaurant Association).
Chef Jeremy Abbey, CEC, CEPC, CCE, CCA was the show chair and brought in top talent from the local culinary scene and from across the nation to judge this incredible showcase of Michigan's Culinary expertise.
Dorsey Culinary Academy's very own Chef John Piazza, CEC and Chef Matthew Schellig, CEC, CCE, CCA competed along with other professionals and students from surrounding schools. We are very proud of their excellent performance that led to Chef Schellig earning a Silver Medal and Chef Piazza earning a Bronze Medal. Congratulations chefs!
To check our more photos from the event, visit the Dorsey Schools Facebook page!
The Culinary Arts Program at Dorsey Schools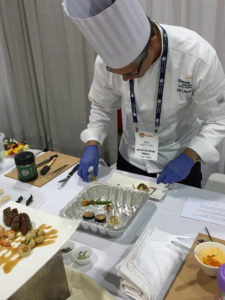 The Culinary Arts program at Dorsey Schools is designed to assist students in taking their love for food and transforming it into an exciting new career.  Training in the Culinary Arts program at Dorsey takes place in the classroom, in the commercial kitchens (with industry-current equipment) on campus, as well as during the externship (which takes place the final module of training).  The Dorsey Schools Culinary Arts program strives to expose students to various facets of the culinary industry including Butchering, Baking & Pastry, Nutrition and Healthy Cooking, International Cuisine, Catering, and more!  The Culinary Arts program is offered at the Roseville, MI and Waterford-Pontiac, MI campuses of Dorsey Schools.  It's also worth noting that the Culinary Arts program at Dorsey Schools is programmatically accredited by the American Culinary Federation Education Foundation's (ACFEF) Accrediting Commission.
If you're interested in pursuing a career in the Culinary Arts, consider the program at Dorsey Schools.  You can call us at 888-422-1188 or click here to contact us online!
Culinary Arts Program – Gainful Employment Disclosures
For more information about our graduation rates, the median debt of students who have completed the program, and other important information, please click here.