Did you know that October 25th marks the beginning of Massage Therapy Awareness Week?!  The American Massage Therapy Association introduced the distinction to help promote the benefits associated with Massage Therapy, and 2015 marks the 19th anniversary of this annual event.
Massage Therapists are professionals tasked with helping us relieve tension and stress in our muscles and joints.  While many may associate a massage with a trip to the spa, the practice of massage therapy extends much further.  Today, Massage Therapists can be found practicing in spas, health clubs, hospitals, doctors' offices, fitness centers, on cruise ships, and even with sports teams.
The Health Benefits of Massage Therapy
Part of the growth in Massage Therapy could be explained by the increased knowledge and awareness of its health benefits.  Massage is often looked at as a complementary form of treatment (and shouldn't be looked upon as a replacement for medical care).  One may wish to seek the guidance of a licensed physician prior to making decisions regarding their healthcare treatment
options/plans.  It's important to note though that there have been cited benefits associated with Massage Therapy.  For example, while more research is needed to confirm the exact benefits of Massage, the Mayo Clinic a references several benefits of massage (from various studies) and notes that Massage may be helpful for conditions, such as:
Anxiety
Fibromyalgia
Headaches
Soft tissue strains and injuries
Sports injuries
Temporomandibular joint pain
Massage Therapist Career Outlook
Massage Therapists, once licensed, may enjoy stable and flexible employment in this field.  As previously noted licensed Massage Therapists may work in a variety of occupational settings.  In addition, many massage therapists enjoy the profession because it allows them the flexibility to do what they love and be self-employed.  According to the US Department of Labor, Bureau of Labor Statistics, the projected job outlook for Massage Therapists is expected to grow by 23% from 2012 to 2022, which is much faster than average for all occupations.*
For those wishing to pursue a career in Massage Therapy in the state of Michigan, licensure is required in order to obtain gainful employment in this field.  If you're interested in learning more about the licensure process in the State of Michigan, you can check out the State of Michigan Massage Therapy website here.**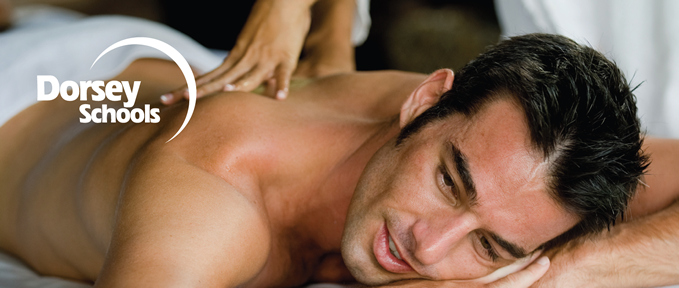 The Massage Therapy Program at Dorsey Schools
The Massage Therapy diploma program offered at Dorsey Schools in Michigan is designed to introduce students to various massage techniques.  The Dorsey Schools Massage Therapy program provides hands-on training in techniques such as Swedish Massage, Deep Tissue Massage, Neuromuscular Therapy, and Sports Massage.  Students enrolled in the Massage Therapy program at Dorsey Schools will also participate in Supervised Clinical Practice in the Massage Therapy clinic at Dorsey Schools.  The program is designed to prepare students to challenge the Massage & Bodywork Licensing Examination (MBLEx) certification exam.
The Dorsey Schools Massage Therapy Program is available at the following campus locations:
Ready to take the next step?
If you want to begin training in Massage Therapy at Dorsey Schools, you can give us a call at 888-422-1188 or click here to contact us.
Do you still have questions?  Check out our Massage Therapy FAQ page or you can download our Healthcare Career Outlook Guide to learn more about various career paths in the healthcare field (including Massage Therapy).
Massage Therapy Program – Gainful Employment Disclosures

For more information about our graduation rates, the median debt of students who have completed the Massage Therapy program, and other important information, please click here.

*Bureau of Labor Statistics, U.S. Department of Labor,Occupational Outlook Handbook, 2014-15 Edition, Massage Therapists, on the Internet at http://www.bls.gov/ooh/healthcare/massage-therapists.htm (visited August 19, 2014).
**As of November 29, 2014, massage therapists will be required to obtain a license to work in the State of Michigan. All applicants for a Massage Therapist license must have completed a supervised curriculum in massage therapy that has been approved by the Michigan Board of Massage Therapy. Dorsey Schools Massage Therapy program is an approved supervised curriculum by Michigan Board of Massage Therapy. Dorsey Schools will keep affected students apprised of newly implemented requirements for licensure as a Massage Therapist in the State of Michigan.