To the dismay of many, spring is (officially) still several weeks away.  So are warmer temperatures.  In the meantime, though, our culinary team is reminding all of us to "think spring."  Today Chef John Piazza, CEC from Dorsey Culinary Academy is sharing one of his favorite springtime recipes with us.  He is walking us through his recipe for Chicken Salad with Asparagus.
Cooking School Recipes – Chicken Salad with Asparagus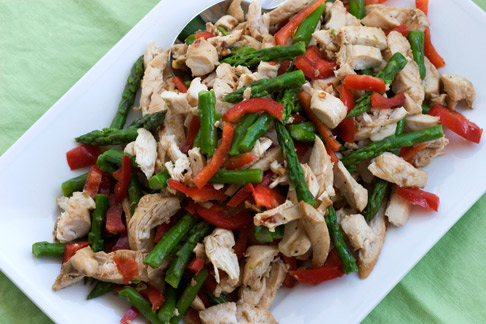 Image courtesy of: rosenotes
This is a great springtime recipe because it involves many fresh ingredients that will begin to come into 'season' with the warmer weather.  The dish also has a 'fresh' feel to it, which can be synonymous with springtime.  We invite you to check out this recipe below.  Heck, if it sounds tasty, you should prepare this recipe as well.  Spring may be a few weeks away, but this dish can definitely give you something to look forward to in the meantime!
Chicken Salad with Asparagus Recipe
Chicken Salad with asparagus, radish and a sun-dried tomato vinaigrette
½ cup    extra virgin olive oil
¼ cup    red wine vinegar
½ cup    sun dried tomatoes, rough chopped
1 each   raw garlic clove, minced
2 tsp.     nutritional yeast flakes
____________________________________________
½ lb.       asparagus, trimmed, cut in 1 inch pieces
1 cup     fresh basil, chopped
5 cups   roasted chicken, shredded
12 each roasted red radishes, cut in half
____________________________________________
3 oz.      goat cheese, crumbled
½ cup    pine nuts, toasted
____________________________________________
10 cups fresh salad greens
¼ cup    extra virgin olive oil
1 each   lemon, juice and strain
The Chicken:
Roast a 3 pound chicken at 375 degrees F until internal temperature reaches 165 degrees F.  Check with a thermometer.  Once proper temperature is reached remove the chicken from the oven and let cool to room temperature.  When cool, remove the meat discarding all bones, skin, sinew and fat.  Shred the chicken into two inch pieces.  Wrap in container and place in the refrigerator until ready to use.
The Sun-Dried Tomatoes:
Soak dried tomatoes for 20 minutes in a cup of water, a pinch of salt, and a pinch of red pepper flakes.  Once hydrated, pat with paper towel and rough chop.
The Vinaigrette:
In a blender, emulsify the oil, vinegar, nutritional yeast, sundried tomatoes, garlic, pinch of salt, pinch of black pepper until smooth. (Adjust seasoning as needed)
The Asparagus:
Add a table spoon of oil to a hot non-stick sauté pan.  Sear the raw asparagus until it is golden yet still firm.  Remove from the pan, place on plate to cool and season with a pinch of salt and black pepper.
The Radishes:
Wash and trim all leaves and roots from the radishes.  Toss with olive oil, salt and pepper.  Place on a baking sheet and roast uncovered 15 to 20 minutes at 375 degrees F (tossing every 5 minutes) until the they start to brown and become soft.  Cool and slice in half from top to bottom.
The Salad Greens:
Choose your favorite combination of salad greens.  Wash thoroughly, drain and dry.  Chop greens into manageable bit size pieces.  Just prior to service, toss the fresh greens in the olive oil and fresh lemon juice until lightly coated.
Salad Assembly at Service Time:
Combine the asparagus, shredded chicken, radishes, and basil to the vinaigrette.  Let the mixture sit at room temperature for 20 minutes while the flavors combine.  Make a small pile of freshly tossed salad greens on six chilled plates.  Top each bed of greens with a scoop of the room temperature chicken salad.  Finally, sprinkle each salad with the goat cheese and toasted pine nuts.
Serve immediately.
Thank you,
John Piazza, CEC
Culinary Arts Program Director
Dorsey Schools Culinary Academy
Reviewed and edited 12/6/17