Are you interested in learning more about the Medical Assistant program at Dorsey Schools?  Why not hear about it directly from one of our students.  Today we would like to introduce you to Sara, a student from our Southgate, MI campus (a branch campus of Madison Heights).  Sara recently finished her externship as part of the Medical Assistant program.
Meet Sara, A Graduate of Our Medical Assistant program in 2017
What do you plan to do with the career training in the healthcare field that you've received from Dorsey Schools of Michigan?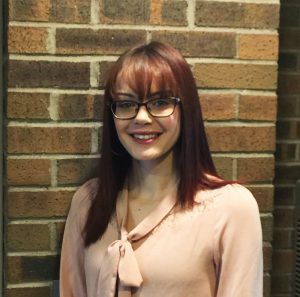 "I plan on helping people with the training I received from Dorsey."
How has Dorsey Schools helped you in pursuing your medical assistant career?
"Dorsey Schools has given me the education and training I needed to expand my career options.  It has also made me realize I can achieve anything I want as long as I stick to it, and the reward at the end is worth the struggle."
What are some fond memories that you can share with us while training in our Medical Assistant diploma program?
"Well I shall say my journey with Dorsey has been a long one.  I've had the opportunity to meet so many people, students and staff.  I've shared laughs and smiles with so many.  My fondest memories I'd really say was with the staff.  Between Ms. Golda, Casey, Dr. Adenle, Ms. Gregory, Mr. Pope, there was never a dull moment.  As much as they looked forward to seeing me, I enjoyed seeing them just as much.  All the staff at Dorsey are caring, extraordinary people I'm so grateful to have met.  I must say receiving my paper for externship meant the world to me, I had the chance to tell my daughter I DID IT!!"
How likely are you to recommend the Medical Assistant training program at Dorsey Schools? Why?
"I would highly recommend Dorsey to anyone who wants to make a change and difference in their life.  The Southgate campus assures you when you come in you'll be someone new coming out."
Do you feel like you've chosen the right career path by training at Dorsey Schools?
"Absolutely!!  After receiving all my education and training in the Medical field, I'm very interested…  Options are so unlimited, and there are many different practices you can find one that best suits you.  After school and going on externship I really enjoyed cardiology."
How has our Medical Assistant program changed or made a difference in your career options?
"Yes, the medical assisting program has made a huge difference in my career options.  I feel like my options are unlimited now & I don't have to settle anymore."
Are you employed in your field? If so, where?  What are your plans after Graduation from Dorsey Schools?
"As of right now, I'm unsure at the moment.  But I do know now, I enjoy cardiology.  After graduation, I plan on finding a job I enjoy and eventually enroll back in school for nursing."
Congratulations, Sara!  Your Dorsey Schools family is very proud of all you have accomplished!  We know there are many more successes ahead of you as you pursue your newly chosen career.
The Medical Assistant training program at Dorsey Schools is designed to prepare students to enter the healthcare field under this title.  Medical assistants can most often be found working in doctors' offices and clinics.  They work directly with doctors, nurses, and patients.  Training in the Dorsey Schools Medical Assistant program includes exposure to both clinical and administrative medical assistant skills.  Students will have the opportunity to learn both in class as well as in the labs on campus.  The program also includes an externship during the final module of training where students can apply the skills and knowledge they have learned while gaining professional exposure in the field.  The Dorsey Schools Medical Assistant program is designed to be completed in just one year!
If you're interested in learning more about training to become a Medical Assistant, contact Dorsey Schools today!  You may call 1-888-422-1188 or request info online.
Reviewed and edited 12/6/17