On Tuesday August 25th, Congressman Mike Bishop visited the Dorsey Schools Lansing campus to meet with students and staff.  Congressman Bishop represents Michigan's 8th District and also serves on the House Judiciary and Education Workforce committees.  The visit to the campus began with Congressman Bishop learning more about Dorsey Schools, the career training programs they offer, and the communities they serve in the state of Michigan from Dorsey Schools President and CEO, John Barnes.  In addition, Congressman Bishop was able to hear more about the Lansing campus, the programs offered at the Lansing campus, the structure of Dorsey's programs, and the students they serve within the local community.  This included a discussion about the externship opportunities available to many Dorsey students, the community partners we work with to place students in externships, and the career services assistance that Dorsey offers to its graduates, once they have completed their career training program.
In addition to learning more about the Lansing campus, Congressman Bishop was also able to tour the school and see students participating in various workshops such as a resume building workshop, a medical coding workshop, and an EKG workshop.  The tour also included a visit to the Dorsey School of Beauty at the Lansing campus where Congressman Bishop was able to meet a group of Junior students in class while also observing several cosmetology students providing hair and beauty services to clients in the salon.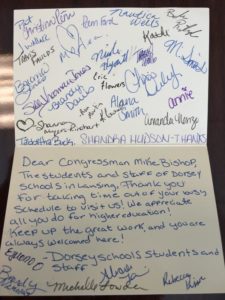 The campus also hosted a "meet and greet" where students and staff could speak with the Congressman to ask about his involvement in higher education.  Congressman Bishop shared that he is currently working on legislation to streamline the financial aid process, and how it would benefit students.  Students also had an opportunity to ask questions.  One student had raised concerns regarding the lack of vocational education and how some high schools seem to be pushing students to a four-year degree. She related to when she was in high school they offered vocational education and students received college credits while going to high school, but cited that you don't see that as much anymore.
About the Dorsey Schools Lansing Campus
Located in south Lansing, the Dorsey Schools Lansing campus offers a variety of career training programs such as Medical Assistant, Medical Administration and Billing, Pharmacy Technician, Cosmetology, Manicuring, Cosmetology Instructor.  The Dorsey Schools Lansing Campus is located at 6250 S. Cedar Street, next to the Goodwill Store and behind Applebees.  If you're interested in learning more about the Dorsey Schools Lansing campus, you can give them a call directly at 888-422-1188 or click here to contact us!
For more information about our graduation rates, the median debt of students who have completed the program, and other important information, please visit www.dorsey.edu/disclosures.